2022 Tesla Model 3
- Exclusive Ashburn New Car Discounts
Change Vehicle

YOUR VEHICLE
Tesla Model 3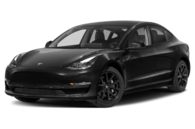 Consider getting price quotes on competitive cars to negotiate better.
2022 Tesla Model Y
Get FREE Price Quote
2022 Hyundai IONIQ 5

Get FREE Price Quote
2022 Volkswagen ID.4
Get FREE Price Quote
Learn More About The Tesla Model 3
What you must know before purchasing your Model 3. Use this pricing analysis to negotiate the best price with the dealer.
Highlights:
2022 Model 3 is made to order
Lease: From $499/month (est.)
Rebates: $750 for CA residents
Financing: From 4.24% APR
2022 Model 3 is made to order
The 2022 Tesla Model 3 must be custom ordered online, with a non-refundable $250 order fee and an estimated delivery window that can range widely depending on the configuration. Tesla's least expensive all-electric sedan gets an EPA-estimated 358 miles of range on a single charge and gets routine software updates.
Tesla has taken the bold move of no longer including charging cables with the delivery of its new vehicles. Like spare tires are now considered optional in many new cars, Tesla charging cables are now deemed optional and can be purchased separately from Tesla's online store for around $275 to start.
Offers are expected to endAugust 1, 2022. This page is updated monthly with the latest incentives, so be sure to check back for the latest information.
Tesla Model 3 Lease Deals
Lease from $499 per month (estimated)
According to Tesla's online payment estimator, you can lease the 2022 Tesla Model 3 Standard Range with RWD starting at an estimated $499 per month for 36 months with $5,694 due at signing. With an effective monthly cost of $657, this is not a good value relative to its MSRP.
The offer is based on a mileage allowance of 10,000 miles per year.
Tesla Model 3 Rebate Deals
$750 available for California residents
Tesla doesn't offer traditional rebates or incentives, but residents of California can apply for a $750 California Clean Fuel Reward. Following recent price increases, the Model 3 no longer qualified for a $2,000 California Clean Vehicle Rebate.
Residents in other low-emissions states may qualify for similar incentives to foster EV adoption. Sadly, Tesla cars are no longer eligible for a federal EV tax credit.
Tesla Model 3 Financing Deals
From 4.24% APR
Tesla offers financing on the 2022 Model 3 sedan from 4.24% APR for up to 72 months. That's a price increase of 0.5% compared to last month's interest rate deal of 3.74%. Just this past spring, Tesla offered interest rates as low as 2.99% APR. Shorter loan terms are available, but the financing rate remains the same.
Current Finance Deals
No financing deals are available at this time for the Tesla Model 3.
Introduction
What's New
Unlike the majority of automakers, Tesla prefers to skip traditional model years for making changes whenever it deems necessary. You don't need to rush online to place an order for a new vehicle when you hear about a change, though, as Tesla pushes out a lot of updates through over-the-air-software updates.
The 2022 Tesla Model 3 arrives with a renamed base trim that's now called Rear-Wheel Drive. Thanks to a new battery pack that utilizes lithium-ion-phosphate instead of nickel-cobalt-aluminum, range for the Model 3 lineup has increased. The entry-level Model 3 can now travel up to 272 miles on a single charge, while the Long Range trim sees its range go up to 358 miles.
Choosing Your Tesla Model 3
Engine Choices
The all-electric 2022 Model 3 is available with two different powertrains. That entry-level model comes with a single electric motor with rear-wheel drive, while the other two trims feature a dual-motor configuration with all-wheel drive. All Model 3 sedans come with a single-speed transmission.
There are multiple ways to charge a Model 3. With a 120-volt plug, the sedan can get 3 miles of range back every hour. This is the slowest method and we don't recommend it unless you don't have another option. Using a 240-volt Level 2 charger results in 44 miles of range every hour.
Tesla also has an extensive map of superchargers around the country that can give the Model 3 200 miles of range in 15 minutes. Owners will find over 30,000 superchargers globally.
| | | | | |
| --- | --- | --- | --- | --- |
| Model | Engine Type | Range | 0-60 mph Time | MPGe (city/highway) |
| Rear-Wheel Drive | Electric motor | 272 miles | 5.8 seconds | 138 / 126 |
| Long Range | Dual electric motors | 358 miles | 4.2 seconds | 134 / 126 |
| Performance | Dual electric motors | 315 miles | 3.1 seconds | 118 / 107 |
Passenger and Cargo Capacity
The 2022 Model 3 is a compact sedan that can seat up to five people. Like many other electric cars, the Model 3 has a traditional trunk and a small storage compartment under the hood. Between the two storage compartments, the Model 3 offers up to 15 cubic feet of cargo space.
Safety Features
Tesla offers its comprehensive suite of advanced safety features on every 2022 Model 3. Standard equipment includes forward-collision warning, automatic emergency braking, pedestrian detection, a surround-view parking camera, lane departure warning, lane change alert, blind-spot monitoring, adaptive cruise control, parking sensors, and parallel park assist.
The Full Self-Driving Capability package is available for $12,000. It adds Autopark, automatic lane change, Tesla's Navigate on Autopilot feature that's a semi-autonomous highway driving mode, a full self-driving computer, traffic light and stop sign control, and a Summon feature that lets the car autonomously come to you in a parking lot.
Connectivity
On the inside, the Model 3 features a 15-inch touchscreen that's responsible for all of the vehicle's controls, not just ones for the infotainment system. The system includes Bluetooth, navigation, four USB ports, a Wi-Fi hot spot, and a wireless charging pad. Oddly, Tesla does not offer smartphone compatibility with the Model 3.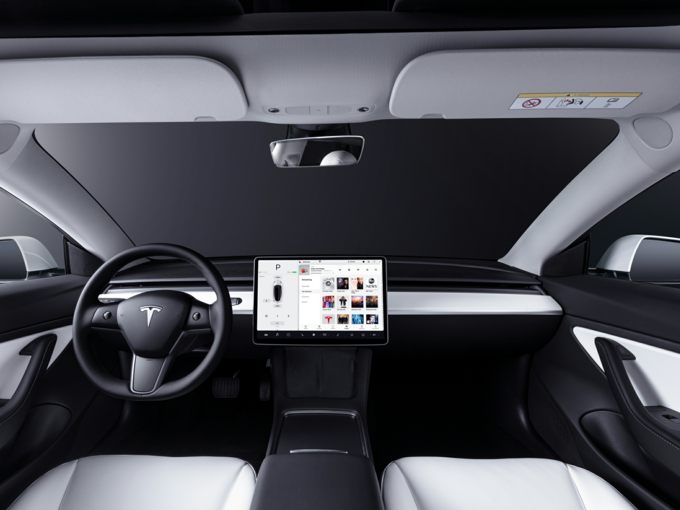 2022 Tesla Model 3 Rear-Wheel Drive – MSRP From $48,190
The most affordable Model 3 comes standard with 18-inch wheels, a panoramic glass roof, keyless entry, power-adjustable front seats, heated front and rear seats, a heated steering wheel, and a 7.6-kW onboard charger.
Tesla doesn't have a lot of optional features. Choosing 19-inch wheels costs an extra $1,500 and a black and white interior is an additional $1,000.
2022 Tesla Model 3 Long Range – MSRP From $55,690
The Long Range trim is the first to come with an electric motor and all-wheel drive. Beyond coming with extra range, the Long Range trim comes with similar standard features as the Rear-Wheel Drive trim.
2022 Tesla Model 3 Performance – MSRP From $63,190
As its name suggests, the Model 3 Performance gains a track-oriented driving mode, sport suspension, high-performance brakes, aluminum pedals, 20-inch wheels, and a carbon-fiber rear spoiler.
Compare Model 3 Trims Side-By-Side
CarsDirect Tip
While the 2022 Tesla Model 3 Performance is the one that speaks to us, the more affordable Long Range trim is the way to go. It offers some of the best range of any new vehicle on sale with 358 miles, offers plenty of performance, and comes well-equipped. If you're looking for a vehicle with some cutting-edge technology, the $12,000 Full Self-Driving Capability package is pricey, but the only way to get these kinds of features on a production vehicle.
How Does CarsDirect Work?
We are not just another car-buying site.
Our FREE service is simple:

Choose the Car You Want
See the CarsDirect Price to Use in Your Negotiation at the Dealership
Get Matched with a Trusted Dealer Near You
Drive away HAPPY in your new car!