YOUR VEHICLE
Tesla Model X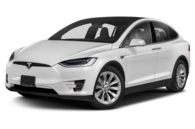 Consider getting price quotes on competitive cars to negotiate better.
2020 Tesla Model Y

Get FREE Price Quote
2020 Tesla Model S
Get FREE Price Quote
2020 Tesla Model 3
Get FREE Price Quote
Introduction
What's New
For 2020, Tesla includes free unlimited charging with all models, including the Model X. Ludicrous Mode is now standard with the Performance trim – before it was a $15,000 option.
The base autopilot system that includes adaptive cruise control and lane-keeping assist is now standard. The $7,000 Full Self-Driving option will soon include city driving capability and traffic sign recognition.
Prices are now cheaper than before, with the most expensive configuration now topping out at just under $130,000. No doubt this is due to the fact that electric-car tax credits have officially expired for Tesla as of January 1, 2020.
Choosing Your Tesla Model X
Just two versions of the Model X are available: Long Range Plus and Performance. Pricing checks in at $86,190 including destination for the Long Range Plus and rises to $106,190 for the Performance trim.
Engine Choices
Motor is the more appropriate word here, as there's no engine per se in the Model X. Instead, there's an electric motor mounted on each axle, enabling full-time all-wheel drive.
These motors are fed by a 100-kWh lithium-ion battery, with the rear one found on the Performance model being much more powerful. The Long Range Plus gets 328 miles of range, according to the EPA, while the Performance is capable of going 305 miles.
With the Long Range Plus, 0-60 mph happens in a fast 4.4 seconds; get the Performance model, and that time drops to an absurd 2.7 seconds. That's rapid enough to earn it the title of quickest SUV, beating out the likes of such exotic beasts as the Lamborghini Urus and Porsche Cayenne Turbo S. Even genuine supercars have little chance at outgunning the Model X.
And if you're more concerned with towing your boat to the marina than blitzing to 60 mph, the Model X is also capable of towing up to 5,000 pounds. Be warned, though, that towing at highway speeds may reduce range to as little as 100 miles. We wouldn't recommend buying a Model X to haul your weekend toy.
Passenger and Cargo Capacity
The Model X is a versatile SUV that offers three different seating arrangements for five to seven passengers. The standard setup is for five passengers, with the typical front two buckets and rear bench. A $6,500 six-person arrangement adds a pair of third-row seats and installs captain's chairs in the second row. The $3,500 seven-passenger version combines the third row with the second-row bench.
Accessing the back two rows is a little easier with the upward-opening falcon doors, but that's about the only saving grace of those doors. They're otherwise slow to operate and have been troublesome in practice.
Whether you buy the third row or no, all seats fold flat, allowing for up to 88 cubic feet of cargo space. That's not particularly impressive for a vehicle measuring 198 inches long but should satisfy most buyers who don't need Chevy Tahoe levels of space. An additional front trunk adds a bit of additional cargo space.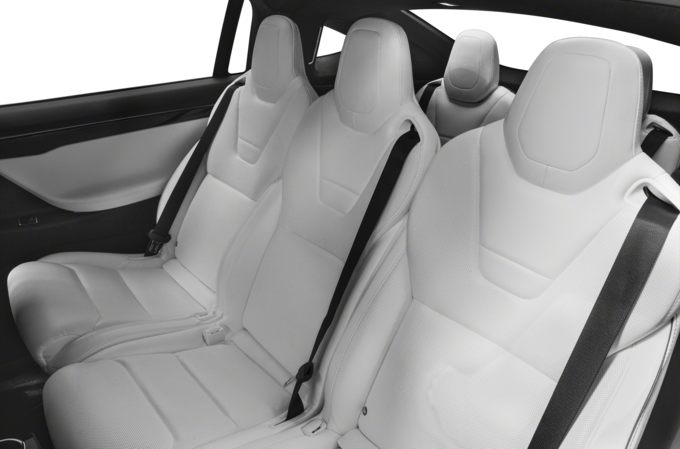 Safety Features
Tesla has made a name for themselves with a high level of autonomy their cars can offer. For 2020, the Autopilot feature that was formerly a $3,000 option has been made standard. It includes adaptive cruise control, lane-keeping assist, automatic emergency braking, and blind-spot monitoring.
The headlining bit of safety equipment is the available Full Self-Driving Capability. It costs $7,000 and includes autonomous highway driving capability from on-ramp to off-ramp. It also includes the summon feature, which lets the car find you in a parking lot rather than the other way around. The system has the capability to automatically park in parallel or perpendicular spaces as well.
The Model X carries a five-star overall safety rating from the NHTSA.
Connectivity
Few cars are as connected as Tesla. There's a 17-inch touchscreen that dominates the center stack, and through that massive screen drivers will do everything from changing the vent settings for the climate control to adjusting the radio volume. The system comes standard with navigation, Bluetooth, and in-car wi-fi.
Periodic over-the-air updates keep all Model Xs up to date with the latest Tesla software. These updates aren't much different than when your smartphone decides its time for an update: as you sleep, the new software is sent over the internet and downloaded into your Tesla. In the morning, you may find new features or more performance that weren't present the day before.
Long Range Plus - From $86,190
The Model X Long Range Plus is a well-equipped SUV, coming as it does with self-presenting and closing front doors, ash wood trim, heated seats for every passenger, a heated steering wheel, heated windshield nozzles, and HEPA air filtration. There are also LED fog lights, a location-aware garage door opener, wireless phone charging, and heated and power-folding exterior mirrors.
There are no options besides the two additional seating arrangements and Full Self-Driving Capability. There are additional for-cost wheel, interior trim, and paint choices, however.
The Performance is the flagship Model X with the infamous Ludicrous Mode. It doesn't add much in the way of additional standard features, though there's a more premium audio system. There are also two additional carbon-fiber interior trim options that aren't available on the base trim.
Otherwise, the price bump over the Long Range Plus is all put toward the upgraded rear motor that's the secret to the car's 2.7-second 0-60 mph time.
Compare Model X Trims Side-By-Side
CarsDirect Tip
If we were buying a 2020 Tesla Model X, you can bet we're upgrading to the Performance model. Considering that you normally need to spend something deep in the six-figure territory to get any sort of comparable performance, the $20,000 upcharge for the Performance trim is a downright bargain. It's well worth the bragging rights and the exhilaration.
How Does CarsDirect Work?
We are not just another car-buying site.
Our FREE service is simple:

Choose the Car You Want
See the CarsDirect Price to Use in Your Negotiation at the Dealership
Get Matched with a Trusted Dealer Near You
Drive away HAPPY in your new car!