2022 & 2023 Chevrolet Bolt EV
- Exclusive Ashburn New Car Discounts
Change Vehicle

YOUR VEHICLE
Chevrolet Bolt EV
Consider getting price quotes on competitive cars to negotiate better.
2022 Toyota Corolla Hybrid

Get FREE Price Quote
2023 Hyundai Elantra

Get FREE Price Quote
2022 Toyota Corolla
Get FREE Price Quote
Learn More About The Chevrolet Bolt EV
What you must know before purchasing your Bolt EV. Use this pricing analysis to negotiate the best price with the dealer.
Highlights:
2022 Bolt EV in stock
Lease: From $219/mo
Rebates: $5,900 off for all buyers
Finance: From 2.89% APR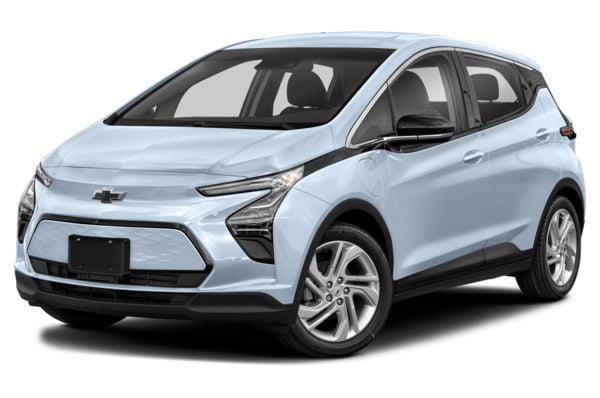 2022 Bolt EV in stock
The restyled 2022 Bolt EV was under a battery recall earlier this year, but supplies are now back to normal.
The 2022 Bolt EV received a $5,500 price cut to better align MSRPs with actual transaction prices. This means negotiating a better price may be harder to do. In California, the Bolt EV qualifies for a $2,000 Clean Vehicle Rebate and a $750 Clean Fuel Reward.
Current factory offers are available on a national basis through August 31, 2022, unless otherwise noted. This page is updated monthly, so check back for updated information.
Chevrolet Bolt EV Lease Deals
Lease from $219/month
For the second month, current Bolt lessees can lease a 2022 Bolt EV 1LT from $219 for 36 months (10,000 miles a year) with $2,849 due at signing. The effective monthly cost works out to $298, an exceptional value relative to MSRP.
In San Francisco, the cash due at signing is $2,099, which drops the effective monthly cost to just $277.
If you're not currently in a Bolt lease, your overall cost may be higher, but you can still expect very good value.
Chevrolet Bolt EV Rebate Deals
$5,900 off for all buyers
The factory rebate on the 2022 Bolt EV has surged to $5,900 for all buyers. Here's why: Chevy is planning another price cut for 2023 and has made the savings available on the 2022 Bolt in the form of this hefty rebate.
Chevrolet Bolt EV Finance Deals
Rates from 2.89% APR
Instead of the cash rebate, Chevy now offers 2.89% financing for 60 months on the 2022 Bolt EV.
If you want longer to pay, Chevy also offers 3.79% for 72 months.
Current Finance Deals
Interested in financing your new car? If so, make sure your dealer includes these incentives.
Financing Incentives
Rebate
Amount
Promotional APR Offer


Promotional APR programs available for qualified buyers. Please check with your CarsDirect Trusted Dealer for complete details.
Current Lease Deals
Leasing Incentives
Rebate
Amount
Promotional Lease Offer


Promotional lease offer available for qualified buyers on approved credit. Please check with your CarsDirect Trusted Dealer for complete details.

Lease Conquest Bonus Cash


GM Lease Conquest Program




(Expires 8/31/22)

Lease Conquest Bonus Cash available for customers currently leasing a competing make toward the purchase or lease of a vehicle. May not be compatible with other conquest offers. Please check with your Trusted Dealer Partner for complete details and rules.%NotesManuf% %Eligibility% Eligible Customers who have a current lease of 2017 model year or newer GM or Non-GM vehicle and lease one of the eligible new and unused models.

$1,500
The 2021 Chevrolet Bolt EV is a small electric vehicle, with a tall hatchback body and front-wheel drive. Made in Michigan, it?s one of the most affordable EVs, with an EPA-rated driving range of 259 miles. It has quick acceleration, a roomy and versatile interior, and a sharp, bright, and expansive 10.2-inch infotainment screen, although the front seats leave something to be desired.
Last year the Bolt got an upgraded battery of 66 kwh to go with its 200-hp motor, and for 2021 Premier versions of the Bolt EV get standard DC fast-charging. The Bolt is scheduled to be updated for 2022, which it needs to keep up with the fast pace of improvement of electric vehicles.
The Bolt seats four adults comfortably, with nearly 17 cubic feet of cargo behind the rear seats, which fold easily to create a very impressive 56.6 cubic feet for cargo. Given its tall profile, if the Bolt had all-wheel drive, it could be an electric crossover.  
The Bolt EV is one of the most efficient cars made, with an EPA rating of 118 MPGe combined (127 MPGe city, 108 highway), or about 29 kwh per 100 miles.
For being a small car, it performs well in safety tests, with five stars overall from NHTSA and four stars in frontal crash tests. The IIHS gives it an overall ?Good? rating, with an ?Acceptable? score in the passenger-side small overlap crash test, and for the headlights.  
However automatic emergency braking is not standard, as it is in all the Bolt EV?s rivals. AEB only comes with an optional package. When you get it, the IIHS calls it ?Superior.? 
Model Lineup
The Bolt EV comes in LT and Premier models. It hasn?t yet been priced for 2021, but last year?s LT was $37,495 and Premier was $41,895.
Standard equipment in the LT includes the crisp, bright 10.2-inch touchscreen with Apple CarPlay and Android Auto. The Driver Confidence I package adds blind-spot monitors and rear parking sensors, but not automatic emergency braking; for that, you must add the Driver Confidence II package. 
The Premier model adds leather upholstery, a camera-based rearview mirror, HD surround-view camera system, heated front and rear seats, blind-spot monitors and rear parking sensors. 
With either model, to get automatic emergency braking, you must add the Driver Confidence II Package (which also includes active lane control and automatic high beams).The Premier model can be optioned with an infotainment package (wireless smartphone charging and Bose premium audio) along with the Driver Confidence II package, bringing the price to about $43,000.
Exterior
The Bolt EV doesn?t exactly turn heads. From a distance it looks stocky and almost van-like, with a relatively high ride height, but as you get closer it gains some grace as merely a tall hatchback. It?s not at all rugged looking, and the floating roofline helps make the high and short profile visually tuck downward at the rear. 
Interior
The cabin is space-efficient and cleverly laid-out, with a mix of plastic surfaces on its dash and center stack. 
The big 10.2-inch touchscreen is front and center. The infotainment system is compatible with Apple CarPlay and Android Auto, and provides responsive menus and simplified interfacing. It offers a smartphone-based Chevrolet Energy Assist feature allowing owners to search for charging stations based on their car?s current and anticipated level of charge.
The front seats are upright and thinly padded, with short thigh cushions.The Bolt EV technically seats five, but the three in the rear will be sandwiched. Getting in and out doesn?t require much bending, thanks to the high seating position and ride height. Outward vision is excellent, too. 
Behind the rear seat, there?s 16.9 cubic feet of cargo room, more than the trunk space is many large sedans?in the cargo area. Fold down the rear seatbacks and the cargo capacity grows to 56.6 cubic feet, more than some crossovers. 
Driving Impressions
The front electric motor makes 200 hp and delivers up to 266 lb-ft of torque, giving the Bolt hatchback shockingly quick response and acceleration from a standing start. It can zip silently to 60 mph in less than seven seconds, impressive because the Bolt EV weighs nearly 3,600 pounds. 
But if the acceleration is impressive, the smoothness at higher speeds is astonishing. At 70 mph the speed feels 10 mph slower, making it very easy to go 80. Of course, it won?t run for 259 miles like that. 
The Bolt EV uses regenerative braking to get that range around-town. There?s a Normal mode that allows for smooth coasting, and lets the Bolt creep forward when the brake pedal is released. 
As for handling, the Bolt?s as quick as it is smooth on the freeway. The 66-kilowatt-hour battery pack is big and flat and mounted low in the floor, which lowers the center of gravity and increases stability. Out on curvy roads at higher speeds, it loses some of that nimbleness, but in a straight line it tracks true, thanks to a generous on-center zone at the steering wheel.
As for charging, the Bolt EV definitely needs the DC fast charger that?s optional with the LT and standard with the Premium. With DC fast-charging, the Bolt EV can recover 100 miles of range in 30 minutes (at an official 50 kw, or up to 55 kw in some conditions). At the very least, it needs a Level 2 charger like you might install in your garage, which will enable the batteries to charge in about 10 hours. We?ve found that over several long-distance drives, the Bolt EV was capable of reaching its EPA range of 259 miles. 
Final Word
The 2021 Chevrolet Bolt EV provides a long driving range in a versatile hatchback body for the city. The quick acceleration and nimble handling make it fun to drive, and the smoothness out on the freeway is astonishing. Seat comfort and refinement could be improved, but the Bolt?s a pioneer in inexpensive, all-electric driving.
?by Sam Moses with driving impressions by The Car Connection  
How Does CarsDirect Work?
We are not just another car-buying site.
Our FREE service is simple:

Choose the Car You Want
See the CarsDirect Price to Use in Your Negotiation at the Dealership
Get Matched with a Trusted Dealer Near You
Drive away HAPPY in your new car!