2023 & 2024 Ford F-150 Lightning
- Exclusive Ashburn New Car Discounts
Change Vehicle

YOUR VEHICLE
Ford F-150 Lightning
Consider getting price quotes on competitive cars to negotiate better.
2024 RAM 2500
Get FREE Price Quote
2024 GMC Sierra 1500
Get FREE Price Quote
2024 Nissan Titan
Get FREE Price Quote
Learn More About The Ford F-150 Lightning
What you must know before purchasing your F-150 Lightning. Use this pricing analysis to negotiate the best price with the dealer.
Highlights:
Ford F-150 Lightning Tax Credit
The Ford Lightning is eligible for a $7,500 federal tax credit. That's big news since the Inflation Reduction Act disqualified a swath of EVs and plug-ins after it was signed into law.

If you happen to qualify, the $7,500 tax credit could significantly reduce your overall cost. Just be aware that it isn't an upfront rebate.

Be sure to consult a tax professional to understand whether or not you qualify for the full amount.
Ford Lightning Price Cuts
Ford Lightning prices have seen some major ups and downs.

At the start of the 2023 model year, Ford raised F-150 Lightning prices by up to $8,500. The biggest price increases were on the F-150 Lightning XLT and Extended Range. The model's starting price went from $39,974 to $46,974.

In March of 2023, Ford raised prices to $61,869, roughly $20,000 more than when the truck was first introduced.

Then, in July of 2023, Ford cut F-150 Lightning prices by nearly $10,000. Ford said the move was made in response to improvements in battery production. Ford also introduced a discount on pre-price-cut Lightning models.
Ford Lightning Markups
The Ford F-150 Lightning has seen big markups ever since it was produced. High demand and supply chain issues have made it difficult to get one without paying over MSRP. It may be possible to avoid a dealer markup, but it won't be easy.

Ford says it increased production of F-150 Lightning XLT to better meet demand. It's too early to tell if that will result in lower prices, but it could enable you to get your hands on one a lot sooner than before.

Be prepared to place a reservation on other Ford Lightning trims.
Ford Lightning EV Rebates
In California, the Ford F-150 Lightning is eligible for the Clean Vehicle Rebate. This $2,000 incentive is available after buying or leasing, but has income limits and other restrictions worth being aware of. Be sure to read the program's fine print.

In Colorado, the Innovative Motor Vehicle Credit offers a $5,000 tax credit that can be combined with the $7,500 federal tax credit for extreme savings. Here, too, we suggest understanding how it works to ensure that you actually qualify for it.
Ford Lightning Lease Purchase Option
In June of 2022, Ford eliminated lease buyouts on the F-150 Lightning. As a result, lessees no longer had the ability to purchase their vehicle once their contract was up. The move was meant to enable Ford to improve its battery supply chain to increase recycling and to help lower prices.

A year later, Ford brought back the F-150 Lightning lease buyout option in June of 2023. Unlike before, Ford Lightning lessees can once again buy their EVs once their leases are up. The buyout price is based on the selling price you negotiate with your dealer and the residual value.
Ford F-150 Lightning Options Plan vs. Lease
Ford promoted a lease-like program called Ford Options Plan. The offer promised lower payments than a purchase and the flexibility to either return the car at the end of the contract or purchase it from Ford Credit.

Early on, Ford F-150 Lightning leases didn't include the $7,500 tax credit as an upfront discount. While that has evolved over time, the Ford Lightning has never really been among the best EVs to lease.

Ford Options Plan offered a way to get the maximum benefit of the tax credit for those who qualified, while securing a low payment. It's unclear if Ford Options Plan will play a role in future Ford Lightning deals.
Current Finance Deals
No financing deals are available at this time for the Ford F-150 Lightning.
Current Lease Deals
Leasing Incentives
Rebate
Amount
Promotional Lease Offer


Promotional lease offer available for qualified buyers on approved credit. Please check with your CarsDirect Trusted Dealer for complete details.%NotesManuf% %Eligibility% Residents residing in qualifying regions of the United States. %Qualification% Rule of 10 and Standard Rules of Eligibility apply.
2024 Ford F-150 Lightning Preview: Price, Specs, Release Date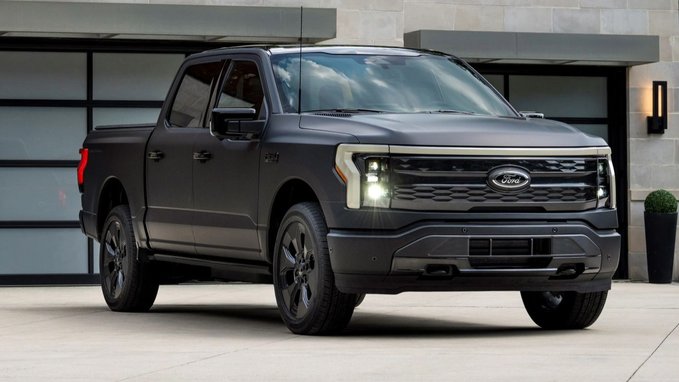 Model Preview
Ford is set to make a few changes to the F-150 Lightning for the 2024 model year. There's a new Platinum Black special edition that brings a blacked-out look to the electric pickup truck, while Ford has also introduced a new Flash trim. Elsewhere, the truck's Blue Cruise 1.2 hands-free driver-assist system has been updated, keyless entry is now standard, and the ProPower onboard generator starts up when the truck is unlocked. Consumers with a 2022 or 2023 F-150 Lightning can receive the three latter features through an over-the-air-software update.
The 2024 Ford F-150 Lightning's exterior design won't change for the new model year. The electric pickup truck will continue to have dramatic front-end lighting, a boxy design, a unique grille-less design, and r-shaped taillights that are connected by a horizontal bar. The new Platinum Black special edition brings a matte-black warp, dark badges, a dark grille, and dark 22-inch wheels to give the truck a blacked-out look.
On the inside, the 2024 Ford F-150 Lightning has a tech-forward design with large screens, while featuring easy-to-use controls. Lower F-150 Lightning trims have a large central display with physical dials and controls are sitting below the display. Despite having a tech-forward look, the F-150 Lightning has sturdy materials and a work-oriented design that matches the gas-powered truck. Higher F-150 Lightning trims have a vertically oriented central screen and few physical controls for a more modern design.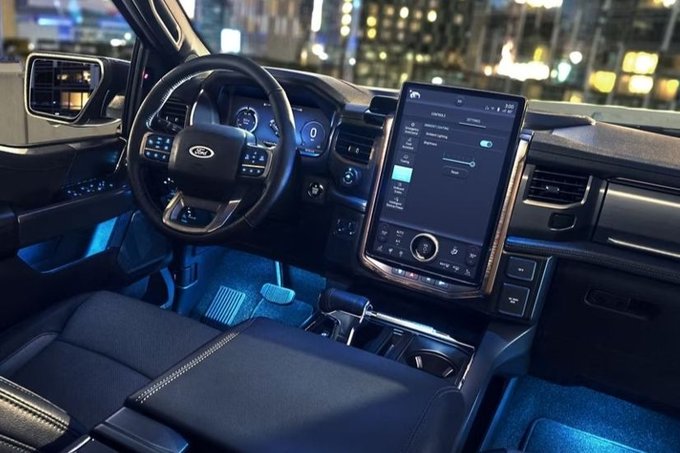 The 2024 Ford F-150 Lightning comes standard with a 12-inch digital instrument cluster, a 12-inch touchscreen, navigation, a Wi-Fi hotspot, voice recognition, six audio speakers, and wireless Apple CarPlay and Android Auto. Available tech features include a 15.5-inch touchscreen, an 18-speaker Bang & Olufsen audio system, a wireless charging pad, and satellite radio.
When it comes to performance, all 2024 Ford F-150 Lightning trucks come with two electric motors and all-wheel drive. With the Standard-Range battery pack, the pickup truck has 452 horsepower. With the available Extended-Range battery pack, power jumps to 580 hp. Torque is rated at 775 pound-feet with both battery packs. The smaller 98-kWh battery pack brings 230 miles of range, while the larger 131-kWh pack increases range to 320 miles. The F-150 Lightning tops out at 10,000 pounds of towing capacity.
On the safety front, the 2024 Ford F-150 Lightning comes standard with forward collision warning, automatic emergency braking, lane keeping assist, lane departure warning, automatic high-beam assist, blind spot monitoring, rear cross-traffic alert, and rear parking sensors. Available features include Blue Cruise, front parking sensors, adaptive cruise control, a surround-view parking camera, front parking sensors, traffic sign recognition, evasive steering assist, park assist, lane-centering assist, and intersection assist.
Pricing & Release Date
Ford has not announced pricing for the 2024 Ford F-150 Lightning. With the F-150 increasing in price, we're sure the F-150 Lightning will get a small increase. The current F-150 Lightning prices ranges from $51,990 to $93,990.
There aren't many electric pickup trucks on sale. The F-150 Lightning competes against the GMC Hummer EV Pickup, Rivian R1T, and Chevrolet Silverado EV.
Pictured: 2023 Ford F-150 Lightning
How Does CarsDirect Work?
We are not just another car-buying site.
Our FREE service is simple:

Choose the Car You Want
See the CarsDirect Price to Use in Your Negotiation at the Dealership
Get Matched with a Trusted Dealer Near You
Drive away HAPPY in your new car!