2021 Ford Mustang Mach-E
- Exclusive Ashburn New Car Discounts
Change Vehicle

YOUR VEHICLE
Ford Mustang Mach-E
Consider getting price quotes on competitive cars to negotiate better.
2021 Volkswagen ID.4
Get FREE Price Quote
2022 Chevrolet Traverse
Get FREE Price Quote
2022 Volkswagen Atlas

Get FREE Price Quote
Learn More About The Ford Mustang Mach-E
What you must know before purchasing your Mustang Mach-E. Use this pricing analysis to negotiate the best price with the dealer.
Highlights:
2021 Mustang Mach-E in stock; 2022s can be ordered
Balloon Loan: From $573/mo (2022)
Rebates: Too soon for cash incentives
Finance: From 1.9% APR
2021 Mustang Mach-E in stock; 2022s can be ordered
The all-new 2021 Mustang Mach-E remains on sale in most areas, although supplies are very tight. The Mach-E is an electric-powered crossover with styling borrowed from the Mustang coupe. The Mach-E is offered in four trims: Select, Premium, California Route 1, and GT. Demand has been strong.
The carryover 2022 Mustang Mach-E is available for order through Ford dealers. The minimum wait time on new orders is 28 weeks for the GT and 20 weeks for the other trims. 2022 Mach-E prices recently increased by as much as $3,000 depending on the configuration.
Buyers are eligible for a federal tax credit of up to $7,500. In California, the Mach-E qualifies for up to $3,500 in state rebates like the California Clean Vehicle Rebate and Clean Fuel Reward. Rather than promoting a normal lease, Ford is offering a balloon loan option that can work very much like a lease.
Offers from Ford vary by region and are available through January 31, 2022. This page is updated monthly, so check back for the latest Mach-E pricing and promotions.
Ford Mustang Mach-E Lease Deals
Balloon option from $573/month
The Ford Options Plan for the Mach-E works somewhat like a lease. Under the program, the buyer gets a balloon loan through Ford Credit for 36 or 48 months to purchase the car.
The monthly payments are lower than a regular loan because a large portion of the loan is due at the end of the term in a single balloon payment. The buyer can make the final balloon payment and keep the car, or transfer ownership to Ford to cover the balance.
Unlike a lease, the buyer remains eligible for any applicable EV tax credits. However, the interest rate can be higher than a regular loan, and the balloon can be substantial. Review the terms carefully before you sign.
The initial offer on the 2022 Mach-E Select Standard Range is $573 for 36 months (10,500 miles a year) with $4,390 down. The effective monthly cost is $695, which is rather expensive, but your cost could go down dramatically when tax credits and state rebates are factored in.
Ford no longer offers the balloon option on the 2021 Mach-E.
Ford Mustang Mach-E Rebate Deals
Too soon for cash incentives
The Mach-E is selling close to MSRP in most areas. Pricing appears more favorable in California and other zero-emission states.
Like most Fords, the Mach-E is eligible for Ford Plan Pricing for employees, suppliers, and affiliated companies.
Ford Mustang Mach-E Finance Deals
Rates from 1.9% APR
Ford now offers 2.49% financing for 72 months on non-GT 2021 and 2021 Mach-E models.
For the GT model, your options are 1.9% for 36 months, 2.9% for 48, 3.9% for 60, and 5.9 for 72.
Current Finance Deals
Interested in financing your new car? If so, make sure your dealer includes these incentives.
Financing Incentives
Rebate
Amount
Promotional APR Offer


Promotional APR programs available for qualified buyers. Please check with your CarsDirect Trusted Dealer for complete details.%NotesManuf% %Eligibility% Qualifying residents of the United States. %Qualification% Rule of '10' and Standard Rules of Eligibility apply.
Current Lease Deals
Leasing Incentives
Rebate
Amount
Promotional Lease Offer


Promotional lease offer available for qualified buyers on approved credit. Please check with your CarsDirect Trusted Dealer for complete details.%NotesManuf% %Eligibility% Residents residing in qualifying regions of the United States. %Qualification% Rule of 10 and Standard Rules of Eligibility apply.
Introduction
What's New
The all-new 2021 Ford Mustang Mach-E is as polarizing as it is fast. It wears the revered Mustang nameplate, but is an all-electric, all-wheel-drive crossover – about as distinct as you can get from a rear-wheel-drive, V8-powered sports coupe.
Yet, a properly equipped Mustang Mach-E will have no trouble doing 0-60 mph in under four seconds and have cornering prowess to boot. Mustang-derived styling and Tesla-esque levels of connectivity round out the package.
The Mustang faithful, of course, will cry bloody murder; the idea of a Mustang as an electric crossover remains tough to fathom. But the Mach-E deftly blends technology, performance, and panache in a way no other electric crossover has managed this side of a Jaguar I-PACE.
Choosing Your Ford Mustang Mach-E
The Ford Mustang Mach-E is offered in four trims: Select, Premium, California Route 1, and GT. Pricing begins at $44,995 including destination for the Select and climbs to $61,600 for the GT. All models will qualify for the $7,500 federal EV tax credit.
Engine Choices
The Mach-E is available with two different batteries: Standard Range or Extended Range.
The Standard Range is a 68-kWh battery that's offered with rear- or all-wheel drive. Rear-wheel drive means a single 210-kilowatt electric motor between the rear wheels, which is expected to bring 255 horsepower and 306 pound-feet of torque. AWD models add another 50-kW electric motor up front, which brings torque to 417 lb-ft. While EPA ratings have yet to be announced, Ford is projecting 230 miles of range with RWD or 210 miles with AWD.
The Extended Range is a 88-kWh battery. It's expected to bring 282 hp with RWD, or 332 hp with AWD. In the GT trim, it brings 459 horsepower and 612 lb-ft of torque. Range is ballparked at 300 miles with RWD or 270 with AWD, but it falls to an estimated 235 miles in the GT.
The Select comes standard with RWD and the Standard Range battery, with AWD a $2,700 upgrade. The same goes for the Premium trim, but it's also offered with the Extended Range for $5,000 more (RWD) or $7,700 (AWD). The California Route 1 is only offered with RWD and the Extended Range battery, while the GT only gets the Extended Range and AWD.
Going from 0-60 mph is a five- to seven-second affair for most models, but the GT can do the deed in less than four seconds.
With a 150-kW DC fast charger, 61 miles can be regained in 10 minutes. Normal charging on a 120-volt household outlet is a much more modest three miles per hour plugged in. Upgrade to a 240-volt outlet and that improves to 21 miles per hour of charging.
MPGe ratings have yet to be published by the EPA. For an idea of what to expect, consider that the I-PACE electric crossover is rated for 76 MPGe combined, the Tesla Model X for 93 MPGe combined, and the Tesla Model Y for 121 MPGe combined. That's about the end of the list for sporty electric crossovers.
Passenger and Cargo Capacity
The Mach-E is four-door, five-seat crossover. Despite the swooping roofline, there's still 38 inches of front and rear head room, and rear leg room is a generous 38 inches.
The cargo area is good for 29 cubic feet behind the rear seat or 59.6 cubic feet with the rear bench folded. That's somewhat underwhelming for a 186-inch long crossover.
The Ford Edge, for instance, is just 2 inches longer but has 39 cubic feet of space behind the rear seats and 75 cubic feet of maximum cargo space. The Model Y is also more capacious than the Mach-E, while the I-PACE trails it slightly.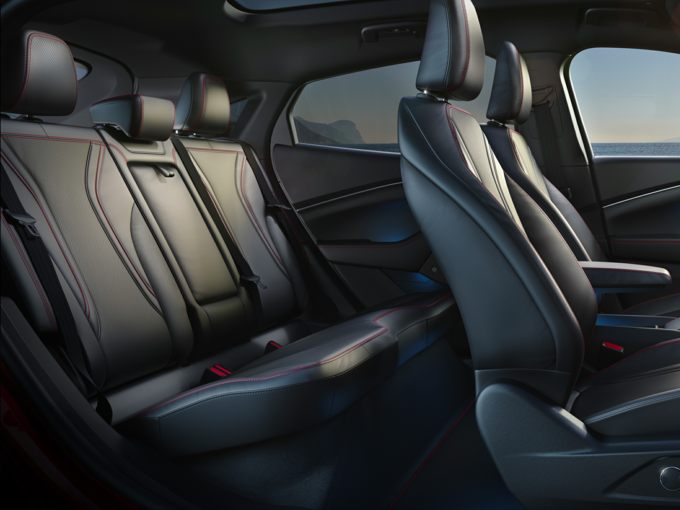 Safety Features
Every Mach-E comes with Ford's suite of active safety features. Branded as Co-Pilot360 Assist 2.0, this collection of features includes automatic emergency braking, adaptive cruise control, blind-spot monitoring, rear cross-traffic alert, lane keeping assist, automatic high beams, rear parking sensors, and post-collision braking.
The Premium and California Route 1 add an automated parking system and a surround-view camera.
Most models also come standard with the adaptive drive assist prep kit, which includes the necessary hardware for an upcoming hands-free, semi-autonomous highway driving option. The software for this won't be available at launch, but once available can be purchased and downloaded via an over-the-air update.
Connectivity
Ford has gone full Tesla with the Mach-E; that is, the experience here is as much about an all-encompassing, tech-heavy interface as it is about visceral performance. Driving that point home is the 15.5-inch touchscreen that occupies the center stack. All physical switches for the radio and climate control settings have been eliminated in favor of the rectangular, vertically-oriented touchscreen.
The touchscreen is running the Latest Ford Sync software, version 4A. Embedded in the system is Apple CarPlay and Android Auto functionality, navigation, cloud-based connectivity, and voice recognition. Ford is also rolling out over-the-air updates that allows owners to download system improvements, upgrades, and fixes over the internet.
Also standard on the Mach-E is wireless phone charger and a phone-as-a-key feature. The latter is exactly what it sounds like: owners can use their smartphones in lieu of an actual keyfob to do everything from unlocking the doors to activating the remote start.
The Mach-E Select comes equipped with an eight-way power driver's seat, fabric upholstery, 18-inch wheels, a 10.2-inch all-digital instrument cluster, as well and all the aforementioned tech and safety features.
The two primary option packages are the $2,300 Comfort/Appearance Package and the $2,600 Comfort/Technology Package. The former includes 19-inch wheels, a foot-activated liftgate, heated front seats, a heated steering wheel, and memory seats and mirrors; the latter includes those amenities, skips on the bigger wheels, and also adds a surround-view camera, automated parking, and the adaptive drive assist prep kit.
Moving into the Premium adds LED lighting, 19-inch wheels, a 10-speaker Bang and Olufsen audio system, an eight-way power passenger's seat, and a panoramic fixed-glass roof. All the equipment found in the Select's Comfort/Tech Package is standard as well.
There are no options outside of battery size, drivetrain, and color.
California Route 1 - From $52,900
The CR1, which will be available late in 2020, is only offered with the Extended Range battery and rear-wheel drive. It gets the extra safety equipment that's standard in the Premium but the amenities of the Select. Exclusive badging, a panoramic roof, and power-folding mirrors are also standard.
The flagship of the Mach-E lineup is the GT, which won't be available until the summer of 2021. It comes standard with all-wheel drive and the Extended Range battery, but is tuned for performance rather than efficiency – there's 459 horsepower and 612 pound-feet of torque on hand, while range tumbles to 235 miles.
Standard equipment reflects its place in the lineup. It gets 20-inch wheels, unique upholstery with contrasting stitching, and red brake calipers. It also gets all the features included with the Premium.
Compare Mustang Mach-E Trims Side-By-Side
CarsDirect Tip
If range is your biggest concern, get the California Route 1. It costs $3,200 less than a comparable Premium with the same battery and motor count. Otherwise, a Select is the best value in the 2021 Ford Mustang Mach-E lineup.
How Does CarsDirect Work?
We are not just another car-buying site.
Our FREE service is simple:

Choose the Car You Want
See the CarsDirect Price to Use in Your Negotiation at the Dealership
Get Matched with a Trusted Dealer Near You
Drive away HAPPY in your new car!