Introduction
The Accord Plug-in Hybrid is Honda's first foray into this relatively small portion of the hybrid market and it is available only in New York and California, at least for the time being. With an all-electric range of about 13 miles, the Accord Plug-in is designed for buyers who have a short commute or will use the car primarily for close-to-home errands.
What's New for 2014
The Accord Plug-in Hybrid is a brand-new model for 2014.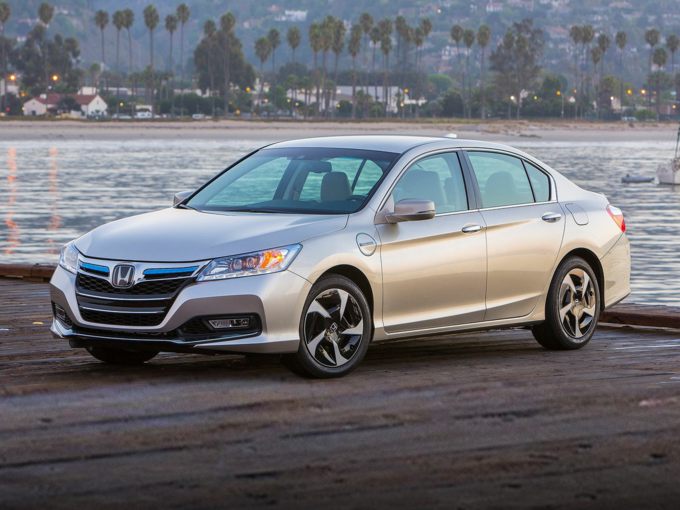 Choosing Your Honda Accord Plug-In Hybrid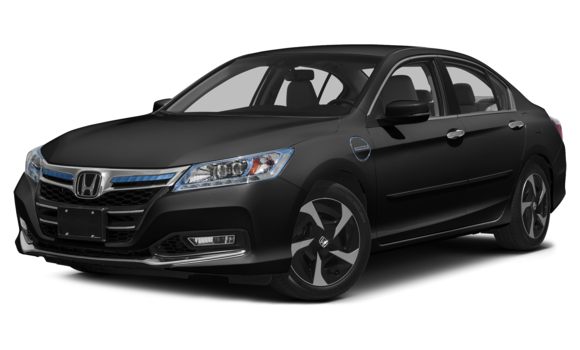 You won't have to make lots of decisions about how you want your Plug-in equipped. It comes in one trim only, which is very similar but not quite identical to the gasoline-powered Accord's top-level Touring trim. In fact, your only decision will be which of the three exterior color choices—white, black or silver—will look best in your driveway.
Among the differences you'll see in the Plug-in is its bio-fabric upholstery, available only in gray and exclusive to the Plug-in. It's not even used in the non-plug-in hybrid line. The Plug-in also features a body-colored rear decklid spoiler to help with aerodynamics, and some of its frame and exterior parts, such as the hood, are aluminum to lessen the car's overall weight.
The Plug-in Hybrid is powered by a 2-liter 141-horsepower four-cylinder gasoline engine, a 124-kilowatt electric motor and a 55-horsepower lithium-ion battery pack. Power is channeled through an electronic continuously variable transmission (CVT), while a regenerative braking system helps recharge the battery pack. The plug-in charging system will fully charge in about three hours when plugged into a 120-volt wall outlet; with the available 220-volt charger that time is cut to approximately an hour.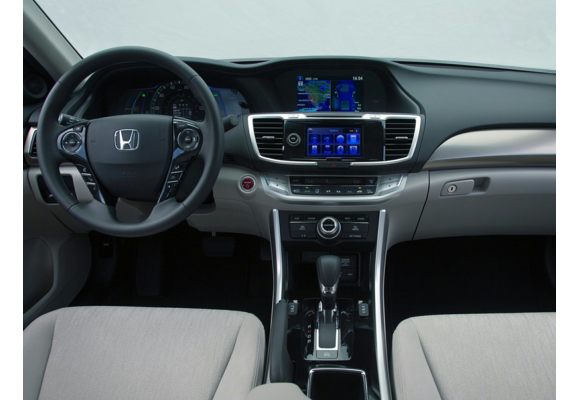 Safety, comfort and convenience features abound in the Accord Plug-In Hybrid. The electronics suite includes navigation, an 8-inch screen and a host of audio interfaces and links. The rearview camera includes guidelines and Honda's Lane Watch system allows you to see the area to the car's right whenever you turn on the right-turn signal. Additionally, forward-collision and lane-departure warning systems, along with adaptive cruise control, provide extra safety. Also included is an acoustic vehicle alerting system, a long term for an external beeper that sounds when the car is moving at low speed under electric-only power. It's designed to alert pedestrians to the car's presence as it moves quietly through areas such as parking lots or after-school pick-up zones.
Accord Comparisons
How does the Plug-in compare to the rest of the Accord lineup? Highly efficient mileage estimates are the first set of figures everyone looks for and here the Plug-in rates second in the group for gasoline-only combined driving, although it misses top billing by only one mile per gallon:
Hybrid group: 47 mpg
Plug-in hybrid: 46 mpg
Gasoline-only Accords: 26 to 30 mpg, depending on transmission and engine size
But does this high efficiency come at the cost of power? Not really, as the Plug-in, along with the other Hybrid group, falls in the middle of the range of available horsepower in all 2014 Accords.
Two of the six gasoline-only Accords are equipped with 3.5-liter V6 engines that produce 278 horsepower.
The Plug-in and the other Hybrids operate with a system that produces a combined output of 196 horsepower.
The remaining four gasoline-only models feature a 2.4-liter four-cylinder engine with 185 horsepower, except in the Sport model where the same engine is tweaked to 189 horsepower.
CarsDirect Tip
Although the Accord Plug-in Hybrid carries a high price tag, it is a Honda with that brand's reputation for reliability and longevity behind it. You may never recoup the costs in fuel savings, but you will likely have a long-lasting and safe car for your family.
Choose your Honda Plug-In Hybrid »
How Does CarsDirect Work?
We are not just another car-buying site.
Our FREE service is simple:

Choose the Car You Want
See the CarsDirect Price to Use in Your Negotiation at the Dealership
Get Matched with a Trusted Dealer Near You
Drive away HAPPY in your new car!