2023 Hyundai IONIQ 5
- Exclusive Ashburn New Car Discounts
Change Vehicle

YOUR VEHICLE
Hyundai IONIQ 5
Consider getting price quotes on competitive cars to negotiate better.
2023 Nissan ARIYA
Get FREE Price Quote
2023 Volkswagen ID.4
Get FREE Price Quote
Learn More About The Hyundai IONIQ 5
What you must know before purchasing your IONIQ 5. Use this pricing analysis to negotiate the best price with the dealer.
Highlights:
On Sale Now: 2023
Lease: From $399/mo
Rebates: Up to $5000
Financing: Rates From 0.99% APR
2023 Hyundai IONIQ 5 Available With Limited Availability; 2022s Sold Out

The IONIQ 5 is an all-new EV with a range of over 300 miles and a starting price of just over $40,000. Hyundai already has a handful of deals for buying & leasing its newest electric car.
Shoppers should be aware that the base model IONIQ 5 won't be available until the spring. For now, the cheapest model is the 303-mile EV with an MSRP of almost $45,000. Hyundai is limiting initial IONIQ 5 sales to AZ, CA, CO, CT, FL, IL, ME, MD, MA, NJ, NY, OR, PA, RI, TX, VT, VA, and WA.⁠
Current offers end on July 5, 2023. Examples here are for Southern California unless noted otherwise. This page is updated monthly with the most recent incentives, so be sure to check back for the latest info.
Hyundai IONIQ 5 Lease Deals
Lease From $399 per month
Hyundai has one lease deal in place for the 2023 IONIQ 5. The SE Long Range trim is available for $399 per month for 36 months with $4,999 due at signing. This lease deal has an effective monthly payment of $538, which is a good deal.
Although a $7,500 federal tax credit was available to make the IONIQ 5 cheaper to lease, Hyundai Motor Finance (HMF) was actually keeping the incentive to itself. Normally, automakers that make electric cars & SUVs pass the savings on to consumers in the form of lease cash. The IONIQ 5 is no longer available with a Federal Tax Credit, though state rebates may still be available.
Hyundai IONIQ 5 Rebate Deals
Up To $5,000 Off
The 2023 IONIQ 5 is available with a few rebate deals this month. Consumers showering for a SE or SEL trim will be eligible for up to $5,000 off as a finance bonus. Hyundai is also offering the IONIQ 5 with $5,000 in retail bonus cash. In order to be eligible for the finance bonus, shoppers have to finance through Hyundai. The retail bonus is not stackable with the low APR rate.
You can also find state & local plug-in rebates depending on where you live.
Last month, Hyundai was offering the IONIQ 5 with up to $1,000 off as a finance bonus for shoppers that purchase a SE or SEL trim. Consumers have to get financing through Hyundai to be eligible for the finance bonus.
For example, the California Clean Vehicle Rebate (CVRP) offers a $2,000 post-purchase incentive on EVs. Unfortunately, the California Clean Fuel Reward (CCFR) which provided an upfront savings of $750 is currently on hold.
Manufacturer incentives can typically be combined with state plug-in incentives, but be sure to read the applicable fine print just to be sure.
Hyundai IONIQ 5 Finance Deals
Rates From 0.99% APR
Hyundai has introduced new financing deals for the 2023 IONIQ 5 this month. The electric vehicle is available with a 0.99% APR for 48 months, a 1.49% APR for 60 months, and a 1.99% APR for 72 months.
These are some of the best rates we've ever seen for the IONIQ 5.
Current Finance Deals
Interested in financing your new car? If so, make sure your dealer includes these incentives.
Financing Incentives
Rebate
Amount
Promotional APR Offer


Promotional APR programs available for qualified buyers. Please check with your CarsDirect Trusted Dealer for complete details.
Current Lease Deals
Leasing Incentives
Rebate
Amount
Promotional Lease Offer


Promotional lease offer available for qualified buyers on approved credit. Please check with your CarsDirect Trusted Dealer for complete details.%NotesManuf% %Eligibility% Consumer rebate may NOT be combined with HMF Special Lease Programs. This HMF Special Lease program may be combined with Lease Cash.

Lease Bonus Cash


Lease Cash




(Expires 7/5/23)

Bonus cash available for qualified customers leasing a vehicle through the manufacturer's captive finance company on approved credit. Please check with your CarsDirect Trusted Dealer for complete details.%NotesManuf% %Eligibility% This Cash is compatible with HMF Special Lease Rates.

$7,500
Introduction
What's New
The 2023 Hyundai IONIQ 5 sees few but notable changes just one year after its debut including improved efficiencies in the all-wheel-drive models that increase the range, battery pre-conditioning for faster charging, expanded application of the digital key, and a new gold matte color.
Choosing Your Hyundai IONIQ 5
Engine Choices
The IONIQ 5 is available with two power units. The Standard Range model (available in base trim only) packs a rear axle motor that generates 168 horsepower and 258 pound-feet of torque and a 58 kWh battery pack. The extended-range models pack 225 horsepower (with the same torque rating) motor and a 77.4 kWh battery pack as well as a $4,050 higher price tag.
All-wheel drive models (+$3,700) add a front axle motor to generate 320 horsepower and 446 pound-feet of torque.
Rear-wheel drive models with the extended-range system earn an EPA-estimated 114 MPGe combined and deliver 303 miles of range (220 with the standard battery pack) and the all-wheel drive models earn an efficiency rating of 101 MPGe combined (up three from last year) and travel 266 miles on a charge – a gain of ten over last year.
Charging from a high-output DC Fast charging station, the IONIQ 5's 800-volt system can charge the battery from 10% to 80% in as little as 18 minutes. From a Level 2 station, the IONIQ 5 requires a little over seven hours.
Passenger and Cargo Capacity
The IONIQ 5 has a length of 183 inches and is within a few inches of the Volkswagen ID.4 and Toyota bZ4X but its wheelbase of 118 inches is notably greater than the others. Rear passenger space is roomy with 39.4 inches of legroom, 38.7 inches of headroom, and 58 inches of shoulder room. The cargo area measures 27.2 cubic feet and expands to 59.3 cubic feet with the rear seats folded and there is a small bin under the hood.
The full-size battery pack models can tow 2,300 pounds, up from last year's rating of 1,650 pounds.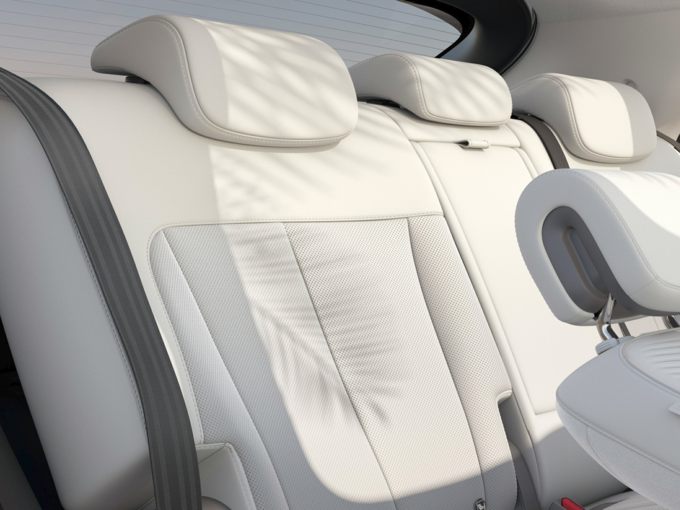 Safety Features
All trims are equipped with automatic emergency braking, blind spot detection, adaptive cruise control with stop-and-go, lane keep assist with rear cross-traffic braking, and automatic high beams.
The SEL trim adds advanced collision avoidance and highway driving assist systems and front parking sensors and the Limited further adds a gauge cluster blind spot display, parking assist with braking, and a remote parking system.
The IONIQ5 has received IIHS' 2022 Top Safety Pick+ award with Superior ratings for vehicle-to-vehicle collision avoidance and vehicle-to-pedestrian (daytime) avoidance. Only the Limited trim's premium headlights score a Good rating. The Hyundai also receives a five-star rating from NHTSA.
Connectivity
A 12.3-inch infotainment touchscreen with navigation, SiriusXM, Apple CarPlay, Android Auto, and remote vehicle connectivity are included in all trims. The SE features four USB charging ports while the SEL adds a wireless charger and the Limited allows one to draw power from the vehicle's battery pack. The top trim also features Bose premium audio.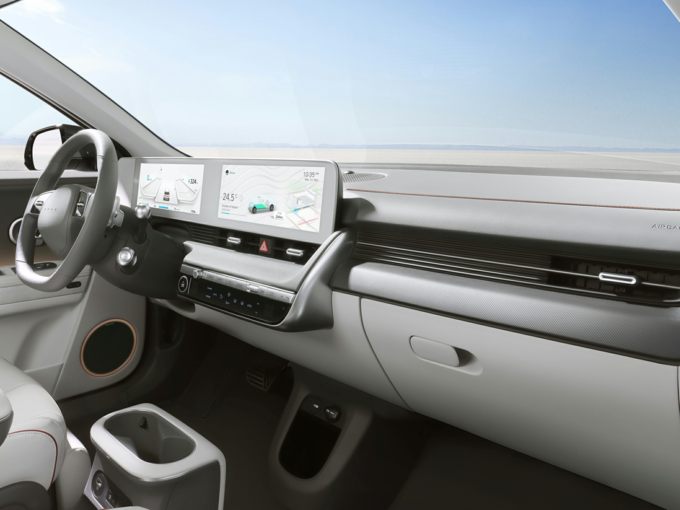 2023 Hyundai IONIQ 5 SE – MSRP From $42,745
The base trim includes 19-inch wheels, LED headlights, daytime running lights, and tail lights, heated mirrors with integrated turn signals, flush door handles, a powered open and close charge port door, proximity entry, heated cloth seats, a leather-wrapped steering wheel, a 12.3-inch digital gauge cluster, dual-zone climate control, and LED interior lighting.
2023 Hyundai IONIQ 5 SEL – MSRP From $48,745
The mid-level trim gains power-folding mirrors, digital key entry, a hands-free power tailgate, synthetic leather seats, an eight-way power adjustable driver's seat, a heated steering wheel, and second-row HVAC vents.
2023 Hyundai IONIQ 5 Limited – MSRP $53,895
The Limited trim is now the only trim with front LED accent lighting and continues to feature premium side sills, gloss-black exterior accents, 20-inch wheels on the all-wheel-drive models, a panoramic glass roof, a surround-view monitor, ventilated seats with an eight-way power passenger seat and driver's side memory, a head-up display, and rear window sunshades.
Compare Ioniq 5 Trims Side-By-Side
CarsDirect Tip
The SEL trim includes all of the goodness that's been baked into the IONIQ 5 plus several desirable features such as the enhanced driving assist system and digital key entry. While the higher trims don't feel overpriced, their additional features aren't as convincing.
How Does CarsDirect Work?
We are not just another car-buying site.
Our FREE service is simple:

Choose the Car You Want
See the CarsDirect Price to Use in Your Negotiation at the Dealership
Get Matched with a Trusted Dealer Near You
Drive away HAPPY in your new car!