2022 Hyundai Ioniq Plug-In Hybrid
- Exclusive Ashburn New Car Discounts
Change Vehicle

YOUR VEHICLE
Hyundai Ioniq Plug-In Hybrid
Consider getting price quotes on competitive cars to negotiate better.
2022 Hyundai Ioniq Hybrid
Get FREE Price Quote
2022 Kia Niro Plug-In Hybrid
Get FREE Price Quote
2022 Hyundai IONIQ 5

Get FREE Price Quote
Learn More About The Hyundai Ioniq Plug-In Hybrid
What you must know before purchasing your Ioniq Plug-In Hybrid. Use this pricing analysis to negotiate the best price with the dealer.
Highlights:
2022 Ioniq Plug-in Hybrid available with limited availability
Lease: No advertised lease deals
Rebate: No rebate available
Finance: No financing offers
2022 Hyundai Ioniq Plug-In Hybrid Available With Limited Availability
The 2022 Ioniq PHEV is in dealer showrooms. This model is unchanged from last year.
The current offers end on July 5, 2022. Examples here are for Southern California but expect to see similar deals in other parts of the country. This page is updated monthly with the most recent incentives, so be sure to check back for the latest information.
Hyundai Ioniq PHEV Lease Deals
No advertised lease deals
Hyundai is not offering the 2022 Ioniq Hybrid with a lease deal this month.
Previously, consumers could have leased a 2022 Hyundai Ioniq SE Plug-in hybrid for $229 per month for 36 months with $2,499 due at signing. Your effective monthly cost is $298, which makes this a good deal.
Hyundai's lease offer provides a 10,000-mile-per-year driving allowance. At the end of the lease term, you'll pay a disposition fee.
Hyundai Ioniq PHEV Rebate Deals
Plug-In Rebates Available
There are no standard rebates or cash offers with the Ioniq PHEV. We may see an offer later in the year, but for now, there is nothing offered.
The 2022 Ioniq PHEV is available with government-backed incentives. California residents will find $1,000 in CVRP cash, as well as a $454 CA Clean Fuel Reward. Other states may have their own incentives. Also, all buyers may also qualify for a $4,543 federal tax credit. Together, these deals make the plug-in model a better deal than the conventional hybrid.
Hyundai Ioniq PHEV Finance Deals
No Financing Offers
There are no promotional financing offers in place for the Ioniq Plug-in Hybrid. However, check with your dealer about available standard financing deals.
Earlier this year, we saw zero-percent financing. Here, you could finance your vehicle for 0% APR for 60 months or 1.9% APR for 72 months.
Current Finance Deals
No financing deals are available at this time for the 2022 Hyundai Ioniq Plug-In Hybrid.
Current Lease Deals
No lease deals are available at this time for the 2022 Hyundai Ioniq Plug-In Hybrid.
2022 Hyundai Ioniq Plug-In Hybrid Preview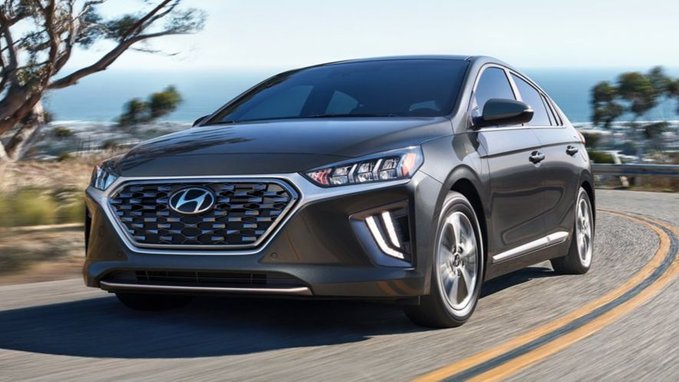 Model Preview
Hyundai's Ioniq Plug-In Hybrid comes back unchanged for another year, but it is still only sold in 11 states (CA, CO, CT, MA, MD, ME, NJ, NY, OR, RI, & VT). Offered in three trims - the SE, the SEL, and the Limited - pricing for the PHEV begins at $27, 845. That isn't necessarily what you'll pay, however, as this vehicle is eligible for government incentives such as the federal tax credit or the CVRP and California Clean Fuel Reward in California. Other states may have their own incentives for buying an EV like this, and it can add up to a better deal.
One of three different electric versions next to the Ioniq Hybrid and Ioniq EV, the Ioniq Plug-in Hybrid contains a 1.6L 16-valve I-4 engine with six-speed EcoShift Dual Clutch transmission. There is also the option to drive in all-electric mode using the lithium-ion polymer battery. This gives the Ioniq PHEV 139 hp of gas and electric combined, 52 combined mpg for gas mode, 125 lb-ft of torque, 119 MPGe on electric mode, and 29-mile all-electric range on a fully charged battery. The combined battery and gas range totals up to 620 miles. This vehicle can charge in less than seven hours with a standard 110V/120V outlet or in about two hours with a 240V outlet. With the Bluelink app, consumers can use Charge Indicators and Scheduling to set their car to charge during certain hours when rates are lower.
Battery technology isn't all the tech this PHEV has, it also comes available with features such as wireless Apple CarPlay or Android Auto, an eight or 10.25-inch display screen, a buttonless climate control interface, Harman Kardon audio system, and access to mobile apps, maps, and infotainment via the touchscreen. Other cabin features include a leather-wrapped steering wheel, a proximity key with a push-to-start button, and 60/40 split-folding rear seats to utilize the 119 cubic feet of cargo space available.
Along with the tech comes safety as well. Hyundai has equipped the Ioniq PHEV with blind-spot collision warning, lane-keeping assist, highway drive assist, rear cross-traffic collision warning, high beam assist, driver attention warning, smart cruise control, and forward-collision avoidance with pedestrian detection. Another highlight is that the brakes can use three different types of energy capture to convert the mechanical energy from the wheels into electricity and store it in the battery.
Other vehicles that the Ioniq PHEV might find competition in include the Toyota Prius Prime and Subaru Crosstrek PHEV.
How Does CarsDirect Work?
We are not just another car-buying site.
Our FREE service is simple:

Choose the Car You Want
See the CarsDirect Price to Use in Your Negotiation at the Dealership
Get Matched with a Trusted Dealer Near You
Drive away HAPPY in your new car!