YOUR VEHICLE
Hyundai Ioniq Electric
Consider getting price quotes on competitive cars to negotiate better.
2019 Hyundai Kona Electric
Get FREE Price Quote
2019 Nissan LEAF
Get FREE Price Quote
2020 Kia Optima Hybrid

Get FREE Price Quote
Learn More About The Hyundai Ioniq Electric
What you must know before purchasing your Ioniq Electric. Use this pricing analysis to negotiate the best price with the dealer.
Highlights:
Hyundai Ioniq Electric sold only in select states
Rebates: No cash back incentives
Finance: 1.9% for 60 months
Lease: From $239 per month
The Ioniq electric-only model:
The Hyundai Ioniq Electric is the latest in an expanding lineup of Ioniq vehicles. It offers a highly competitive base price and can now be found outside California. For 2019, Hyundai is selling the car in CARB emissions states. This model is stocked in limited numbers. Likely, you'll have to order one.
The 2019 Ioniq Electric features mild enhancements, including automatic high beams and driver attention assist. This model makes 118 horsepower and offers a range of up to 124 miles. It is eligible for the California Clean Vehicle Rebate ($2,500 for most, subject to income limits), as well as an IRS tax credit of up to $7,500.
As for the 2020s, we'll see them this fall. We expect a slight refresh and perhaps an improved range.
The current Hyundai offers are in place through July 31, 2019. There is always a chance we'll see an update before then, so please check back.
Offers vary by region; our examples are for California.
No rebates at this time:
Unfortunately, there are no cash incentives yet on the Ioniq Electric. This includes loyalty discounts and conquest offers for customers leaving a competitor for Hyundai.
That said, we expect to see at least a loyalty discount at some point since that is a typical Hyundai practice. These types of offers were introduced to the Ioniq Hybrid, so hope remains.
The current financing offers:
Well-qualified buyers can finance a 2019 model where you'll find 1.9-percent financing for 60 months and 2.9-percent financing for 72 months.
Hyundai's financing offers are excellent and come in lower than what most competitors offer.
Lease from $239 per month:
If you're considering a Hyundai Ioniq Electric, you can lease a Base model for $239 per month for 36 months with $2,500 due at signing. Your effective monthly cost is $308, which we consider a pretty good deal.
Hyundai restricts your driving to 12,000 miles per year. Unlike past offers, this is a traditional lease and not a subscription deal that includes free maintenance, charging, etc.
Current Finance Deals
Interested in financing your new car? If so, make sure your dealer includes these incentives.
Financing Incentives
Rebate
Amount
Promotional APR Offer


Promotional APR programs available for qualified buyers. Please check with your CarsDirect Trusted Dealer for complete details.
Current Lease Deals
Leasing Incentives
Rebate
Amount
Promotional Lease Offer


Promotional lease offer available for qualified buyers on approved credit. Please check with your CarsDirect Trusted Dealer for complete details.%NotesManuf% %Eligibility% Consumer rebate may NOT be combined with HMF Special Lease Programs This HMF Special Lease program may be combined with Lease Cash

Lease Bonus Cash


Lease Cash




(Expires 7/31/19)

Bonus cash available for qualified customers leasing a vehicle through the manufacturer's captive finance company on approved credit. Please check with your CarsDirect Trusted Dealer for complete details.%NotesManuf% %Eligibility% This Cash is compatible with HMF Special Lease Rates

$8,000
Introduction
The 2019 Hyundai Ioniq Electric is the belt-wearing title-holder of a prestigious honor: the most fuel-efficient car on the road. That badge isn't without limitations, chiefly the fact that the Ioniq Electric is currently only sold in California. But for those who can find one to buy, the Ioniq Electric is a legitimate competitor to the electric establishment.
What's New for 2019
Changes to the 2019 Ioniq Electric come in the safety and technology departments. Driver attention alerts and automatic high beams join the list of available safety features, and remote charge management is now standard. Navigation-equipped Ioniq's gain new voice-recognition software.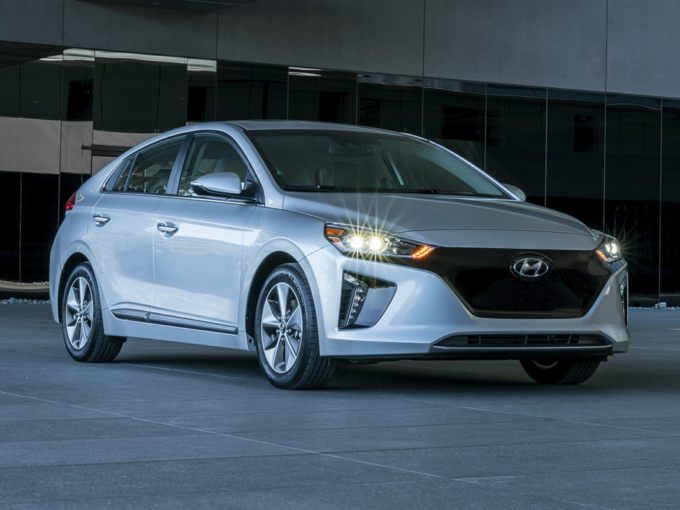 Choosing Your Hyundai Ioniq Electric
All Ioniq Electrics share a heart: a 28-kWh litium-ion battery paired to an 88-kW motor. The system is good for 118 horsepower and 218 pound-feet of torque. Power is sent to the front wheels via a single-speed reduction-gear transmission.
More importantly, the EPA estimates a range of 124 miles and an efficiency of 136 miles per gallon of gasoline equivalent (MPGe). At the time of writing, that's the highest rating of any vehicle sold in the US. The electric range, however, is a bit lower than that of rivals like the Nissan Leaf – expect a battery upgrade in the next couple years.
The Ioniq Electric also loses out on cargo capacity, although it still manages a respectable 23 cubic feet. Even base models are well equipped. Standard perks include remote start, keyless entry, push-button start, automatic climate control, and heated front seats.
The remainder of the features are decided by trim, of which there are two:
CarsDirect Tip
The base 2019 Hyundai Ioniq Electric offers a cheap entry into the world of electric cars, especially after federal tax credits. But for most buyers, it's probably worth stepping up to the Limited trim, which gets useful luxury and safety perks.
How Does CarsDirect Work?
We are not just another car-buying site.
Our FREE service is simple:

Choose the Car You Want
See the CarsDirect Price to Use in Your Negotiation at the Dealership
Get Matched with a Trusted Dealer Near You
Drive away HAPPY in your new car!