2023 Jaguar F-PACE
- Exclusive Ashburn New Car Discounts
Change Vehicle

YOUR VEHICLE
Jaguar F-PACE
Consider getting price quotes on competitive cars to negotiate better.
2023 Lincoln Navigator
Get FREE Price Quote
2023 Mercedes-Benz GLE-Class
Get FREE Price Quote
2023 Audi e-tron
Get FREE Price Quote
Learn More About The Jaguar F-PACE
What you must know before purchasing your F-PACE. Use this pricing analysis to negotiate the best price with the dealer.
Highlights:
On Sale Now: 2023
Lease: From $1,149/mo
Rebates: No cash incentives
Financing: No APR deals
2023 F-PACE is hard to find in stock
The 2023 F-PACE is a carryover of the 2022, which has sold out, and it tends to be difficult to find in stock. A factory order is likely the easiest way to get the vehicle you want.
Offers are good through March 31, 2023. This page is updated monthly with the latest incentives, so be sure to check back next month for the most current information.
Jaguar F-PACE Lease Deals
Lease from $1,149 per month for 36 months
Jaguar's payment calculators estimate that leasing a 2023 P250 S with AWD starts at $1,149 per month for 36 months with a 10,000-mile-per-year allowance and $4,995 due at signing.
That equates to an effective monthly cost of $1,288, which is extremely high for a vehicle in this class. Even a previous offer of $1,099 per month with the same down payment, terms and allowance (estimated monthly cost of $1,238) was considered high by our standards.
Jaguar F-PACE Rebate Deals
Up to $3,000 off
For returning customers, Jaguar is offering a $3,000 loyalty bonus.
Unfortunately, there are no general incentives for the rest of the population at this time.
For reference, the last available incentive of that nature was for 2021 models (the 2022s never received any rebates) and was a credit in the amount of $1,000.
Jaguar F-PACE Finance Deals
No special offers
The manufacturer also has yet to offer special financing on the 2023 F-PACE, which it never did offer for the 2022s. The standard rate applies should you choose to go through the manufacturer.
Current Finance Deals
No financing deals are available at this time for the Jaguar F-PACE.
Introduction
What's New
There are no significant changes to the Jaguar F-Pace for the 2023 model year, though the P340 S trim has been dropped. Minor specification tweaks see Amazon Alexa and adaptive cruise control installed on some models. Otherwise, the range retains four trim levels and three engines.
Choosing Your Jaguar F-Pace
Your choice of trim determines which powerplant your Jaguar F-Pace will receive. The opening salvo is fired by the $53,550 base model, powered by a two-liter gas engine. At the other end of the scale, you could pay $90,650 for the thunderous SVR model, with its 542 hp five-liter powerplant. The middle of the range is occupied by the two-liter S and the three-liter R-Dynamic S, costing $57,150 and $69,950 respectively.
Engine Choices
Base and S models receive a two-liter gas engine generating 247 horsepower and 269 lb-ft of torque. On every model, power is supplied to all four wheels through an eight-speed automatic transmission. Fuel economy for the 2023 model year has yet to be confirmed, but the figures for the mechanically identical 2022 model stood at an EPA-estimated 22 miles per gallon city, 27 mpg highway, and 24 combined.
Move up to the three-liter six-cylinder P400 model and power output jumps to 395 hp and 405 lb-ft, while fuel economy drops to 19/26/22 mpg. That's still better than the 15/21/17 mpg returned by the five-liter eight-cylinder SVR model, though power is commensurately higher at 542 hp and 516 lb-ft.
| | | | |
| --- | --- | --- | --- |
| Engine Type | Horsepower | Torque | Fuel Economy (City/Highway/Combined) |
| 2.0 P250 | 247 hp | 269 lb-ft | 22/27/24 mpg |
| 3.0 P400 | 395 hp | 405 lb-ft | 22/27/24 mpg |
| 5.0 P550 | 542 hp | 516 lb-ft | 15/21/17 mpg |
Passenger and Cargo Capacity
Cargo capacity for the five-seater F-Pace stands at 32.1 cu ft with the rear seats in place, and 70.4 cu ft once they're dropped.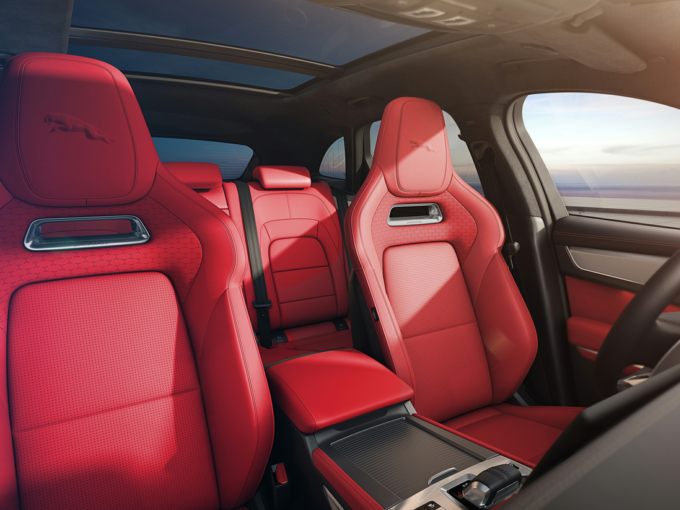 Safety Features
Safety is strong on every F-Pace model, with standard features including a brake pad wear indicator and emergency brake assist, plus parking aids at both ends of the vehicle. S trim is the first to receive adaptive cruise control with traffic sign recognition and an adaptive speed limiter, while R-Dynamic retains the latter features but loses the dynamic cruise. A valet mode is standard on all models, as is a driver condition monitor, but only SVR receives steering assistance or headlight washing. Hill Launch Assist, surface progress control, and an open differential with torque vectoring by braking are among the 'hidden' safety aids on every F-Pace.
Connectivity
Irrespective of trim level, your F-Pace will come with an 11.4-inch touchscreen supporting full smartphone integration and a Meridian sound system. All, bar the base model, receive Jaguar Land Rover's Pivi Pro setup with online packs, while satellite and HD radio are standard across the range alongside wireless device charging.
2023 Jaguar F-PACE – MSRP from $53,550
Even the cheapest F-Pace comes stacked with tech and driver aids, including rain-sensing wipers and automatic headlights with auto high-beam. Heated and electrically power-folding side mirrors with approach lights are standard outside, while the keyless cabin receives two-zone climate control, a dynamic start-up sequence for the instrumentation, satin chrome gearshift paddles, and a powered tailgate.
There are no packages available on this model.
2023 Jaguar F-PACE S – MSRP from $57,150
Incremental improvements over S models include perforated leather seats and the introduction of JLR's Pivi Pro navigation system. Safety is bolstered with traffic sign recognition and an adaptive speed limiter, plus adaptive cruise control.
The $1,050 Convenience Pack bundles in welcome features like a wearable activity key, a powered gesture tailgate, and remote rear sear release levers. The competitively priced Cold Climate Pack brings heating to the windshield, power wash, and steering wheel, for $650.
It's harder to make a case for the $2,250 Premium Interior pack, which brings illuminated metal treadplates and matching pedals alongside suedecloth headlining and extended leather throughout the cabin.
2023 Jaguar F-PACE R-Dynamic S – MSRP from $69,950
Engine notwithstanding, differences from S models include R-Dynamic bumpers, doors, grille, and exterior detailing. There are configurable and adaptive dynamics for keen drivers, while the 19-inch wheels are diamond-turned with gloss black contrasts.
Packs are the same as on S models.
2023 Jaguar F-PACE SVR – MSRP from $90,650
Riding on 21-inch wheels, SVR models are all about performance. This is the first F-Pace with an electronic active differential and a switchable active sports exhaust. Elsewhere, the rear seats are heated and served by a center armrest, while SVR branding recurs everywhere from the metal treadplates to the luxury carpet mats. The front seats receive 14-way adjustment and are cooled as well as heated, clad in Ebony Windsor leather and matching suedecloth.
A cut-down version of the Convenience Pack is the only option on SVR, costing $650 and bringing an Activity Key and remote rear seat release alongside extra power sockets.
Compare F-Pace Trims Side-By-Side
CarsDirect Tip
Unless you really need navigation or a more powerful engine, we'd recommend sticking with the base model. It delivers everything modern SUV buyers expect (barring nav), for a fairly impressive sticker price.
How Does CarsDirect Work?
We are not just another car-buying site.
Our FREE service is simple:

Choose the Car You Want
See the CarsDirect Price to Use in Your Negotiation at the Dealership
Get Matched with a Trusted Dealer Near You
Drive away HAPPY in your new car!