2023 & 2024 Kia Niro
- Exclusive Ashburn New Car Discounts
Change Vehicle

YOUR VEHICLE
Kia Niro
Consider getting price quotes on competitive cars to negotiate better.
2023 Chevrolet Bolt EUV
Get FREE Price Quote
2024 Hyundai Kona
Get FREE Price Quote
2023 FIAT 500X
Get FREE Price Quote
Learn More About The Kia Niro
What you must know before purchasing your Niro. Use this pricing analysis to negotiate the best price with the dealer.
Highlights:
Kia Niro EV Tax Credit
The Kia Niro EV is currently not eligible for a $7,500 federal tax credit due to North American assembly and battery sourcing requirements.

However, a loophole enables Kia to claim a commercial credit on Niro EV and Niro PHEV leases. This could make leasing a lot more affordable than buying. Note that the standard Kia Niro Hybrid does not qualify for this incentive.

In some states, you may be able to save even more. In Colorado, the Innovative Motor Vehicle Credit offers up to a $5,000 tax credit as of July 1st, 2023. We recommend checking with a tax professional to determine your eligibility.
Kia Niro EV Rebates
You may be able to take advantage of Kia Niro EV rebates depending on where you live.

For example, the California Clean Vehicle Rebate Project, or CVRP, offers a $2,000 incentive after buying or leasing your Niro EV. An increased rebate is available for lower-income households. There's also an income cap, so be sure to read the program's fine print carefully.
Current Finance Deals
Interested in financing your new car? If so, make sure your dealer includes these incentives.
Financing Incentives
Rebate
Amount
Promotional APR Offer


Promotional APR programs available for qualified buyers. Please check with your CarsDirect Trusted Dealer for complete details.
Current Lease Deals
Leasing Incentives
Rebate
Amount
Promotional Lease Offer


Promotional lease offer available for qualified buyers on approved credit. Please check with your CarsDirect Trusted Dealer for complete details.%Qualification% Consumer rebate may not be combines with KFA Special Lease Programs. KFA Special Leases Programs may be combined with only ONE of the following three programs listed below: KMAs Competitive Bonus. KIA Owners Owner Loyalty Program. KMAs/KFAs College Graduate Program. KMAs Military Program may be combined with KMA Special Lease either one or in combination with any ONE of the three programs listed above. No other KFA or KMA consumer incentives or rebates may be combined with special Leases. Vehicles leased under Test Drive (TDRIV) program or Kia Family and Friends (KFA) program are not compatible with any Special Lease Programs.

Lease Bonus Cash


KFA Lease Cash




(Expires 1/2/24)

Bonus cash available for qualified customers leasing a vehicle through the manufacturer's captive finance company on approved credit. Please check with your CarsDirect Trusted Dealer for complete details.

$1,150
Introduction
2024 Kia Niro Changes
The 2024 Kia Niro receives no notable changes after its full redesign debuted last year.
Choosing Your 2024 Kia Niro
The Niro is offered in a full array of electrified drivetrains. The hybrid model is offered in five trims, the plug-in hybrid is offered in two trims - one mid-level and one premium, and the fully electric model is also offered in mid and high-tier trims although with different names.
Prices for the hybrid range from $28,165 to $36,565, the plug-in hybrid is between $35,615 and $41,365, and the EV is $40,925 to $45,925. Keep an eye out for attractive lease deals and government rebates for the PHEV and EV models.
2024 Kia Niro Engine Options
The Hybrid model utilizes a naturally aspirated 1.6-liter gas engine, a motor, and a six-speed dual-clutch automated transmission. The smaller size of its 1.32 kWh battery pack may limit its availability for rebates. The PHEV model ups the battery pack to 11.1-kWh and uses a stronger motor. The Niro EV utilizes a single motor and a 64.8 kWh battery pack.
All models are front-wheel drive and all-wheel drive is not offered.
| | | | |
| --- | --- | --- | --- |
| Model | Powertrain | Power Output (horsepower/torque) | Fuel Economy (EPA-estimated combined) |
| Niro Hybrid | 1.6-L four-cylinder hybrid 1.32 kWh battery 6AT | 139 hp / 195 lb-ft | 53 / 49 (Touring trims) |
| Niro PHEV | 1.6-L four-cylinder hybrid 11.1 kWh battery 6AT | 180 hp / 195 lb-ft | 33-mi range, 108 MPGe, 48 MPG (hybrid-mode) |
| Niro EV | Single motor, Single-speed 64.8 kWh battery | 201 hp / 188 lb-ft | 253-mi range, 113 MPGe |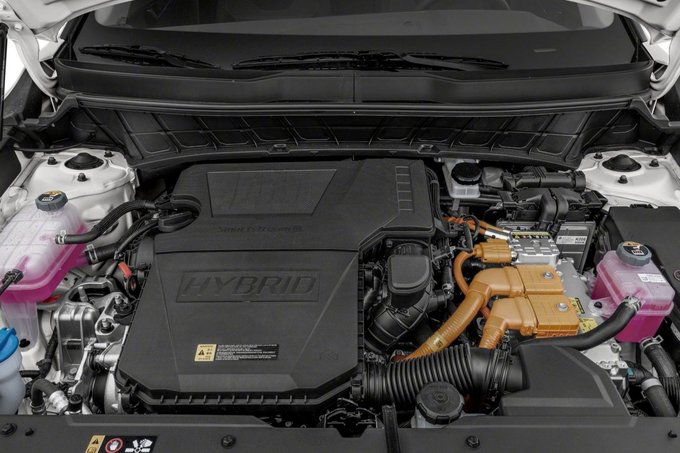 2024 Kia Niro Fuel Economy
The Niro Hybrid returns an EPA estimate of up to 53 MPG combined with the government estimating a $1,100 annual fuel bill. The PHEV's fuel savings will largely depend on the EV-to-internal combustion engine usage while the EV is estimated to rack up just $600 in "fuel" costs.
The Niro PHEV returns an EPA-estimated108 MPGe with an EV-only range of up to 33 miles. Once the engine is required to assist, it returns 48 MPG.
The Niro EV offers a range of 253 miles and earns a 113-combined MPGe rating. There is just one battery pack size offered.
2024 Kia Niro Dimensions & Cargo Capacity
The three powertrains share the same exterior body that stretches to 174 inches in length about 72 inches wide, and stand 60.8 inches tall.
That gives it a more crossover-like stance although its 6.3 inches of ground clearance will prevent it from attempting any rough trails. Its lack of an official towing rating may also turn off some adventure seekers.
Rear seat passengers will appreciate a roomy space with 39.5 inches of headroom and 39.8 inches of legroom.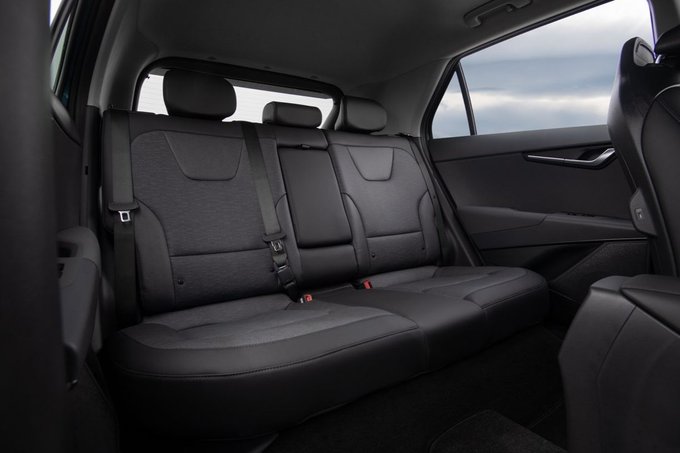 2024 Kia Niro Safety
The base model has automatic emergency braking, blind-spot detection with rear cross-traffic alert, automatic high beams, and lane-keep assist.
The EX trim gains adaptive cruise control, a more advanced collision avoidance system, and rear parking sensors.
2024 Kia Niro Technology
The LX trim is fitted with an eight-inch touchscreen with Apple CarPlay and Android Auto and packs five USB ports and six speakers.
The EX and Wind trims feature a 10.25-inch touchscreen with improved audio performance and integrate SiriusXM and navigation. A wireless phone charger is also included. The premium SX and Wave trims feature a premium Harman Kardon sound system with eight speakers.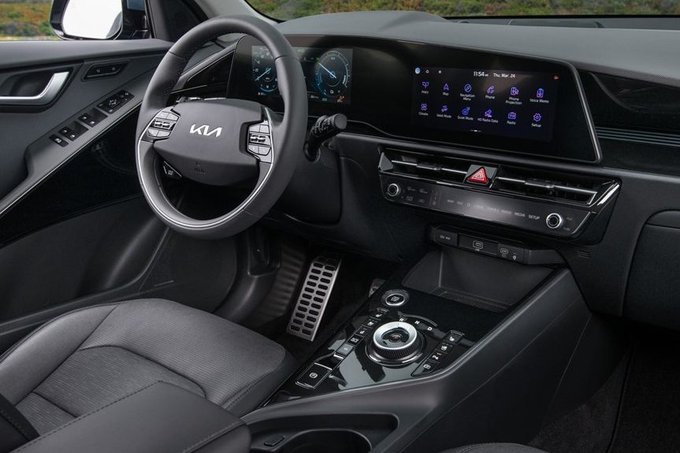 2024 Kia Niro Trims & Prices
2024 Kia Niro LX - MSRP From $28,165
Build & Price >
The LX is the base trim, however, it receives notable features such as 16-inch alloy wheels, LED taillights and daytime running lights, heated mirrors, six-way adjustable front seats, a tilt and telescoping steering wheel, a 4.3-inch digital gauge cluster, and dual-zone climate control.
2024 Kia Niro EX - MSRP From $30,865 (Plug-In Hybrid $35,615)
Build & Price >
The EX trim adds on rain-sensing wipers, mirrors with integrated turn signals, roof rails, proximity entry, cloth and synthetic leather seating with heating for the front row and 10-way power-adjustability for the driver, a leather-wrapped steering wheel and shift knob, ambient lighting, and second-row air vents.
The Plug-In Hybrid offers the Cold Weather Package for $600 which includes an auxiliary heater, heater rear seats, and a heated steering wheel.
2024 Kia Niro EX Touring - MSRP From $33,165
Build & Price >
The EX Touring adds certain styling features such as 18-inch wheels, gloss black mirrors, body cladding, and exterior trim, and aluminum pedals. The trim also separates itself from the EX trim by adding features such as a chrome finish to the "skid plate", power-folding mirrors, exterior door handles with satin-chrome inserts, a sunroof, and LED interior lighting.
2024 Kia Niro SX - MSRP From $34,265
Build & Price >
The SX retains the EX's styling (and 16-inch wheels) but includes the feature updates of the EX Touring. It additionally features LED headlights, a power tailgate, laminated front side windows for improved noise insulation, perforated leather seats with ventilation for the front row, memory positioning for the driver, and a heated steering wheel. A contrasting black rear side panel is available (with a dark blue) as a no-cost option and adds a unique look.
2024 Kia Niro SX Touring - MSRP From $36,565 (Plug-In Hybrid: $41,365)
Build & Price >
The SX Touring combines the features of the SX with the styling updates seen on the EX Touring trim.
2024 Kia Niro Wind - MSRP From $40,925
Build & Price >
The Niro EV Wind trim closely matches the features of the EX trim although it wears a unique grille, lower rear fascia, and 17-inch wheels while its exterior is treated with gloss-black exterior trim and offers the Preserve Package ($1,300) with the items of the Cold Weather package plus a battery warmer as a way to preserve battery range during cold weather.
2024 Kia Niro Wave - MSRP From $45,925
Build & Price >
The Wave trim is essentially equipped as an SX Touring yet it retains the 17-inch wheels and gains a 10-way power passenger seat. The Preserve Package is also offered for $1,300 and a gray contrasting rear quarter panel and exterior trim (against a white body) is offered for $590.
CarsDirect Tip
Depending on your needs, the plug-in hybrid could serve as a means to reduce fuel costs without sacrificing the convenience of gasoline. With any of the powertrains, we like the EX/ Wind trims for their long list of safety equipment, technology, and creature comforts.
How Does CarsDirect Work?
We are not just another car-buying site.
Our FREE service is simple:

Choose the Car You Want
See the CarsDirect Price to Use in Your Negotiation at the Dealership
Get Matched with a Trusted Dealer Near You
Drive away HAPPY in your new car!