Introduction
The EV revolution is on full display with the 2019 Kia Soul EV, which continues as a charming and quirky full-electric vehicle. The Soul EV is a funky little hatchback available in two trims, both featuring a direct-drive system connected to an electric motor with an EPA-estimated 111 miles of all-electric range. The 2019 Kia Soul EV is an exceptional choice for consumers in metro areas looking for clean and green commuting.
What's New for 2019
The 2019 Kia Soul EV is mainly unchanged – in fact, it's nearly a carbon copy of the 2018 model, including pricing. Kia has also removed a "California-only" trim level for 2019. This year, consumers can opt for the base Kia Soul EV or the upgraded Soul EV Plus. While it has been hinted that a new Soul EV built on the Hyundai Kona platform would come in 2019, this is likely to be a European only option for now.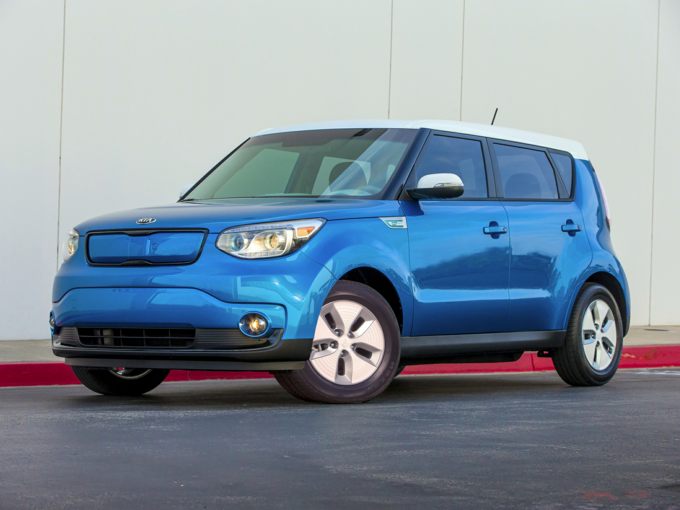 Choosing your Kia Soul EV
Electrically-powered hatchbacks haven't been known for being performance-based, and the 2019 Kia Soul EV isn't an exception to the rule. The Soul EV is a practical, around-town, five-door hatchback. The electric motor is connected to a single drive transmission and produces 109 horsepower (81 kW at RPM) and 210 pound-feet of torque.
Both the base and EV Plus receive motivation from the same power source. A very convenient feature on the 2019 Kia Soul EV is a fast-charging system, which can provide a 90 percent battery charge in roughly 45 minutes. According to EPA-estimates, the Kia Soul EV can return 124 MPGe (miles per gallon gasoline equivalent) in the city, 93 MPGe highway, and 108 MPGe combined.
CarsDirect Tip
If you're considering an EV, 2019 might be a year too early. Several automotive manufacturers have indicated that they'll be integrating larger-range capacity battery systems in 2020 and 2021 – including the Kia Soul EV with an estimated 180-mile range. However, if you need one now, the base 2019 Kia Soul EV is the best value.
How Does CarsDirect Work?
We are not just another car-buying site.
Our FREE service is simple:

Choose the Car You Want
See the CarsDirect Price to Use in Your Negotiation at the Dealership
Get Matched with a Trusted Dealer Near You
Drive away HAPPY in your new car!