YOUR VEHICLE
Mazda Mazda3
Consider getting price quotes on competitive cars to negotiate better.
2021 Honda Civic
Get FREE Price Quote
2021 Toyota Corolla
Get FREE Price Quote
2021 Hyundai Elantra Hybrid
Get FREE Price Quote
Learn More About The Mazda Mazda3
What you must know before purchasing your Mazda3. Use this pricing analysis to negotiate the best price with the dealer.
Highlights:
2021 Mazda3 easy to find
Lease: From $159 for 36 months
Rebates: Up to $1,750 off
Finance: From 0.9% APR for 60 months + $500 bonus
Steady supplies and pricing:
The carryover 2021 Mazda3 remains in healthy supply across the country. A turbocharged engine — good for 225 horsepower — is available on the Mazda3 for the first time. A high-efficiency Skyactiv-X powertrain may arrive at some point in the model year.
Current factory offers vary by region and will remain in effect through March 1, 2021 unless otherwise noted. Examples shown here are for Los Angeles. Mazda plans to offer a holiday bonus worth $500 between February 10 and February 15 for Presidents' Day weekend.
Lease: From $173 for 36 months
The 2021 Mazda3 Base sedan with automatic now starts at $159 for 36 months (10,000 miles year) with $2,499 due at signing. The effective monthly cost works out to $228, an excellent value for this price class.
The 2021 Mazda3 hatchback now starts at $179 a month with everything else the same. With an effective monthly cost of $248, this lease is also an excellent value in our analysis.
Rebates: Up to $1,750 off
Mazda continues to offer a $1,000 factory rebate on the 2021 Mazda3 to all buyers, a very good amount for this stage of the model year.
In addition, current Mazda customers are eligible for a $750 loyalty bonus toward the purchase or lease of a 2021 Mazda3.
Finance: From 0.9% APR for 60 months + $500 bonus
In place of the standard rebate, Mazda offers 0.9% APR for 60 months on the 2021 Mazda3. The deal comes with $500 on sedan models, and you remain eligible for the $750 loyalty bonus on either body style.
Current Finance Deals
Interested in financing your new car? If so, make sure your dealer includes these incentives.
Financing Incentives
Rebate
Amount
Promotional APR Offer


Promotional APR programs available for qualified buyers. Please check with your CarsDirect Trusted Dealer for complete details.%Qualification% Eligible new and unused vehicles.
Current Lease Deals
Leasing Incentives
Rebate
Amount
Promotional Lease Offer


Promotional lease offer available for qualified buyers on approved credit. Please check with your CarsDirect Trusted Dealer for complete details.%Qualification% All Credit Tiers are eligible. Please see rate sheet for applicable money factors by Tier.
Introduction
What's New
The 2021 Mazda Mazda3 receives two new engines for the model year. The base model now comes with a 2.0-liter four-cylinder for the sedan body style, while a 2.5-liter turbocharged four-cylinder is now available for higher trims. The new turbo engine really gives the Mazda3 an edge in the compact class.
Choosing Your Mazda Mazda3
The Mazda3 is available in seven trim levels: 2.0, 2.5 S, Select, Preferred, Premium, 2.5 Turbo, and 2.5 Turbo Premium Plus. Pricing starts at $21,445 including destination for the base 2.0 model and climbs to $33,395 for the 2.5 Turbo Premium Plus.
All but the 2.0 trim are also available with a hatchback body for an extra $1,300 to $2,000, depending on the trim.
Engine Choices
With two new additions to the lineup, the Mazda3 is now available with three engines. The base 2.0-liter four-cylinder is only available on the entry-level sedan. The majority of models come with the 2.5-liter four-cylinder, while the new turbocharged four-cylinder is reserved for the top two trim levels.
| | | | |
| --- | --- | --- | --- |
| Engine Type | Horsepower | Torque | Fuel Economy (Combined) |
| 2.0L 4-Cylinder | 155 hp | 150 lb-ft | 31 mpg |
| 2.5L 4-Cylinder | 186 hp | 186 lb-ft | 30 mpg |
| 2.5L Turbocharged 4-Cylinder | 250 hp | 320 lb-ft | 27 mpg |
A six-speed automatic transmission is standard on the majority of trims. The hatchback is available with a manual transmission with the 2.5-liter engine. All-wheel drive is an extra $1,400, and it's required to unlock the turbo engine.
Passenger and Cargo Capacity
Both the Mazda3 sedan and hatchback can seat up to five passengers. When it comes to cargo space, the sedan has 13.2 cubic feet, while the hatchback can hold up to 20.1 cubic feet of cargo space.
Safety Features
Every Mazda3 comes with automatic emergency braking, forward collision warning, pedestrian detection, adaptive cruise control, lane departure warning, lane keeping assist, automatic high beams, and rain-sensing windshield wipers.
Blind-spot monitoring and rear cross-traffic alert come as standard on the Select trim. The Premium trim comes with traffic sign recognition, while the 2.5 Turbo Premium Plus adds a surround-view camera system and parking sensors.
Connectivity
For 2021, the Mazda3 comes with an 8.8-inch infotainment screen, a 7-inch display in the instrument cluster, Bluetooth, two USB ports, and an eight-speaker audio system. Apple CarPlay and Android Auto smartphone compatibility require stepping up to the 2.5 S trim.
Navigation is available for $450, while a wireless smartphone charging pad costs $275.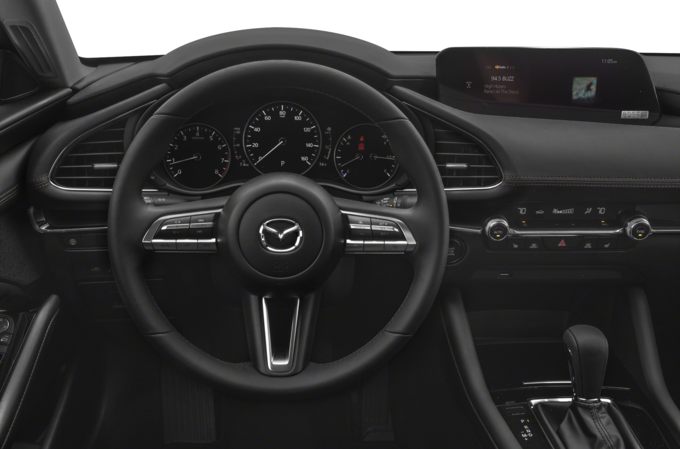 The new entry-level Mazda3 is only available in a sedan body style and is the only trim to come with the 155-horsepower 2.0-liter four-cylinder engine. Standard exterior features include 16-inch wheels, LED lights, and rain-sensing windshield wipers. On the inside, it gets cloth upholstery, remote keyless entry, and push button start.
The main things the 2.5 S trim adds is the 186-hp 2.5-liter engine – as its name implies – and Apple CarPlay and Android Auto integration.
The Select adds 18-inch wheels, dual-zone automatic climate control, leatherette upholstery, and advanced keyless entry.
The Mazda3 starts to feel upscale with the Preferred trim. Heated front seats, a moonroof, and an eight-way power-adjustable driver's seat are standard.
The Premium trim brings adaptive headlights, 18-inch wheels, leather upholstery, LED headlights, paddle shifters, satellite radio, and a Bose audio system.
The 2.5 Turbo is the first trim in the lineup to come with the newly available turbocharged engine and all-wheel drive as standard. Otherwise, its features mirror the Premium.
2.5 Turbo Premium Plus - From $33,395
The range-topping 2.5 Turbo Premium Plus trim adds a black spoiler, front and rear parking sensors, an auto-dimming driver's side mirror, perforated leather upholstery, an auto-dimming rearview mirror, and more standard safety features.
Compare Mazda3 Trims Side-By-Side
CarsDirect Tip
Unless you really don't like the body style, we recommend the 2021 Mazda Mazda3 in hatchback form. As great as the turbocharged engine is, we think the Preferred trim is the sweet spot in the lineup. It comes with smartphone compatibility and extra convenience features that really help it stand out as the best value option.
How Does CarsDirect Work?
We are not just another car-buying site.
Our FREE service is simple:

Choose the Car You Want
See the CarsDirect Price to Use in Your Negotiation at the Dealership
Get Matched with a Trusted Dealer Near You
Drive away HAPPY in your new car!