YOUR VEHICLE
Nissan LEAF
Consider getting price quotes on competitive cars to negotiate better.
2017 Chevrolet Bolt EV

Get FREE Price Quote
2017 Chevrolet Volt
Get FREE Price Quote
2018 Ford C-Max Hybrid
Get FREE Price Quote
Introduction
Introduced back in 2011, the LEAF soon earned acclaim as the car that turned the idea of an all-electric vehicle from an auto-show exhibit into a functional, everyday driver. Now in its seventh year, the Leaf has continued to gain in popularity.
A four-door hatchback, the LEAF is designed to seat five, though four will be a lot more comfortable. Through its early years, maximum range between battery charges was limited to about 84 miles. That was more than enough to cover short commutes and around-town errand running. In fact, most drivers travel far fewer miles each day. Still, many potential buyers have been restrained by the possibility, however unlikely, of coming to an abrupt halt with a stone dead battery.
For those concerned about running out of energy, a longer-range battery became available in the 2016 model year, installed in upper trim levels.
What's New for 2017
Last year, a new, higher-capacity 30-kWh battery pack went into SV and SL trim levels, boosting driving range to an EPA-estimated 107 miles. The base LEAF S retained that older 24-kWh battery and its 84-mile range. For 2017, all three trim levels get the higher-capacity battery. All models continue to use an 80-kW AC motor that generates 107 horsepower and 187 pound-feet of torque.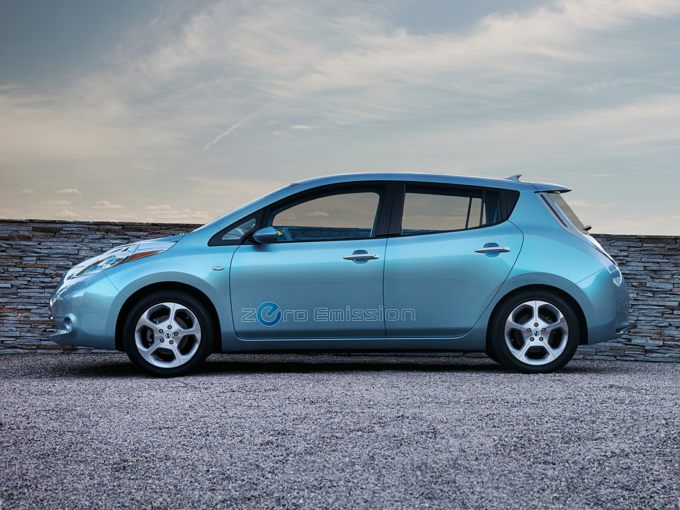 Choosing Your Nissan LEAF
The LEAF operates solely on electric power. In the base S, the 80-kW electric motor, now teamed with a 30-kWh lithium-ion battery, provides a range that's EPA-estimated at 107 miles. That's comparable to the maximum range for SV and SL models, starting on a full charge. (Note that range also depends on factors like traffic, weather, and your particular driving style.)
Two chargers are available. A 3.6-kW charger is standard on the S. A 6.6-kW onboard charger is included with the SV and SL. A quick-charge port that substantially speeds up charging times is standard on the SL and optional everywhere else.
Charging with a basic household 120-volt outlet can take 15 hours or more. Adding a 240-volt charging system to your garage (if you have one) will likely cost $1,000 or more, depending on whether you can install it yourself or need professional installation. Charging with the 6.6-kW onboard charger takes about six hours, but the LEAF can be quick-charged to 80 percent (starting from the low-battery-charge warning) in about half an hour.
Every LEAF has NissanConnect, Nissan's infotainment system. The LEAF S has a 5-inch display and Bluetooth for both phone calls and audio streaming. Hands-free Text Messaging Assist and a USB port also are included. SV and SL models get NissanConnect with Navigation and Mobile Apps, which includes a 7-inch display and voice recognition. Those models include a "reachable area" display. Charging-screen information updates every 12 miles when driving. NissanConnect EV, standard on SV and SL, permits remote connection to the vehicle.
Three trim levels again are offered:
CarsDirect Tip
When picking a LEAF, consider how each choice of charger will affect your lifestyle and driving capabilities. Although the LEAF S starts at $31,545, SV and SL trim levels rise to $35,065 and $37,655, respectively. Additional features come with upper trims, of course, but the difference in maximum range is now considerably lower. Nissan's LEAF is expected to be redesigned soon with even longer range and more mainstream styling.
How Does CarsDirect Work?
We are not just another car-buying site.
Our FREE service is simple:

Choose the Car You Want
See the CarsDirect Price to Use in Your Negotiation at the Dealership
Get Matched with a Trusted Dealer Near You
Drive away HAPPY in your new car!