2023 Tesla Model 3
- Exclusive Ashburn New Car Discounts
Change Vehicle

YOUR VEHICLE
Tesla Model 3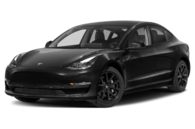 Consider getting price quotes on competitive cars to negotiate better.
2023 Lexus IS
Get FREE Price Quote
2023 Cadillac CT5
Get FREE Price Quote
2023 Audi A4
Get FREE Price Quote
Learn More About The Tesla Model 3
What you must know before purchasing your Model 3. Use this pricing analysis to negotiate the best price with the dealer.
Highlights:
On Sale Now: 2023
Lease: From $339/mo
Rebates: No cash incentives
Financing: No APR deals
2023 Model 3 is made to order
The 2023 Tesla Model 3 must be custom ordered online, with a non-refundable $250 order fee and an estimated delivery window currently projecting arrival between January and February. Tesla's least expensive all-electric sedan gets an EPA-estimated 358 miles of range on a single charge and gets routine software updates.
Tesla has taken the bold move of no longer including charging cables with the delivery of its new vehicles. Like spare tires are now considered optional in many new cars, Tesla charging cables are now deemed optional and can be purchased separately from Tesla's online store for around $275 to start.
Offers are expected to end on March 31, 2023. This page is updated monthly with the latest incentives, so be sure to check back for the latest information.
Tesla Model 3 Lease Deals
Lease from $399 per month (estimated)
According to Tesla's online payment estimator, you can lease the 2023 Tesla Model 3 Standard Range with RWD starting at an estimated $339 per month for 36 months with $5,544 due at signing. With an effective monthly cost of $593, this deal is far more competitive than what we've been seeing from Tesla lately and is very good for this segment.
The offer is based on a mileage allowance of 10,000 miles per year.
Tesla Model 3 Rebate Deals
Up to $7,500 in federal tax credit
Tesla doesn't offer traditional rebates or incentives. However, both the Model 3 Rear Wheel Drive and Long Range are eligible for a $7,500 federal tax credit under the new guidelines, albeit with an MSRP cap of $55,000.
Although the Tesla Model 3 is eligible for the $750 California Clean Fuel Reward, the state plug-in rebate was reduced to $0 back in September 2022. Following recent price increases, the Model 3 no longer qualifies for a $2,000 California Clean Vehicle Rebate.
Residents in other low-emissions states may qualify for similar incentives to foster EV adoption.
Tesla Model 3 Financing Deals
From 5.59% APR
Tesla offers financing on the 2022 Model 3 sedan from 5.59% APR for up to 72 months. Even though Tesla slashed their lease prices, financing rates still went up .15%.
Just this past spring, Tesla offered interest rates as low as 2.99% APR. Shorter loan terms are available, but the financing rate remains the same.
Current Finance Deals
No financing deals are available at this time for the Tesla Model 3.
Introduction
What's New
Tesla doesn't follow traditional model years like other automakers, but the 2023 Model 3 hasn't received any major updates since last year. The big news for the small electric sedan is that it's eligible for the $7,500 federal tax credit again.
Choosing Your Tesla Model 3
Tesla has adjusted the price of the Model 3 multiple times this year. At the moment, the electric sedan starts at $44,880 (including destination, but not the extra savings that Tesla touts) for the base Model 3 Rear-Wheel Drive. The Model 3 Performance costs $55,380.
The Model 3 Long Range is not available on Tesla's website. The model is expected to become available again later this year. Pricing is expected to start around the $53,000 mark.
Engine Choices
The Model 3 is an all-electric sedan that's available with three different electric configurations, at least when the Long Range trim returns. The base Model 3 comes with rear-wheel drive and a single electric motor on the rear wheels, while the Performance and Long Range trims have two electric motors and all-wheel drive. All Model 3 sedans come with a single-speed transmission.
Tesla doesn't provide a horsepower figure for its EVs, but it's clear to see that the dual-motor models bring far more performance with quicker zero-to-60-mph times than the standard rear-wheel-drive model.
When it comes to charging, the Model 3 can get 3 miles of range back every hour when plugged into a 120-volt plug. A Level 2 240-volt charger will bring 44 miles of range in an hour. The Model 3 can also be charged at one of Tesla's Supercharger stations that can give the Model 3 200 miles of range in just 15 minutes.
| | | | |
| --- | --- | --- | --- |
| Model | Engine Type / Range | 0-60 mph Time | MPGe (city/highway) |
| Rear-Wheel Drive | Electric motor / 272 miles | 5.8 seconds | 138 / 126 |
| Long Range | Dual electric motors / 358 miles | 4.2 seconds | 134 / 126 |
| Performance | Dual electric motors / 315 miles | 3.1 seconds | 118 / 107 |
Passenger and Cargo Capacity
All Model 3 trims offer seating for up to five people. The sedan has a traditional trunk and a storage compartment under the hood. Together, the Model 3 offers up to 23 cubic feet of cargo space.
Safety Features
Every Model 3 comes with Tesla's Autopilot suite of advanced safety features. The suite includes forward collision warning, automatic emergency braking, pedestrian detection, adaptive cruise control, blind spot monitoring, a surround-view parking camera, lane departure warning, lane keeping assist, park assist, and parking sensors.
The Model 3 is available with Enhanced Autopilot that brings Navigate on Autopilot, automatic lane change assist, automatic park assist, Summon, and Smart Summon for $6,000.
Tesla's Full Self-Driving Capability package is available for $15,000. The package brings Enhanced Autopilot, traffic sign recognition, traffic light and stop sign control, and Autosteer on city streets. Tesla is continually working on new safety features that will become a part of the package.
Connectivity
Tesla fits the Model 3 with a standard 15-inch touchscreen that acts as the infotainment system and the primary way to change all of the vehicle's functions since the sedan has minimal physical controls. The Model 3 also comes with a Wi-Fi hotspot, a wireless charging pad, navigation, Bluetooth, eight audio speakers, an HD Radio, and four USB ports.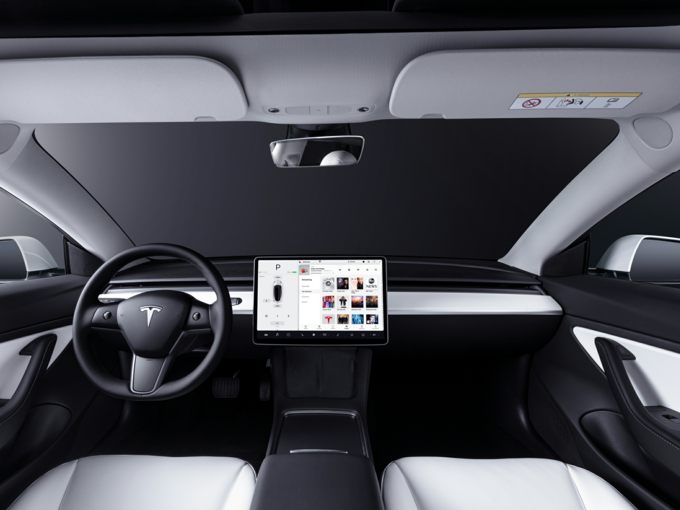 2023 Tesla Model 3 Rear-Wheel Drive – MSRP From $44,880
The entry-level Model 3 has a strong list of standard features that includes a heated steering wheel, heated front and rear seats, synthetic leather upholstery, 18-inch wheels, a panoramic glass roof, power-adjustable front seats, keyless entry, and a 7.6-kW onboard charger.
2023 Tesla Model 3 Performance – MSRP From $55,380
The sporty Performance trim comes with 20-inch wheels, a carbon-fiber rear spoiler, sport suspension, aluminum pedals, high-performance brakes, and a Track driving mode.
Compare Model 3 Trims Side-By-Side
CarsDirect Tip
With up to 358 miles of range, which is one of the highest figures of any EV on sale, the 2023 Tesla Model 3 Long Range is the best choice in the lineup. We recommend waiting until it becomes available, which should be later in 2023. Enhanced Autopilot is a package that worth's looking into, as it brings high-tech safety features, but we would stay away from Full Self-Driving Capability until Tesla showcases something concrete.
How Does CarsDirect Work?
We are not just another car-buying site.
Our FREE service is simple:

Choose the Car You Want
See the CarsDirect Price to Use in Your Negotiation at the Dealership
Get Matched with a Trusted Dealer Near You
Drive away HAPPY in your new car!