YOUR VEHICLE
Tesla Model 3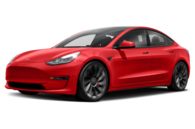 Consider getting price quotes on competitive cars to negotiate better.
2021 Tesla Model Y

Get FREE Price Quote
2021 Tesla Model S
Get FREE Price Quote
2021 Lexus ES
Get FREE Price Quote
Introduction
What's New
The 2021 Model 3 has no major changes. Tesla, which operates more like its Silicon Valley brethren than a traditional automaker, eschews model years for rolling changes. As developments arise, they go into production. Over-the-air software update beams these updates direct to your car, so you don't need to upgrade to the latest model for the latest features.
The latest changes to the Model 3, however, are more than software: the 2021s get larger, slightly more efficient batteries that result in another 13 to 31 miles of range depending on trim. All versions also feature some cosmetic enhancement inside and out. Rounding out the changes is a redesigned center console that can now hold and wirelessly charge two devices.
Choosing Your Tesla Model 3
The 2021 Model 3 is divvied up into three trims, each differing by range and performance. The cheapest starts under $40,000; the priciest reaches just over $56,000.
Although the Model 3 no longer qualifies for a $7,500 federal tax credit like other EVs, it remains eligible for incentives like the $1,500 Clean Fuel Reward and $2,000 Clean Vehicle Rebate in California.
Engine Choices
The Model 3 features two all-electric powertrains. The entry-level model uses a single electric motor that drives just the rear wheels, while the upper two trims mount an additional motor on the front axle for a twin-motor, all-wheel-drive design. All versions use a single-speed transmission.
| | | | | |
| --- | --- | --- | --- | --- |
| Model | Engine Type | Range | 0-60 mph Time | MPGe (city/highway) |
| Standard Range Plus | Electric motor | 263 miles | 5.3 seconds | 118/107 |
| Long Range | Dual electric motors | 353 miles | 4.4 seconds | 141/127 |
| Performance | Dual electric motors | 315 miles | 3.1 seconds | 148/132 |
Charging at home via a 120-volt plug is possible, but we wouldn't recommend it: it only provides about 3 miles of range per hour of charging. Tesla's 240-volt wall chargers offer up to 44 miles of range per hour, which is good enough for most commuters to recharge the battery sufficiently overnight.
The public Tesla supercharging stations remain the best bet for juicing up, as they can recharge up to 172 miles in 15 minutes. Currently, 20,000 such supercharging stations are scattered throughout the country, primarily along major highways.
Passenger and Cargo Capacity
The Model 3 is a five-seater with 35 inches of second-row legroom. The cargo area is spread across a small front trunk as well as a traditional rear trunk. Between the two, buyers will find 15 cubic feet of cargo area.
Safety Features
Every Model 3 comes with Tesla's comprehensive array of safety gear, including automatic emergency braking, forward collision warning, blind-spot monitors, adaptive cruise control, and active lane control.
If that isn't enough, Tesla also offers a $10,000 upgrade promising full self-driving capability. That five-figure price buys Tesla's Autopilot feature, which allows for semi-autonomous highway navigation, as well as automatic parking and automatic lane changes. A summon feature is included as well that lets the car autonomously navigate to you in a parking lot.
The Model 3 passed with flying colors all crash tests levied against it by the NHTSA and IIHS.
Connectivity
The heart of the Model 3 isn't its electric motors; it's the massive 15-inch touchscreen residing in the dashboard. Within that screen lies nearly all controls the driver might need to access.
It comes standard with navigation, wifi hotspot compatibility, and a host of other functions, but oddly enough lacks Apple CarPlay and Android Auto capability. You also can't get AM radio or SiriusXM radio.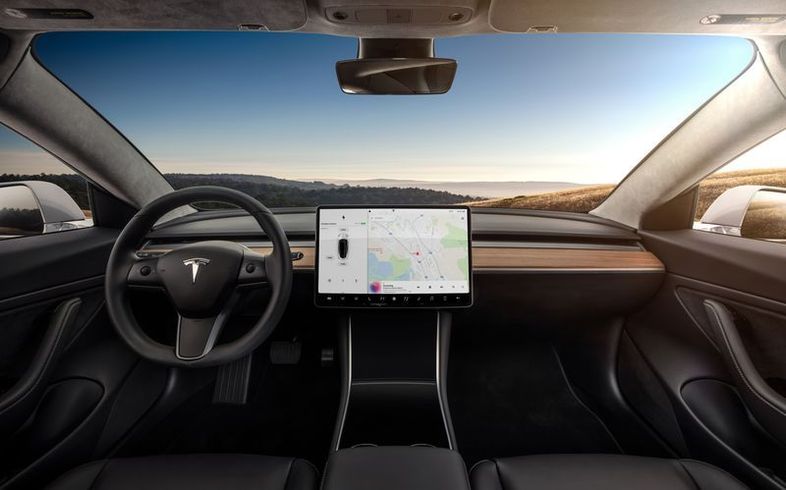 Standard Range Plus - From $39,190
The cheapest Model 3 is rear-wheel drive and has just one electric motor; it's rated by Tesla for 263 miles or range. It rolls on 18-inch wheels, wears body-color trim, and features a massive panoramic glass roof.
Interior amenities include a 14-speaker audio system, a Sentry Mode alarm system, and remote access to the car via a mobile app. 12-way power heated seats, eco-friendly upholstery, and real wood trim decorate the cabin.
Aside from the $10,000 Self Driving option, buyers can upgrade to 19-inch wheels for $1,500. An all-black interior is standard, but a contrasting black and white color scheme is available for $1,000.
Moving into the Long Range buys more battery, another electric motor, all-wheel drive, and nearly 100 additional miles of range. Heated rear seats and a year of complimentary online services are standard, but otherwise the list of amenities matches that of the base car.
The hallmark of the performance trim is a blistering 3.1-second 0-60 mph time, which is in line with bonafide supercars.
Accompanying the enhanced acceleration are upgraded brakes, 20-inch wheels, a lowered suspension, and a carbon fiber spoiler.
Compare Model 3 Trims Side-By-Side
CarsDirect Tip
We're salivating for the Performance model, but the truth is that the Long Range trim is likely the best bet for most buyers. Its excellent 353-mile range not only quells charging anxiety - it also puts this flavor of Model 3 ahead of every other EV currently on the market. In our eyes, that's well worth the $47,000 asking price.
How Does CarsDirect Work?
We are not just another car-buying site.
Our FREE service is simple:

Choose the Car You Want
See the CarsDirect Price to Use in Your Negotiation at the Dealership
Get Matched with a Trusted Dealer Near You
Drive away HAPPY in your new car!