2023 Tesla Model 3
- Exclusive Ashburn New Car Discounts
Change Vehicle

YOUR VEHICLE
Tesla Model 3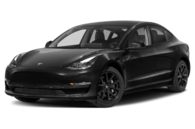 Consider getting price quotes on competitive cars to negotiate better.
2023 Audi A4
Get FREE Price Quote
2023 Lexus RC
Get FREE Price Quote
2023 Cadillac CT5
Get FREE Price Quote
Learn More About The Tesla Model 3
What you must know before purchasing your Model 3. Use this pricing analysis to negotiate the best price with the dealer.
Highlights:
2023 Model 3 is made to order
Lease: From $399/month (est.)
Rebates: Up to $7,500 federal tax credit
Financing: From 5.44% APR
2023 Model 3 is made to order
The 2023 Tesla Model 3 must be custom ordered online, with a non-refundable $250 order fee and an estimated delivery window currently projecting arrival between January and February. Tesla's least expensive all-electric sedan gets an EPA-estimated 358 miles of range on a single charge and gets routine software updates.
Tesla has taken the bold move of no longer including charging cables with the delivery of its new vehicles. Like spare tires are now considered optional in many new cars, Tesla charging cables are now deemed optional and can be purchased separately from Tesla's online store for around $275 to start.
Offers are expected to end on February 28, 2023. This page is updated monthly with the latest incentives, so be sure to check back for the latest information.
Tesla Model 3 Lease Deals
Lease from $399 per month (estimated)
According to Tesla's online payment estimator, you can lease the 2023 Tesla Model 3 Standard Range with RWD starting at an estimated $399 per month for 36 months with $5,594 due at signing. With an effective monthly cost of $554, this deal is far more competitive than what we've been seeing from Tesla lately.
The offer is based on a mileage allowance of 10,000 miles per year.
Tesla Model 3 Rebate Deals
Up to $7,500 in federal tax credit
Tesla doesn't offer traditional rebates or incentives. However, both the Model 3 Rear Wheel Drive and Long Range are eligible for a $7,500 federal tax credit under the new guidelines, albeit with an MSRP cap of $55,000.
Although the Tesla Model 3 is eligible for the $750 California Clean Fuel Reward, the state plug-in rebate was reduced to $0 back in September 2022. Following recent price increases, the Model 3 no longer qualifies for a $2,000 California Clean Vehicle Rebate.
Residents in other low-emissions states may qualify for similar incentives to foster EV adoption.
Tesla Model 3 Financing Deals
From 5.44% APR
Tesla offers financing on the 2022 Model 3 sedan from 5.44% APR for up to 72 months. Even though Tesla slashed their lease prices, financing rates still went up .10%.
Just this past spring, Tesla offered interest rates as low as 2.99% APR. Shorter loan terms are available, but the financing rate remains the same.
Current Finance Deals
No financing deals are available at this time for the 2023 Tesla Model 3.
The 2021 Tesla Model 3 is a fully electric compact sedan with the highest EPA-rated range of any car in its class. Depending on the model, it can go 263, 315 or 353 miles on one charge. It also offers better performance, sharper handling, and faster charging than its rivals, at a price that can be relatively affordable, for a Tesla.
For 2021, however, that price increases by about $4,000 because the previous $35,000 base model has been dropped.
Other changes for 2021 include cleaning up the exterior and interior trim, adding a wireless charging pad to the center console, and power to the trunk lid.
The Tesla Model 3 comes in single-motor (rear-wheel-drive) or dual-motor (all-wheel-drive) versions. For 2021, all but the base model have the dual-motor all-wheel-drive setup.
That base model is called Standard Range Plus, EPA-rated at 263 miles of range. Maybe more significantly, it?s the most efficient electric car on the market, with an EPA-rated 141 MPGe.
The dual-motor Performance model is rated at 315 miles of range, while the dual-motor Long Range model is rated at 353 miles.
Tesla?s Supercharger network is another asset. With Tesla?s V3 chargers, it?s possible to get 170 miles of travel for each 30 minutes of charging.
The IIHS gives its Top Safety Pick+ award to the Tesla Model 3, and the NHTSA rates it five stars in every test. Standard safety equipment includes automatic emergency braking, lane-departure warnings, and the driver-assistance features bundled as Autopilot.
The standard Autopilot system uses cameras, radar, and sensors to let the car steer, accelerate and brake automatically for short periods, within its lane. Autopilot also includes blind-spot monitors and adaptive cruise control.
There?s also an expensive option called Full Self-Driving, which does not deliver actual full self-driving technology. It offers automated lane-changing on the freeway, automated parking, and, most entertaining, the ability for an owner to summon the car in a parking lot.
Model Lineup
Made in California, the Tesla Model 3 comes in three versions: Standard Range Plus, Long Range, and Performance. Tesla doesn?t have traditional dealerships, but does sell its cars from showrooms, using online ordering and payments.
The Standard Range Plus starts at $39,190 including destination. It?s well equipped, and in fact has many of the features in the higher-priced models. The biggest difference is in powertrains, single motor vs dual motors.
The Long Range model adds the second motor, as well as heated rear seats, premium audio, and a bit more.
The Performance model, with all the cosmetic options, costs $59,190. The Full Self-Driving option is another $10,000.
The Model 3 warranty is 4 years or 50,000 miles.
Exterior
Compared to many compact sedans, the Model 3 is good-looking?and has become better looking in 2021, now that some chrome around the windows and flush door handles has been eliminated.
Since there?s no engine that needs to be cooled, like all electric cars there is no real grille, which keeps the nose low. It?s as slippery as the roofline, whose smooth arc tapers at the sides and drifts back to the tallish rear end and short rear deck. In fact, at quick glance, the Model 3 sedan might be mistaken for a hatchback.
Interior
When you climb into a Tesla Model 3 for the first time, it feels strange, because of the absence of nearly all conventional buttons, dials, and switchgear?not even a start button.
What there is, besides a steering wheel with a couple toggles, is a 15.0-inch touchscreen. It does everything, maybe too much. But its interface is about as flawless as can be. There?s an iOS-like flat menu structure that brings you within a couple of touches from anything you might need to know or want to do, including adjusting the mirrors. It responds to voice commands about as well as any current phone or tablet. However, it doesn?t support Apple CarPlay or Android Auto compatibility.
We?re surprised and disappointed by the unimpressive interior materials, as well as the inconsistent fit and finish. The fabrics, panels, and trims feel low-budget and look under-detailed. And while the powertrain is whisper-quiet, the road noise in the cabin is prevalent.
Back to the big design picture, the cabin is very space-efficient. The cab-forward design under a broad roof offers a lot of passenger space and head room, especially for a compact car. And the rear trunk is very big, at more than 15 cubic feet. Plus there?s a front trunk, also dubbed the ?frunk.?
The seating position is different than that in other compact sedans. To begin with, the driver looks beyond the low and sloping hoodline, not over it. The standard 12-way power seats are comfortable and supportive, even during aggressive cornering, which is totally possible in this compact sedan that handles like a sport sedan.
The seating for rear passengers, including tall ones, is surprisingly good, although three 6-footers will find it tight.
Driving Impressions
During our testing, we found that the Model 3 was perhaps the only EV that could achieve its full range at freeway speeds. without turning off the climate control. Hard acceleration and steep hills will still kill the mileage, but at least the freeway won?t, and that?s special.
It might be hard to avoid that hard acceleration, because it?s so available, and at its quickest, it?s downright awesome. Even the base Standard Range Plus, with just one motor, can accelerate from 0-60 in 5.3 seconds, faster than some sport sedans. It makes 283 hp and 307 lb-ft of torque, with rear-wheel drive.
With the second motor and all-wheel drive, the Long Range cuts that time to 4.2 seconds, using its 346 hp and 389 lb-ft of torque. With 450 hp and 471 lb-ft of torque, the Performance whistles to 60 mph in a mere 3.1 seconds.
As for handling, every Model 3 offers a responsiveness and sharpness that you just don?t find on many compact cars. With precise, well-weighted steering and a firm but well-damped suspension, the Model 3 smothers bumps and reduces body motions.
The regenerative braking system takes some getting used to. In its more aggressive setting, the car feels like it?s been downshifted into first gear when the throttle is released.
The Long Range and Performance, with all-wheel drive, are better at dealing with wet and slippery roads, and with all-season tires they can easily handle snow and ice. Remember, though, that range drops as the temperature does.
Final Word
The 2021 Tesla Model 3 wins over many drivers with its acceleration, handling and range. The base model delivers exceptional efficiency and very good performance; we?d splurge on the all-wheel-drive extended-range models to stretch the battery-electric driving experience as far as it can go.
?by Sam Moses with driving impressions by The Car Connection
How Does CarsDirect Work?
We are not just another car-buying site.
Our FREE service is simple:

Choose the Car You Want
See the CarsDirect Price to Use in Your Negotiation at the Dealership
Get Matched with a Trusted Dealer Near You
Drive away HAPPY in your new car!