2023 Tesla Model S
- Exclusive Ashburn New Car Discounts
Change Vehicle

YOUR VEHICLE
Tesla Model S
Consider getting price quotes on competitive cars to negotiate better.
2023 Mercedes-Benz CLS-Class
Get FREE Price Quote
2023 Mercedes-Benz E-Class
Get FREE Price Quote
Learn More About The Tesla Model S
What you must know before purchasing your Model S. Use this pricing analysis to negotiate the best price with the dealer.
Highlights:
Tesla Model S Tax Credit
The Tesla Model S is no longer eligible for a $7,500 federal tax credit. While there was a brief window of opportunity in which you could get the credit, stricter rules from the Inflation Reduction Act have disqualified the car.
Tesla Model S Free Supercharging
Tesla has periodically introduced a free supercharging deal on the Model S. Most recently, the promo offered 3 years of free supercharging. Unfortunately, we can't predict how long this type of deal will last or if it will return.
Tesla Model S EV Rebates
The Tesla Model S may qualify for state plug-in incentives depending on where you live.

In California, the Model S used to qualify for a $2,000 Clean Vehicle Rebate. However, an MSRP cap disqualified the car and the Model S is now excluded.

In Colorado, the Innovative Motor Vehicle Credit offers a $5,000 tax credit on qualifying vehicles. However, we recommend reading the guidelines carefully to determine if the car you want is eligible.
Current Finance Deals
No financing deals are available at this time for the Tesla Model S.
Introduction
What's New
After being one of the first vehicles to pioneer the yoke-style steering wheel, the 2023 Tesla Model S arrives with a regular, circle-shaped steering wheel as a no-cost option. Consumers that purchased an electric sedan with the yoke-style steering wheel can get a regular steering wheel as a retrofit for $700. Additionally, the Model S comes with a new key card that replaces the old standard key fob.
Since Tesla doesn't follow traditional model years like other automakers, we could see more changes for the electric sedan in the future.
Choosing Your Tesla Model S
Engine Choices
The Model S is available with two different powertrains. The base Model S has two electric motors for all-wheel drive and a range of 405 miles, while the Plaid features a tri-motor design that can carry you 396 miles on a full charge. Tesla doesn't provide information on what kind of battery pack the Model S comes with.
With 1,020 horsepower, the tri-motor Plaid is one of the quickest cars on sale today. Despite its massive horsepower bump over the base trim, the Plaid doesn't lose that much when it comes to range or fuel economy. It's an impressive feat of engineering and a hilarious riot to drive – it makes the 0-60 sprint in less than 2 seconds. The Base Model S is no slouch either making the 0-60 run in 3.1 seconds.
One thing to consider when thinking about purchasing a Model S is Tesla's Supercharger network. When charging at a rate of up to 250 kW, the Model S can gain 200 miles of range in just 15 minutes. With Tesla's 11.5-kW wall-mounted charging unit, the large electric sedan can get up to 44 miles of range per hour.
| | | | |
| --- | --- | --- | --- |
| Model | Engine Type | Horsepower | MPGe (City/Highway) |
| Base | Dual electric motors | 670 hp | 124 / 115 |
| Plaid | Tri electric motors | 1,020 hp | 119 / 112 |
Passenger and Cargo Capacity
Every Model S offers seating for up to five people. The large electric sedan may have a footprint that's similar in size to other options in the class, but it has a roomy cabin with 35.5 inches of rear legroom. The sedan's hatchback practicality results in a large cargo area with 25 cubic feet of cargo space behind the rear seats and up to 61.4 cubic feet of cargo space with the rear seats folded.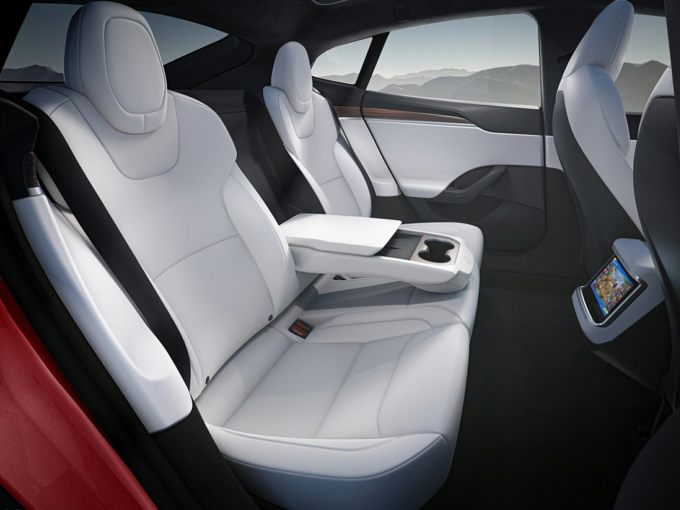 Safety Features
The Model S is equipped with Tesla's Autopilot suite of advanced safety features. The large sedan comes equipped with adaptive cruise control, blind spot monitoring, automatic emergency braking, forward collision warning, pedestrian detection, lane keeping assist, lane departure warning, and parking sensors.
Enhanced Autopilot is available for an additional $6,000 and brings navigate on Autopilot, automatic lane change, automatic park assist, Summon, and Smart Summon. Full Self-Driving Capability is a $15,000 upgrade and adds traffic light and stop sign control and all of the features from Enhanced Autopilot.
Tesla continually introduces new safety features, which become available through an over-the-air software update. Advanced features will only be available to Tesla owners with Full Self-Driving Capability.
Connectivity
A large central display is a hallmark quality of every Tesla, but the Model S has one of the largest screens in the automaker's lineup. The sedan comes with a 17-inch touchscreen that not only works as an infotainment system but as a main hub for all of the vehicle's controls. Other standard tech features on the Model S include an eight-inch rear display, a 12.3-inch digital instrument cluster, front and rear wireless charging pads, navigation, a Wi-Fi hotspot, satellite radio, Bluetooth, five USB ports, and 22 audio speakers.
2023 Tesla Model S Base – MSRP From $96,380
The entry-level Model S rivals a large luxury sedan with its list of standard equipment. The trim comes with synthetic leather upholstery, heated and ventilated front seats, heated rear seats, tri-zone automatic climate control, a panoramic sunroof, 19-inch wheels, a power trunk, adaptive air suspension, and a heated steering wheel.
There aren't many options for the Model S. A black and white interior or a cream interior are available for $2,000. Larger 21-inch wheels are a $4,500 option.
2023 Tesla Model S Plaid – MSRP From $116,380
On top of an extra electric motor and added horsepower, the Plaid doesn't bring much in the way of features over the base trim.
Compare Model S Trims Side-By-Side
CarsDirect Tip
The 2023 Tesla Model S Base is an impressive large electric sedan. It has one of the largest ranges of any EV on sale and comes equipped with high-tech and luxurious features that make it feel like a high-end electric car. Unless you're looking for a car with supercar levels of performance, the base trim is the one we recommend.
How Does CarsDirect Work?
We are not just another car-buying site.
Our FREE service is simple:

Choose the Car You Want
See the CarsDirect Price to Use in Your Negotiation at the Dealership
Get Matched with a Trusted Dealer Near You
Drive away HAPPY in your new car!