2022 Toyota Corolla
- Exclusive Ashburn New Car Discounts
Change Vehicle

YOUR VEHICLE
Toyota Corolla
Consider getting price quotes on competitive cars to negotiate better.
2022 Honda Civic
Get FREE Price Quote
2022 Mazda Mazda3
Get FREE Price Quote
2022 Toyota Corolla Hybrid

Get FREE Price Quote
Learn More About The Toyota Corolla
What you must know before purchasing your Corolla. Use this pricing analysis to negotiate the best price with the dealer.
Highlights:
2023 Corolla is coming soon
Lease: From $269/mo.
Finance: From 2.49% APR
Rebates: No cash offers
2022 Corolla is here
The carryover 2022 Corolla is available, and all its promotional offers get updates -- for the worse. The 2023 Corolla will arrive soon, but there are no offers on it yet.
On top of a revised front fascia, the 2023 Corolla will get a few key upgrades, including available all-wheel drive on the hybrid model and a bump to 169 horsepower on the standard models. Dealerships are experiencing inventory shortages, so you may have a hard time finding the perfect Corolla for you.
Toyota's deals are regional and will expire on October 3, 2022. All deals mentioned here are for Southern California unless specified otherwise. This page is updated monthly with the latest incentives, so be sure to check back for the latest information.
Toyota Corolla Lease Deals
Lease from $269/mo.
A 36-month promotional lease on the 2022 Corolla LE sedan starts from $269 ($20 increase) per month with $2,999 due at signing. With an effective monthly cost of $352, this is not a good value for its MSRP.
The 2022 Corolla SE Hatchback's 36-month lease runs $40 more per month. With an effective monthly cost of $392 ($20 increase), this is not a good value relative to its MSRP either.
The 2022 Corolla Hybrid LE's 36-month lease will set you back $309 per month ($20 increase) with $2,999 ($17 decrease) due at signing. This adds up to a $392 monthly effective cost, which makes the Corolla Hybrid LE's lease a poor value relative to its MSRP.
All Corolla lease offers include an allowance of 12,000 miles per year.
Toyota Corolla Rebate Deals
No cash incentive
The 2022 Toyota Corolla continues with no cash incentive.
We're not sure when this will return.
Toyota Corolla Financing Deals
Finance from 2.9%
The 2022 and 2023 Toyota Corolla have three new APR offers: 2.49% for 48 months, 3.49% for 60 months, and 4.49% for 72 months. For the 2022 model, this is 0.5% higher than last month.
Corolla 0% financing deals remain unlikely given market conditions.
Current Finance Deals
Interested in financing your new car? If so, make sure your dealer includes these incentives.
Financing Incentives
Rebate
Amount
Promotional APR Offer


Promotional APR programs available for qualified buyers. Please check with your CarsDirect Trusted Dealer for complete details.%NotesManuf% %Eligibility% Contracts must be processed by TFS.
Current Lease Deals
Leasing Incentives
Rebate
Amount
Promotional Lease Offer


Promotional lease offer available for qualified buyers on approved credit. Please check with your CarsDirect Trusted Dealer for complete details.
Introduction
What's New
The 2022 Toyota Corolla enters into the new year without any notable changes to the sedan or hatchback. The big news is the launch of the new Corolla Cross, a separate model that melds the Corolla's practicality in a practical crossover shape.
Choosing Your Toyota Corolla
The 2022 Toyota Corolla sedan is offered in five trims - L, LE, SE, XLE, and XSE - and features a starting price of $21,100 which climbs to $27,000 for the top tier trim.
The Hatchback takes on a sportier focus and is limited to the SE and XSE trims which range from $21,840 to $24,790. Both models feature special edition packages.
Engine Choices
Most of the sedan's trims are equipped with a 1.8-liter four-cylinder engine that produces 139 horsepower and 126 pound-feet of torque at 3,900 rpm. Its continuously-variable transmission helps to make the most of its meager power while a more powerful engine is offered albeit only on the SE and XSE trims (hatchback included).
Its larger 2.0-liter displacement generates 169 horsepower and 151 pound-feet of torque which is still significantly less than the more-readily available turbocharged engine in the Honda Civic. The upgraded engine features a novel transmission that combines the natural acceleration feel of a fixed first gear with the efficiency of the variable-ratio system.
Also noteworthy is the availability of a six-speed manual transmission. Choosing a manual transmission will save $1,100 off the MSRP in the hatchback (versus the CVT), however, the six-speed is only offered in the SE trim of the sedan and is tagged with a $700 premium.
The Corolla is front-wheel-drive only while the all-new Toyota Corolla Cross adds all-wheel-drive capability to the nameplate.
The sedan's standard powertrain returns an EPA-estimated 33 miles per gallon combined which increases to 34 mpg combined with the larger engine although the manual transmission suffers a two-mpg reduction.
The hatchback nearly matches the sedan's figures and receives 33 mpg combined with the automatic transmission and 31 mpg combined with the manual. The Corolla Hybrid offers even greater fuel efficiency.
Passenger and Cargo Capacity
The sedan and hatchback are rated for five passengers but their compact sizes expectedly make for a tight fit for three adults in the back. The sedan and hatchback are about 70 inches wide while the sedan is about 10 inches longer (182.3-inches) and rides on a wheelbase that is about 2.5 longer.
That helps to provide 34.8 inches of rear legroom although that is more than two inches less than what the Civic provides. The Corolla Hatchback fares even worse and musters only 29.9-inches of rear legroom - nearly six inches less than the Volkswagen Golf.
Cargo room in the sedan is also measurably less than the Civic with 13.1 cubic feet of trunk space, while the Hatchback fares better against the competition with 17.8 cubic feet of space. Both models include split-folding rear seatbacks as standard equipment.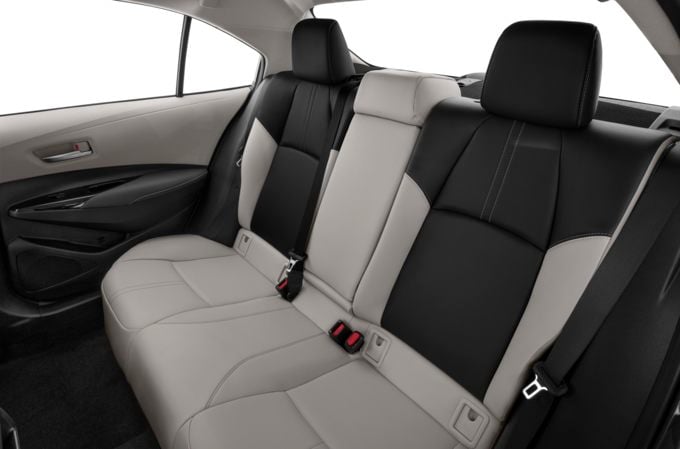 Safety Features
The Corolla carries a long list of standard active safety features. Automatic emergency braking with pedestrian detection, lane keep assist, active cruise control with lane centering, and automatic high beams are standard across all trims while blind-spot monitoring with rear cross-traffic detection is offered on the LE and SE trims and standard on the XLE and XSE trims.
The sedan and hatchback earn a five-star overall safety rating from NHTSA and are a 2021 Top Safety Pick from IIHS.
Connectivity
The base L trim in the sedan features a seven-inch infotainment touchscreen with Android Auto, Apple CarPlay, Amazon Alexa, and Wi-Fi hotspot capability and also supports Bluetooth and SiriusXM.
The higher trims receive an eight-inch and gain an additional USB port - bringing the count to two. The SE trim offers a premium JBL sound system while the XLE and XSE trims additionally offer navigation.
The sedan's L trim features LED headlights and taillights, body-colored door handles and mirrors, 15-inch steel wheels, and a one-touch-up driver's window. Inside, the driver receives a six-way manually adjustable driver's seat, a tilt and telescoping steering wheel, a 4.2-inch digital driver information display, and a center storage console.
There are no optional packages.
Corolla LE - MSRP From $21,550
The LE swaps in 16-inch steel wheels, a premium cloth fabric interior, automatic climate control, and variable intermittent wipers. Most notable, it offers the LE Convenience Package for $1,150 that includes proximity entry, heated mirrors, and 16-inch alloy wheels. Instead, the LE Premium Package can be ordered for $2,000 which additionally includes a power sunroof.
Corolla SE - MSRP From $23,550
The SE trim has a sportier flair and the sedan features 18-inch inch dark wheels with dark gray painted accents, a sport-tuned suspension, a unique gray mesh grille with unique trim, gray metallic rocker panel inserts, a body-colored rear spoiler, dual chrome exhaust outlets, and a unique rear lower fascia. The headlights are upgraded LED units and feature signature DRL lighting and the mirrors gain integrated turn signals. inside, more significantly bolstered sport seats are joined by a leather-wrapped steering wheel with paddle shifters.
The hatchback is priced at $21,840 and makes do with 16-inch alloy wheels, and body-colored rocker panels but includes proximity entry and features a stylized rear bumper trim with twin integrated chrome faux exhaust outlets. There are no packages offered in the hatchback.
The sedan offers the SE Premium Package is $1,500 that includes blind-spot monitoring, proximity entry, and a sunroof. The upgraded connectivity can be added to the package for another $765 and the premium sound system is then available for another $600.
On the styling front, the sedan and hatchback offer a contrasting black-colored roof panel for $500.
The sedan and hatchback offer a Nightshade Edition that adds a dark theme with black 18-inch wheels, black rocker panel inserts, black rear lower facia including faux exhaust outlets, black badging, black mirrors (with heating and integrated turn signals), and a black premium fabric interior. The hatchback version is $23,840 and the sedan is $24,250.
The sedan offers an even sportier version in the form of the SE Apex Edition that is $26,245 and includes exclusive features such as uniquely designed 18-inch black wheels, black and bronze accents in the front lower fascia, side rocker panel, and rear diffuser, a black roof panel, a sport exhaust, an enhanced sport-tuned suspension, and bronze stitching inside.
Corolla XLE - MSRP From $25,500
The XLE trim builds off of the LE and is equipped with premium LED headlights and signature DRL lighting, mirrors with integrated turn signals. 16-inch alloy wheels, proximity entry, heated faux-leather seats, a leather-wrapped steering wheel, a seven-inch digital driver information display, and a sunroof.
The XLE offers the Connectivity Package for $1,715 that adds the premium audio system and navigation, and additional equipment can be had for another $450 such as a wireless phone charger, interior ambient lighting, and adaptive headlights.
Corolla XSE - MSRP From $27,000
The sedan XSE adds to the SE trim and includes proximity entry, upgraded connectivity, a seven-inch digital driver information display, faux-leather heated sport sheets, and a gray metallic rear spoiler. The same option packages of the XLE are offered here.
The XSE Hatchback has a lower starting price, $24,790, and includes LED fog lights, a chrome upper grille surround, blind-spot detection, and dual-zone climate control. The only option package adds adaptive headlights for $415.
The XSE Apex Edition is available in the sedan for $29,385 and includes the same upgrades as in the SE Apex Edition as well as faux leather seats, blind-spot monitoring, and a sunroof but is not available with a manual transmission.
Compare Corolla Trims Side-By-Side
CarsDirect Tip
The SE trim with the Premium Package offers the power to easily keep up with traffic and the convenience feature to make everyday commutes a bit more enjoyable.
How Does CarsDirect Work?
We are not just another car-buying site.
Our FREE service is simple:

Choose the Car You Want
See the CarsDirect Price to Use in Your Negotiation at the Dealership
Get Matched with a Trusted Dealer Near You
Drive away HAPPY in your new car!