2021 & 2022 Toyota RAV4 Prime
- Exclusive Ashburn New Car Discounts
Change Vehicle

YOUR VEHICLE
Toyota RAV4 Prime
Consider getting price quotes on competitive cars to negotiate better.
2022 Kia Niro Plug-In Hybrid
Get FREE Price Quote
2022 Mitsubishi Outlander PHEV
Get FREE Price Quote
2022 Jeep Wrangler
Get FREE Price Quote
Learn More About The Toyota RAV4 Prime
What you must know before purchasing your RAV4 Prime. Use this pricing analysis to negotiate the best price with the dealer.
Highlights:
2022 RAV4 Prime is available for order
Lease: From $453/month (2022, est.)
Financing: No APR deals
Rebates: Up to $9,250 in savings (CA only)
Plug-in with high dealer markups
The 2021 RAV4 Prime is available and carries on with the same offers this month. The 2022 RAV4 Prime is available for order now but has no promotional offers.
Dealerships are experiencing inventory shortages, so you may have a hard time finding the perfect RAV4 Prime for you.
Current offers end January 31, 2022. Examples here are based on Southern California but may be similar in other parts of the country.
This page is updated monthly with the latest incentives, so be sure to check back for the latest information.
Toyota RAV4 Prime Lease Deals
Lease from $467/month
There are no promotional lease offers on the 2021 RAV4 Prime, but you can get a retail lease. According to Toyota's payment estimator, a 36-month lease on the 2021 RAV4 Prime SE will run $467 per month with $3,117 due at signing (12,000 miles per year).
With an effective cost of $554, this isn't a good deal relative to its MSRP.
The estimated 36-month retail lease on the 2022 RAV4 Prime runs $453 per month with $3,109 due at signing (12,000 miles per year). With an effective monthly cost of $539, this is not a good value relative to its MSRP.
Toyota RAV4 Prime Rebate Deals
Tons of federal and state rebates
The 2021 and 2022 RAV4 Prime has no factory rebates yet. Given supply-related issues, we think it's highly unlikely that Toyota will introduce any cash incentives.
California buyers can get a $1,000 rebate from the Clean Vehicle Rebate (CVRP) and a $750 California Clean Fuel Reward for a total of $1,750 off. The CVRP is a rebate you get after buying the vehicle, but the CCFR is a point-of-sale rebate you get immediately.
On top of this, the 2021 RAV4 Prime is eligible for up to a $7,500 EV tax credit from the IRS. Combining the California and federal credits, you could get up to $9,250 off the 2021 RAV4 Prime.
Toyota RAV4 Prime Finance Deals
No financing incentives
Toyota offers no APR deals on the 2021 or 2022 RAV4 Prime yet.
Things could change, but we think the odds aren't in favor of shoppers. Your local dealer may be able to offer competitive rates, so be sure to check before making a decision on how to finance.
Current Finance Deals
No financing deals are available at this time for the Toyota RAV4 Prime.
Current Lease Deals
Leasing Incentives
Rebate
Amount
Promotional Lease Offer


Promotional lease offer available for qualified buyers on approved credit. Please check with your CarsDirect Trusted Dealer for complete details.
2022 Toyota RAV4 Prime: Preview, Pricing, Release Date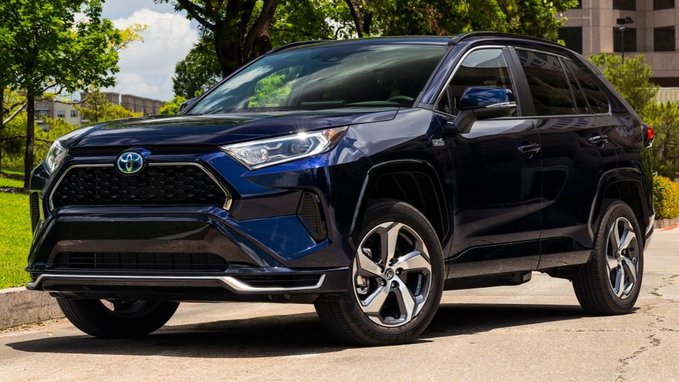 Model Preview
The Toyota RAV4 Prime arrived as an all-new model in 2021, giving the automaker an efficient electrified model with an impressive all-electric range of 42 miles. With the plug-in hybrid SUV entering just its second model year on sale, we expect the 2022 Toyota RAV4 Prime to be a carryover model.
When the RAV4 Prime arrived in showrooms last year, it featured a slightly updated design than the regular RAV4 lineup. As a carryover model, the 2022 RAV4 Prime should retain the same overall design as the current model. For a plug-in hybrid SUV, the RAV4 Prime wears muscular hood lines, a sharp front fascia, and angular headlights. At the back, the current RAV4 Prime features a chrome trim piece that connects the taillights, two exhaust outlets, and a black bumper. With sporty wheel designs, an available black roof, and black trim pieces, the RAV4 Prime is the sportiest-looking RAV4 in the lineup.
On the inside, the current RAV4 Prime prioritizes ease of use with large dials and clear buttons for the HVAC system. The infotainment system sits prominently at the top of the dashboard, while the dial and buttons for the various drive modes are located next to the gear shifter. Red stitching and available paddle shifters also help the RAV4 Prime feel relatively sporty. The 2022 Toyota RAV4 Prime should have the same interior design as the current model.
Standard tech features on the current RAV4 Prime include an 8-inch touch screen, Apple CarPlay, Android Auto, Amazon Alexa, Wi-Fi hot spot, five USB ports, six audio speakers, Bluetooth, and a 7-inch digital multi-information display. Optional features include a 9-inch touchscreen, an 11-speaker JBL audio system, navigation, and a wireless charger. These features should carry over for the 2022 RAV4 Prime.
Power for the 2022 Toyota RAV4 Prime will come from the same powertrain as the current model. The current RAV4 Prime comes with a 2.5-liter four-cylinder engine and two electric motors. Combined output is rated at 302 horsepower. All-wheel drive is standard.
Current safety features on the RAV4 Prime include forward collision warning, pedestrian detection, automatic emergency braking, lane departure warning, adaptive cruise control, lane-keeping assist, traffic sign recognition, rear cross-traffic alert, and blind spot monitoring. In the IIHS testing, the current RAV4 Prime earned a Top Safety Pick award.
How Does CarsDirect Work?
We are not just another car-buying site.
Our FREE service is simple:

Choose the Car You Want
See the CarsDirect Price to Use in Your Negotiation at the Dealership
Get Matched with a Trusted Dealer Near You
Drive away HAPPY in your new car!