YOUR VEHICLE
Toyota Yaris
Consider getting price quotes on competitive cars to negotiate better.
2020 Nissan Versa

Get FREE Price Quote
2020 Hyundai Accent

Get FREE Price Quote
2020 Mitsubishi Mirage G4
Get FREE Price Quote
Learn More About The Toyota Yaris
What you must know before purchasing your Yaris. Use this pricing analysis to negotiate the best price with the dealer.
Highlights:
2020 Yaris is here
Rebates: Up to $2,000 off (hatchback)
Lease: 90-day payment deferral
Finance: 90-day payment deferral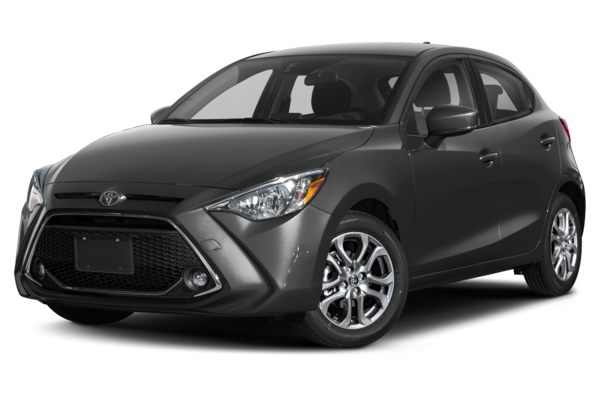 2020 Yaris is in stok:
The 2020 Toyota Yaris is in showrooms now, and it gains a redesigned hatchback variant that matches the existing sedan. Although prices are the same for both body types in the same trim levels, the hatchback is limited to just two trims, LE and XLE, so its base price is higher than the sedan.
As a newly redesigned model, the 2020 Yaris' promotional offers are understandably limited. There are two cash offers, though: one for the sedan and one for the hatchback. All offers carry over this month, including the 90-day payment deferral in response to the COVID-19 outbreak. So, if you buy a new Toyota today and finance through Toyota Motor Finance, your first payment wouldn't be for about three months.
Toyota's offers vary by region and the following are for Southern California. They are set to expire on June 1, 2020.
Two cash incentives:
The 2020 Yaris Sedan and Hatchback each offer customer cash, but Toyota is a lot more generous with the hatchback model. The 2020 Yaris Sedan boasts $500 in customer cash, while the hatchback model's cash rebate stands at $2,000.
No promotional lease offers:
Toyota has not revealed any special lease offers for the 2020 Yaris yet. Historically, this model does not lease well, so we may not see them any time soon.
According to Toyota's payment estimator, lease payments on the 2020 Yaris L Sedan start from $257 per month for 36 months with $2,907 due at signing. The L Hatchback's 36-month lease jumps to $289 per month with $2,939 due at signing. With monthly effective costs of $338 and 371, respectively, these are terrible values relative to the MSRPs.
These leases allow up to 12,000 miles per year.
If you lease the 2020 Yaris through Toyota Motor Finance, you will not have a payment for 90 days in response to the coronavirus outbreak.
It's far cheaper to lease a larger 2020 Camry at this point, as the LE trim starts from $249 per month with $1,999 due at signing.
No financing offers:
Unfortunately, there are no promotional finance rates on the 2020 Yaris either, but Toyota is deferring payments on Yaris models financed through Toyota Motor Finance for 90 days.
Current Finance Deals
No financing deals are available at this time for the Toyota Yaris.
Introduction
What's New
The 2020 Toyota Yaris lineup gains a hatchback model to complement the carryover sedan. Unlike the previous Yaris hatchback (last offered in 2018), the new model is built on the same platform as the sedan and shares its styling and equipment.
Choosing Your Toyota Yaris
The Toyota Yaris comes in three trim levels: L, LE, XLE. However, the hatchback is only offered in LE and XLE trims. Pricing starts at $16,605 including destination for the L and climbs to $19,705 for the XLE.
Engine Choices
The sole engine for the Yaris is a 1.5-liter four-cylinder that produces 106 horsepower and 103 pound-feet of torque. The L and LE sedan come standard with a six-speed manual transmission, but a six-speed automatic is available for $1,100. The LE hatchback and both XLE models get the automatic as standard.
With the manual transmission, the Yaris is EPA-rated at 30 miles per gallon city, 39 mpg highway, and 34 combined. The automatic raises fuel economy to 32/40/35 mpg (city/highway/combined).
Passenger and Cargo Capacity
The Toyota Yaris can hold up to five, but the folks are back will likely feel squished. The rear seat is best reserved for children and the occasional adult.
Cargo space is very healthy for a car of this size. The sedan's truck measures 13.49 cubic feet, and the hatchback can handle up to 15.86 cubic feet. Both have split-folding rear seats for additional space.
Safety Features
Due to its low price, the Yaris doesn't carry the same level of safety technology as other Toyota models. Even so, every Yaris gets low-speed automatic emergency braking and forward collision warning,
Connectivity
The Yaris carries a full-feature infotainment system with a 7-inch touschscreen, Apple CarPlay and Android Auto compatibility HD radio, satellite radio, Bluetooth, and two USB ports.
Navigation hardware is included, but the system requires an SD card to operate, available for purchase at Toyota dealers.
The L sedan provides all the basics, including power windows and locks, keyless entry, cruise control, and air conditioning. There's fabric seats, a six-way manually-adjustable driver seat, and a four-way manual passenger seat. The L rolls on 15-inch steel wheels.
The Yaris LE adds push button start, fog lights, 16-inch alloy wheels, and heated side mirrors with integrated turn signals. The automatic remains optional on the LE sedan, and comes standard on the LE hatchback.
The XLE features a leatherette interior with automatic climate control and genuine leather trim on the steering wheel. Buyers also get LED headlights and rain-sensing windshield wipers.
Compare Yaris Trims Side-By-Side
CarsDirect Tip
Safety and infotainment features are identical throughout the 2020 Toyota Yaris lineup, which makes the L sedan a bargain if you can live with the manual transmission. Otherwise, you'll get a bit more for your money with a model where the automatic is standard.
How Does CarsDirect Work?
We are not just another car-buying site.
Our FREE service is simple:

Choose the Car You Want
See the CarsDirect Price to Use in Your Negotiation at the Dealership
Get Matched with a Trusted Dealer Near You
Drive away HAPPY in your new car!