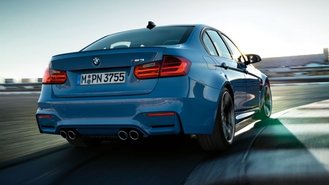 Spring is in the air and a bevy of all-new cars, trucks, SUVs and crossovers have arrived. The big auto shows in 2013 and 2014 debuted exactly what automakers had been working so diligently on—and after the wraps came off, jaws dropped, heart rates rose and checkbooks opened. Here are the Top 20 New Models for Spring 2014, which are hitting dealership floors now.
The Audi A3 springs forth for 2015 in an all-new generation and with a new bodystyle. Gone is the hatchback, replaced by a very svelte sedan that looks like a smaller version of the A4. With a choice of two efficient yet peppy turbocharged four-cylinder engines, the A3 shines through with the brand's core virtues of performance and comfort while keeping pricing at just $29,900, a bargain by luxury car standards.
The GMC Yukon has been completely redesigned for 2015, looking more imposing than ever and riding on a platform shared with GM's ambitious new truck and SUV offerings. Once again, the Yukon is available in the ultra-luxurious Denali trim level, which brings exclusive access to GM's 6.2-liter V8 with 420 horsepower that's not currently available in the Chevy Tahoe. You'll also, of course, find interior appointments that are fit for a king, or an NBA-sized player.
Did you know that the big, hulking Cayenne SUV is actually Porsche's top-selling model? The all-new Macan seeks to deliver super sporty SUV performance in a now more-compact and less expensive package, and we can't wait to get behind the wheel of this 'ute ready to give any other on the road a run for its money. The Macan S with 340 horsepower should be plenty of thrills for most drivers, but the Macan Turbo with an even 400 is just so enticing.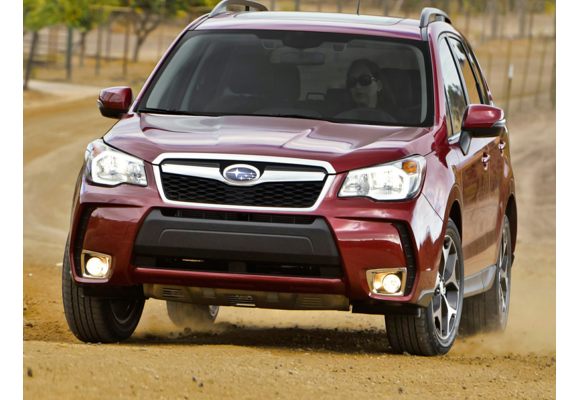 Subaru just debuted an all-new Forester for the 2014 model year en route to a Motor Trend SUV of the Year award win, but that hasn't stopped the automaker from making further refinements for 2015, such as a now-standard rearview camera. The all-wheel-drive SUV is just the right size for the typical family and is especially surefooted in the snowbelt, where Subaru's decades of AWD knowledge really shine through.
The Mazda CX-5 is one of our favorite small crossovers on the market, with handling that's just way too much fun to be legal in this often ho-hum segment. For 2015, you can order the CX-5 with a strong 2.5-liter four-cylinder with 184 horsepower, or select the thrifty 2.0-liter with 155 horsepower and 35 highway mpg. A diesel model is rumored for later in the model year, so stay tuned for more.
Ford's Super Duty line of pickups fight back in the wars of towing capacity after Dodge and Chevy stole their thunder with their newest model lines. The 2015 F-250 can tow up to 16,800 pounds and comes with all kinds of work-friendly features, like an available 6.7-liter Power Stroke turbodiesel with 860 pound-feet of torque. If that's not enough torque for you, perhaps an 18-wheeler is more to your liking.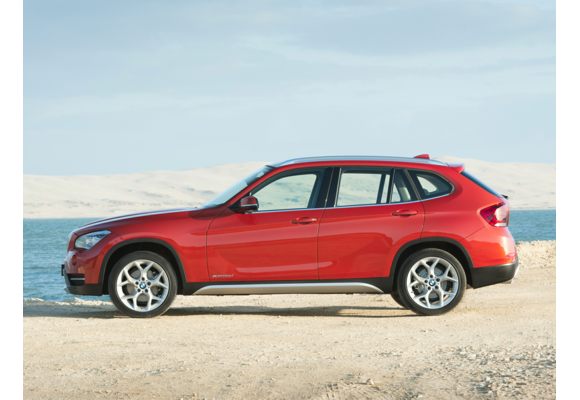 BMW's X1 has surprised even those in accounting at the German automaker with its impressively strong sales, as plenty of buyers have fallen in love with one of the best of a new breed of compact luxury crossovers that's taking the industry by storm. Sportier than the other offerings in the segment thanks to rear-wheel-drive and powerful engine options, the X1 has brought younger buyers into the BMW community, and that's a good thing.
While Volvo continues to lead the auto industry by introducing innovating safety features, the big news for 2015 is an all-new engine lineup with remarkable fuel efficiency. Now capable of 25 city and 37 highway mpg thanks to a sophisticated 2.0-liter turbo four-cylinder with 240 horsepower. "Drive-E" is the new buzzword for fuel efficiency and power at Volvo. Upscale T6 sedans get a twincharged – that's turbocharging and supercharging – 2.0-liter that outputs 302 horsepower while still somehow bringing 24 city and 35 highway mpg.
Completely redesigned for the 2015 model year, the GMC Sierra 2500HD gets many of the same refinements as lighter-duty counterparts, like better ergonomics for an interior designed to be friendly to the working man with gloves on and integrated steps in the rear bumper. With a max towing capacity of 17,900 pounds and an available 765 lb-ft.-torque Duramax diesel, this workhorse of a truck is more than just fancy features. GM trucks of late have the best long-term reliability of any on the road.
A few years ago, charging $60,400 for any Kia would be absolutely unheard of, but the Korean automaker is taking a big risk with the K900 to move upmarket. Most Kia models don't come with a 420-horsepower V8 engine, an ultra-luxurious interior and every technological gizmo under the sun. Designed to be comfortable in a Lexus LS sort of way, this luxury chariot just might have you rethinking what a Kia can be. Again.
You have the typical family of four, and you want the best all-around luxury vehicle that money can buy that will be reliable forever and serve you well from grocery getting to family vacations. Lexus's RX 350 just might be the vehicle you're looking for, and the upscale hybrid model sees the best fuel efficiency of any SUV on the road at a whopping 30 combined mpg. Wearing Lexus's new corporate design elements like the trademark "spindle" grille, the luxurious RX is now much more attractive, too.
Jaguar's F-Type debuted as a sultry roadster last year for 2014 to great acclaim as the best driver's car to come from Jaguar for quite some time, if not ever. This year an all-new F-Type Coupe joins the lineup with a profile echoing the classic E-Type and an available R model with a 550-horsepower supercharged V8 and a 186 mph top speed. Modern Jaguars finally come with the extreme performance chops to back up their classic good looks.
Talk trash on SUVs all you want, but the reality is there just aren't many vehicles on the market that can haul a large family and all their camping gear while pulling a boat. The Suburban is fully redesigned for 2015, based on GM's latest truck architecture that underpins the Sierra and featuring a new 5.3-liter smallblock V8 with 355 horsepower and increased fuel efficiency thanks to cylinder deactivation. Peerless in its sheer size and cavernous interior, the Suburban is better than ever.
BMW kept its adoring fans waiting for a long time for the introduction of the new M3 and what wonderful engine would be lurking underhood, and we're happy to report the return to smooth-revving inline six-cylinder power. The new M3, which is now a sedan-only model, packs a TwinPower turbocharged 3.0-liter running a full 20.15 psi of boost to make 425 horsepower and 406 lb-ft. of torque, a big increase in torque over the outgoing model's V8. Zero to 60 will now come in just 3.9 seconds thanks in no small part to a strong focus on lightweight engineering.
The MINI Cooper debuts for 2015 in its third generation as an all-new model with a bold new design that at once manages to stay true to the brand's heritage and delight the eye all over again. Exterior dimensions grow slightly, and you'll find the typical Cooper, Cooper S, and likely later a John Cooper Works performance variant. Expect the many spinoffs of the standard hatchback to move to the new design and platform soon.
Mazda's hugely improved Mazda6 surprised midsize family sedan competition upon its introduction last year, racking up a ton of awards in the process. Though it's been delayed a bit, the big news for 2015 is the introduction of the all-new Skyactiv-D 2.2-liter diesel engine with 280 lb-ft. of torque that should earn an EPA highway rating of at least 45 mpg. On top of that, the '6 is far and away the athlete among all midsizes on the market.
If the sublimely attractive MKC small luxury crossover is any indication as Lincoln's hottest new product, things are looking up at Ford's luxury brand. Based on the Ford Escape but swaddled in opulent luxury like real wood and aluminum trim, heated and cooled leather seats and more, the MKC makes a bold design statement inside and out and offers excellent fuel efficiency. Fun fact: the MKC's upscale 2.3-liter turbocharged EcoBoost engine, a new mill from Ford, shares a design and many components with that from the new 2015 Ford Mustang.
The Audi TT has been completely redesigned for 2015 with styling that at once manages to stay fresh and keep the recognizable model's core soul intact. Standard TT models will use a 230-horsepower 2.0-liter turbocharged four-cylinder, while the sportier TTS will get 310 horsepower and a 4.7-second 0-60 time. The TT is a car like no other roadster on the market, and Audi's almost ridiculous insistence on the highest quality interiors is more present here than ever before.
Along with its stablemates in the Tahoe and Yukon, the ultra-luxurious Cadillac Escalade is all-new for the 2015 model year. If you would like a large SUV that can haul the whole family and has second row seats that can recline, you don't need to be a hip hop star to appreciate one of the finest old-school SUVs money can buy. GM's top-level 6.2-liter V8 sees duty here, gaining direct injection this year to now make 420 horsepower and 460 lb-ft. of torque.
Kia's latest Sorento gets freshened up exterior styling along with nifty interior tech like the brand's UVO voice-activated infotainment system that actually works as it's intended. For large families on a budget, the 7-passenger crossover offers strong value and fuel efficiency, now with the striking good looks that have made Kias good sellers as of late.