Sedans and small cars are losing the sales war against crossovers and SUVs, but that doesn't mean they don't have merit. Buyers still have a lot to look forward to with cars, such as affordable pricing, excellent features, great fuel economy, and even robust performance.
Whether you're looking for something small, midsize, or sporty, the best new cars on the market for 2020 offer choices that fit the bill. All of our top picks also rank extremely well when it comes to value, an important trait for many new car buyers.
Best Small Car Overall: Honda Civic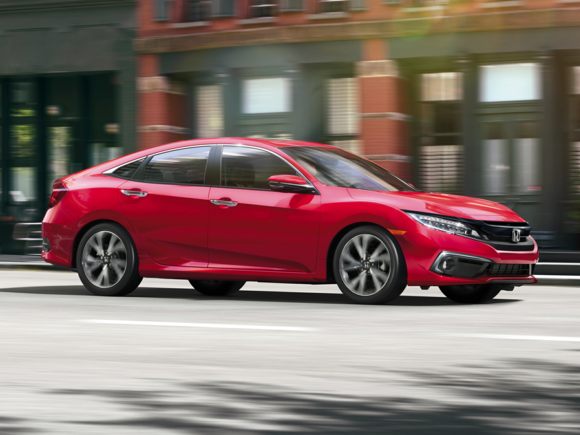 Why it's a top pick: With coupe, hatchback, and sedan body styles to choose from, the Honda Civic is a small car that can wear a lot of hats. That's further accented when you consider all of the available trims, including the track-focused Type R. It may be small, but the Civic's versatility makes it feel just as capable as a larger vehicle.
Worth knowing: Every Civic trim, besides the performance-oriented Si and Type R, comes with Honda Sensing as standard. The active safety bundles brings features that wouldn't have been found on a small car just five years ago.
Honorable mentions: Mazda Mazda3, Toyota Corolla, Volkswagen Golf
Best Midsize Car Overall: Honda Accord
Why it's a top pick: The Honda Accord does everything well, which is why it has been the perennial leader of the midsize sedan segment for decades. The Accord has a large interior, a trunk that can hold 16.7 cubic feet of cargo, and great fuel economy. Lively handling, an available manual transmission, and peppy powertrains ensure that drivers also have things to get excited about.
Worth knowing: The Accord is capable of getting an EPA-estimated 33 miles per gallon combined, putting it close to the top of the class. Better yet, the available hybrid gets 48 mpg combined, and it's only $1,600 more than a base Accord.
Honorable mentions: Mazda Mazda6, Toyota Camry, Kia Optima
Best Sporty Car: Hyundai Veloster
Why it's a top pick: The Hyundai Veloster is a funky little hatchback that puts performance first. The base Veloster has 147 horsepower, the Veloster Turbo models get 201 ponies, and the Veloster N features 250 hp. The higher up you go in the range, the stiffer and more competent it is around a track. Still, even the base Veloster has plenty of spunk packed in a tiny footprint.
Worth knowing: Enthusiasts yearning for a track vehicle will naturally gravitate toward the Veloster N with the available Performance Package. It adds 25 extra hp (for a total of 275 hp), an electronic limited-slip differential, 19-inch wheels, and a performance exhaust system.
Honorable mentions: Honda Civic Type R, Volkswagen Golf R