Hybrid and electric cars have become mainstream, with options coming from nearly every manufacturer. Additionally, quick-charging stations are becoming more common, making the ownership experience easier. Now is a great time to make the switch from pure gasoline to alternative energy forms.
Here are some of our favorites in the class of 2019:
Best Overall Hybrid: Honda Insight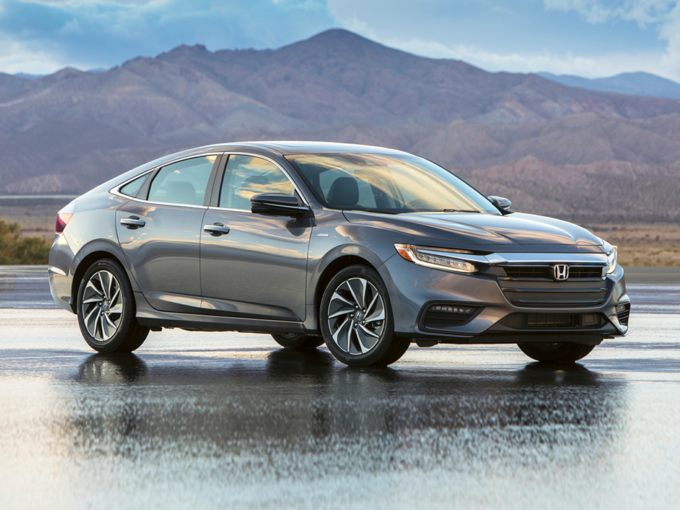 Why it's a top pick: The Honda Insight is a great looking car inside and out, that few would even recognize as a hybrid. It's also very spacious inside despite its lack of a rear hatch, especially compared to the Honda Civic it's based on. When many other hybrids on the market try to grab your attention with in-your-face designs, the Insight is confident in its gas-saving abilities without having to shout about it.
Worth knowing: The Honda Insight's small gasoline engine and electric motors connect to the front wheels with a fixed gear ratio rather than a standard transmission. This unique set up can cause some odd sensations to new Insight owners, but they'll probably get used to it over time.
Honorable Mentions: Toyota Avalon Hybrid, Kia Optima Hybrid
Best Fuel Efficiency: Hyundai Ioniq Hybrid
Why it's a top pick: The Hyundai Ioniq Hybrid has the best hybrid fuel economy ratings on the market with EPA-estimates of 57 miles per gallon city, 59 mpg highway, and 58 combined. It's also pretty fun to drive, even though it won't thrill you with its acceleration.
Worth knowing: The Hyundai Ioniq is also available as a plug-in hybrid and a pure electric vehicle, but it's not nationally distributed. Besides that, the Ioniq is most efficient in its base trim. Adding additional equipment in higher trim levels causes the fuel efficiency to drop by a few points across the board.
Honorable Mentions: Toyota Prius, Honda Insight, Toyota Camry Hybrid
Best Electric Car: Chevrolet Bolt EV
Why it's a top pick: The Chevrolet Bolt EV was the first affordable electric car with a reasonable range sold in the US, and it remains the best. With a 238-mile all-electric range that's only rivaled by more expensive and less-available Tesla models, the Bolt EV is able to take you on getaways a few hours away while using no gas.
Worth knowing: When you take your foot off the "gas" in the Chevy Bolt, prepare yourself. The car immediately engages regenerative braking to soak up some extra power, causing it to start slowing much quicker than a gas vehicle. It can take some getting used to, but you may only rarely engage the vehicle's actual brakes.
Honorable Mentions: Nissan LEAF, Tesla Model 3, Volkswagen e-Golf