With a plethora of options available, more and more shoppers still choose to purchase SUVs. The reasons are plentiful: SUVs provide loads of cargo capacity, off-road capability and a commanding view of the road. But due to more stringent requirements and consumer demand, they are now more fuel-efficient than ever before. So much so that manufacturers have now released Hybrid versions of popular SUVs within their respective lineups.
In California, where Hybrid sales lead the nation, hybrid vehicles are exempt from the state's smog check program. This undoubtedly saves the owner time and money during registration renewal. In addition, the hybrid system takes some of the load off the mechanical systems, so wear items like brake pads and brake rotors last up to three times longer. Those who frequently driver on the highway will also see another perk—less frequent trips to the gas station, since cruising range fuel economy is substantially improved. Here are our Top 5 Recommended Hybrid SUVs for 2014.
Lexus RX450h
The Best Hybrid SUV, Period
The mid-size RX450h is both the best-selling hybrid SUV and the least SUV-like vehicle here. What that probably means is the "Lexus" part is more important than the "SUV" part. Indeed, RX450h upholds the Lexus banner with a comfort-biased chassis that offers strong acceleration, and it has luxury features including maple or walnut interior trim. However, many features you might expect to be standard in this class (such as leather-trimmed seats or rear armrest storage) are actually optional, so the RX450h requires careful shopping. The Hybrid Synergy Drive powertrain produces dramatic improvements in city mpg ratings, though highway mpg ratings are up only modestly.
EPA-rated fuel economy: Up to 31 city/28 highway.
GMC Yukon Hybrid
Yukon Hybrid is an interesting blend of old and new tech. It combines an old-school 332-horspower, 6.0-liter pushrod V8 with two electric motors good for a combined 369 horsepower. The motors share space with a 4-speed gearset inside the transmission housing. Electronic wizardry decides what power source operates when. Some low speed operation can be electric-only, high- load can be gas-only, and sometimes both systems share the load. The important thing is that from the driver's seat, it all feels like a normal full-sized 8-passenger SUV while getting class-leading fuel economy.
EPA-rated fuel economy: Up to 14 city/18 highway.
Toyota Highlander Hybrid
Most Affordable Hybrid SUV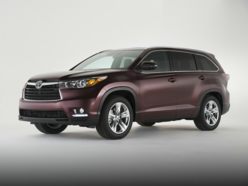 For the 2014 Highlander Hybrid, the emphasis is on "Highlander." In other words, all the things that make the regular Highlander such a great mid-size family SUV are here. Flexible seating arrangements, improved storage capacity and bulletproof reliability are all there. Toyota's tried & true Hybrid Synergy Drive is utilized, and this 7-passenger SUV earns the same combined fuel economy rating as last year's Mazda3. Outside, Highlander Hybrid has subtly unique exterior trim, including the fog lamps, badging and some chrome. Inside and out, Highlander Hybrid makes a strong case for being among the best family SUVs available.
EPA-rated fuel economy: Up to 27 city/28 highway.