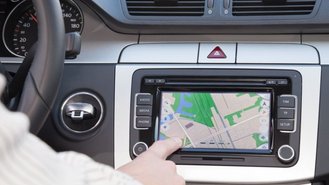 In-car navigation systems have come a long way in the last few years, trickling down to just about every segment in the market. But automakers typically give lavish features like Google Maps to the most expensive models, leaving the cars in the sub-$25,000 category with systems that are barely a step-up from a smartphone. Here are three in-dash navigation units, fitted to cars costing less than $25,000, that are loaded with features and have good graphics and usability.
Chrysler UConnect Navigation: Chrysler started fitting Garmin navigation into its vehicles a couple of years ago, but the cars with the big UConnect touchscreen offer big graphics and controls with Garmin's user-friendly interfaces and responsive voice controls. UConnect will also pair up to 10 Bluetooth-enabled devices. It's available on most trim levels of the new 2013 Dodge Dart, where it's usually a standalone option that costs around $840.
Hyundai BlueLink: BlueLink is another system that benefits from the less-is-more philosophy to in-car navigation systems. Hyundai gives its system simple menus and graphics, mated to SirusXM Traffic and their OnStar-like telematics system. And it's packed with features, like Pandora connectivity. The next level of service up from the basic system includes things like emergency crash response and turn-by-turn navigation. It's available on the Veloster and Sonata, but typically comes bundled in a technology package that costs upwards of $2,000.
Ford MyFord Touch: MyFord Touch got a bad rap shortly after its launch for its sub-par usability and its daunting array of touch-sensitive buttons. The latest version, shipping with 2013 vehicles and available as an upgrade to 2011s and 2012s, still isn't the final word on usability, but is much improved, according to Consumer Reports. MyFord Touch, with its 8-inch touchscreen, is available on the Focus SE and and comes standard on Titanium trim levels. Adding navigation to the system is a standalone $795 option, one of the least expensive systems in its class. It benefits from SYNC's expansive vocabulary of voice commands for entering destinations, and the ability to pair up to a dozen Bluetooth devices. The Focus system also comes bundled with SiriusXM Traffic and Weather. The latest version of MyFord Touch also benefitted from better graphics for maps.
These three manufacturers prove that you don't have to shell out the big bucks in order to get a high-quality, top-of-the-line navigation system in your new ride.