Today's luxury brands have more competition than ever, as non-luxury marques are adding more high-end touches and upscale features to expand their reach. To continue to stand out as truly opulent choices, luxury brands have upped the ante, increasing the amount of technology and upscale materials, and penning more modern exterior designs.
Our three top luxury cars are stars in the segment for a specific reason, whether that be a lush cabin, superior comfort, or value. Yes, value is a reason one of our picks is on the list. There's variety here, too, as the vehicles run the gambit of being available as a hatchback, a sedan, and even as a two-door coupe. In true luxury fashion, performance is also a crucial component for these luxury cars.
Best Interior: Audi A7
Why it's a top pick: The Audi A7 is a unique option in the luxury segment because it's a hatchback, which allows it to have more cargo space than its competitors. But what really stands out about the A7 are its exemplary materials, available two-screen setup (a 10.1-inch upper screen and an 8.6-inch lower unit), and Audi's unique virtual cockpit with a 12.3-inch digital instrument cluster. As usual, build quality is impeccable.
Worth knowing: To aid you in getting better fuel economy, the A7 has a haptic accelerator pedal to alert you to ease off the throttle.
Honorable Mentions: Mercedes-Benz S-Class, Volvo S90, Lexus LS
Best Comfort: Mercedes-Benz S-Class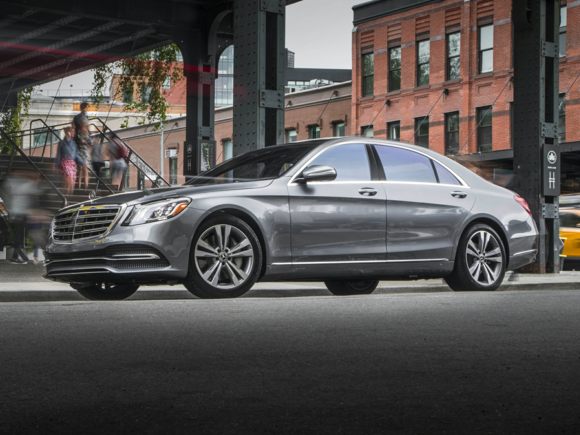 Why it's a top pick: Quite simply, the Mercedes-Benz S-Class trades punches with more exclusive options like Rolls-Royce and Bentley when it comes to comfort. To reduce stress, the S-Class comes with an Energizing Comfort system that alters the car's HVAC system, massage function, lighting, music, and fragrance. Pair that with incredibly comfortable seats, and you have the benchmark of the segment.
Worth knowing: If you love having options, you'll enjoy hearing that the S-Class has 64 different colors for the ambient lighting system.
Honorable Mentions: BMW 7-Series, Audi A8, Lincoln Continental
Best Value: Genesis G70
Why it's a top pick: At a fraction of the price of its competitors, the Genesis G70 combines luxury, performance, and technology in a package that not only looks good, but feels good to drive, too. Read over the G70's list of standard features or simply go for a test drive in one of the many available trims, and you'll have a hard time finding where Genesis cut corners to be able to price the G70 so affordably.
Worth knowing: Mercedes-Benz, BMW, and Audi have all stopped offering a manual transmission in their respective compact luxury vehicles, but Genesis is still offering a third-pedal option for purists.
Honorable Mentions: Lexus ES, Volvo S90, Genesis G80