A good pickup truck is no longer judged exclusively on the merits of its capabilities. Modern trucks must be much more well-rounded, delivering not just impressive towing and hauling stats but comfortable rides, swanky interiors, and quick and efficient powertrains that don't come off as being plucked out of a dump truck. In this hotly competitive segment, there's a number of pickups that meet this standard.
Here are the ones that impress us most for 2019:
Best Mid-Size Pickup: Chevrolet Colorado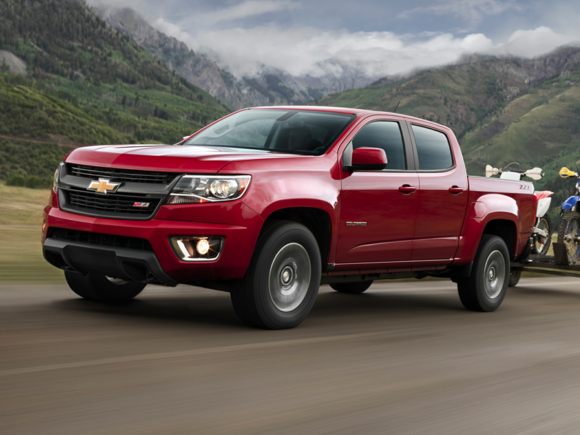 Why it's a top pick: The interior punches a class above the offerings from Toyota and Nissan, and is available with goodies like a wi-fi hotspot, an eight-inch touchscreen, and a seven-speaker Bose audio system. Besides a base 2.5-liter four-cylinder, there's an optional 3.6-liter V6 that boasts a class-leading 308 horsepower and a class-exclusive four-cylinder turbodiesel.
Worth knowing: With EPA-estimated fuel economy ratings of 20 miles per gallon city, 30 mpg highway, and 23 combined, the turbodiesel-powered Colorado is the most fuel efficient mid-size truck out there. This powertrain also bequeaths the Colorado with 7,700 pounds of towing capacity, the highest tow rating in the class.
Honorable Mentions: Ford Ranger, Toyota Tacoma
Best Full-Size Pickup: Ford F-150
Why it's a top pick: Big windows, ergonomic controls, and materials that grow impressively luxurious with each higher trim level will impress even the most die-hard ambassadors of Chevrolet and Ram. Simply put, no light-duty truck is easier to live with or better at what it's intended for than the F-150.
Worth knowing: The F-150 Raptor might be the best off-road truck out there. It's too big to scramble over boulders with a Rubicon Wrangler, but fat tires and a specially-designed long-travel suspension will let the Raptor run through the desert – and maybe tackle a jump or two – with aplomb.
Honorable Mentions: RAM 1500, Chevrolet Silverado
Best Towing: Ford F-Series Super Duty
Why it's a top pick: Single-rear-wheel F-250s and F-350s will manage up to 18,000 pounds of conventional and fifth-wheel towing; when using a gooseneck hitch, F-350s will pull up to 21,300 pounds. With the dual rear wheels that are standard on the F-450 and optional on the F-350, 21,000 pounds can be pulled conventionally; the F-450's standard fifth-wheel and gooseneck setups provide 27,500 and 35,000 pounds of maximum towing capacity, respectively.
Worth knowing: The variety of options and trims are almost as astounding as a Porsche 911, and it's easier than you'd think to end up with a truck skirting, or even surpassing, the six-figure barrier.
Honorable Mentions: Chevrolet Silverado 2500HD, RAM 2500