While there are more than a few great sports cars being built today, the very best of the breed manage to electrify our senses, revitalize our spirit, and engage us at every apex. And such immersive, thrilling driving experiences aren't the exclusive rights of the one percent - excellence can be found even on the most modest budgets.
Here are the best sports cars for 2021 at every price point.
Best Sports Car Value: Mazda MX-5 Miata
Why it's a top pick: The Miata is everything that all other modern cars are not: tiny, spartan, and analog. It cares little for long-distance cruising and makes packing for a weekend trip a difficult endeavor. But hustling it down your favorite road will have you forget about all its idiosyncrasies and impracticalities.
This is a special car. Its small size and old-school formula - rear-drive, lightweight, and no tech to speak of - spark a sort of joy rarely found in any new car. For the price, it's simply impossible to beat.
Worth knowing: The Miata is sold in three different trims, ranging from a bare-bones base model to a mini grand tourer. Our favorite trim, however, is the mid-grade Club, which ups the ante with a limited slip differential, heated seats, and Bose audio. It's also the only trim that can be upgraded with Brembo brakes and Recaro seats.
Honorable mentions: Ford Mustang, Volkswagen GTI, Hyundai Veloster N
Best Performance Sports Car: Chevrolet Corvette
Why it's a top pick: It was inevitable America's sports car would end up on our list. All new last year, the latest Corvette - which is now mid-engine - is a masterpiece, with styling to rival Ferrari, performance that can take on Porsche, and a base price that has Dodge Challengers and Ford Mustangs getting nervous.
It's versatile, too: plenty comfortable for daily driving and absolutely lethal on track track day. Rarely does such a well-rounded sports car come along at any price point.
Worth knowing: The Z51 package would be the first thing we'd tack on to our ideal 'Vette. The package brings magnetic dampers, summer tires, a limited-slip differential, and bigger brakes. It makes the most of the Corvette's dialed-in chassis and 490-horse V-8.
Honorable mentions: Ford Shelby GT500, BMW Z4, Dodge Challenger Hellcat
Best Luxury Sports Car: Porsche 718 Cayman GTS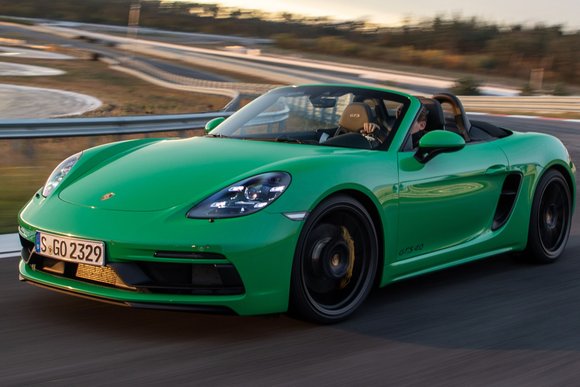 Why it's a top pick: It wouldn't be a best-of list without a proper Porsche. With the 911 having grown up into the mature, six-figure precision weapon it is, the 718 Cayman has stepped in as the visceral, tactile Porsche sports car. And while the GTS version isn't the most wallet-friendly variant, it best realizes the classic Porsche recipe of luxury, speed, and style. It's where tasteful design and excellent build quality meet just-right performance.
Worth knowing: The Cayman isn't the only flavor or 718 available. For the convertible types, the 718 Boxster delivers the same dynamic thrills of the Cayman but without the roof. We say good riddance to the extra steel: dropping the top on a two-seater Porsche is the best way to begin a day of driving.
Honorable mentions: BMW M8, Mercedes AMG GT, Jaguar F-Type