A less talked about victim of the crossover's rise, today's traditional SUVs can still haul children. But in a bid to maintain their popularity, automakers are increasing the SUV's abilities in other avenues. Off-roading and other outdoor activities remain primary motivators for purchases, while families that need to tow remain spoiled for choice.
Two of our winners for best SUV are brand new for 2018, elevating their arts and becoming best-in-class vehicles in the process. The third remains an old-school SUV that's a jack of all trades, capable of towing and going off into the wilderness without compromising the experience for the kiddies.
Best Off-Road SUV: Jeep Wrangler JL
Why it's a top pick: Built specifically to excel off-road, the all-new Jeep Wrangler can conquer any terrain on the planet directly from the factory in Rubicon form. At the same time, its lesser trims provide owners with a blank slate for their off-road dreams. This has always been true of the Wrangler, but for 2018, this off-road icon finally adopts modern, 21st century technology. An impressive infotainment system, excellent LED headlights, and luxuries like a heated steering wheel are here, making the 2018 Wrangler more livable on a day-to-day basis than ever before.
Worth knowing: The Jeep Wrangler Rubicon is the ultimate factory off-reader, boasting locking differentials, disconnecting sway bars, a two-speed transfer case with low range, and 33-inch off-road tires as standard.
Honorable Mentions: Toyota 4Runner, Land Rover Discovery
Best Family SUV: Toyota 4Runner
Why it's a top pick: The 4Runner boast three rows of seats and nearly as much capability as our choice for Best Off-Roader. But it covers a much narrower price point, starting around $40,000 and topping out under $50,000, giving off-road-focused owners a more balanced, family friendly alternative. That extends to its trim levels – versions of this SUV are perfectly suited to on-road duty, while the TRD Pro variants come loaded down with gear to take the entire family out into the wilderness.
Worth knowing: While it builds fine passenger cars, Toyota's off-road heritage is legendary in other parts of the world, thanks to its long-running Land Cruiser. While it might not look like it at the dealership, the 2018 Toyota 4Runner has the pedigree to excel both on the trails and on the school run.
Honorable Mentions: Nissan Armada, Dodge Durango
Best Towing SUV: Ford Expedition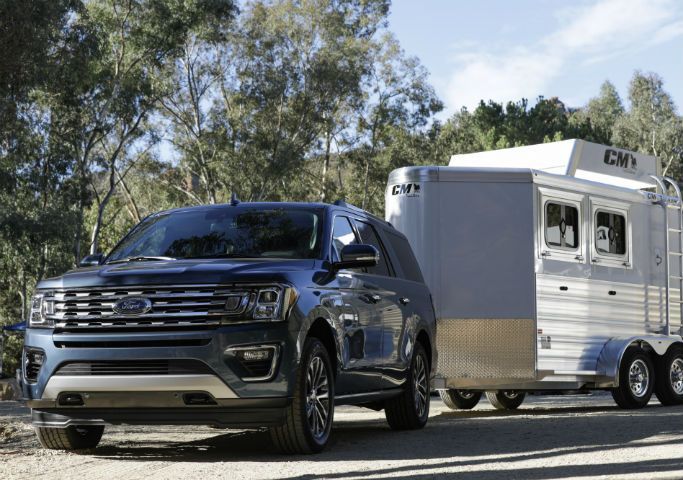 Why it's a top pick: There isn't an SUV on the market that can match the all-new Ford Expedition's 9,300-pound tow rating. Combined with excellent driving dynamics that make the Expedition feel smaller than it really is, a powerful 3.5-liter, twin-turbocharged engine, and enough content and cupholders to keep an entire herd of kids happy, Ford has built the best camping/boat-hauling/road-tripping SUV on the market.
Worth knowing: The Expedition is a three-row SUV, but its bones were plucked from the F-150 pickup truck, so it's built to last. An available Pro Trailer Backup Assist makes the business of towing heavy loads as simple as twisting a knob.
Honorable Mentions: Chevrolet Tahoe, GMC Yukon