It's no secret that SUVs have quickly become the most sought-after body style on the market. They come in all shapes and sizes, offer increased versatility, and make great family vehicles. However, a surge in the number of crossover SUVs has led to fewer choices when it comes to a traditional truck-based SUV.
With more and more automakers introducing new or updated SUVs, it shouldn't come as a surprise that two of our top three choices were completely redesigned just a few years ago. Here's a look at the best SUVs for 2020 for those looking for a mix of ruggedness, spaciousness, and unparalleled towing capability.
Be sure to also see our ranking of the best crossover SUVs. For the latest deals, see our list of top SUV discounts.
Best SUV For Towing: Ford Expedition
Why it's a top pick: The Ford Expedition handily wins this category thanks to its maximum towing capacity of up to 9,300 pounds, a figure that's nearly as high as some full-size pickup trucks. Ford's large SUV is powered by a 3.5-liter V6, while others are still using V8s. The Expedition has 375 horsepower and 470 pound-feet of torque and achieves an EPA-estimated 19 miles per gallon combined, which is great for the class.
Worth knowing: For 2020, Ford made its suite of active safety standard equipment for the Expedition. Previously, consumers had to go with one of the middle trims or spend upwards of $6,000 on optional packages to get the latest safety features.
Honorable mentions: Chevrolet Tahoe, GMC Yukon, Nissan Armada
Best Interior Space: Chevrolet Suburban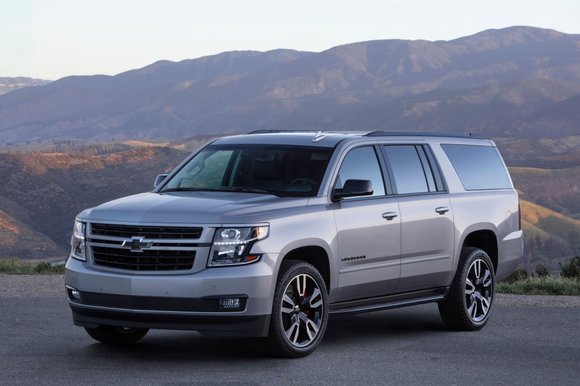 Why it's a top pick: The Chevy Suburban is one of the few SUVs on the road that has seating for up to nine – not even a minivan can do that. While that's a nifty ability, the Suburban has a flexible seating arrangement that can also accommodate up to seven or eight. Cargo capacity in the Suburban leads the segment, at 39.3 cubic feet behind the third row, 76.7 behind the second row, and a total of 121.7 cubic feet.
Worth knowing: Chevrolet doesn't offer many standard safety features on the Suburban, which doesn't bode well for a family hauler. Move up to the LT trim to get automatic emergency braking, lane keeping assist, and forward-collision warning standard.
Honorable mentions: Ford Expedition, GMC Yukon, Toyota Sequoia
Best Off-Road SUV: Jeep Wrangler Unlimited
Why it's a top pick: If you're looking to explore the great outdoors, there's really only one SUV for the job: the Jeep Wrangler Unlimited. This iconic model features boxy styling, chunky tires, rugged engines, and durable off-roading systems. Things like departure and approach angles also play a large role in explaining why the Wrangler Unlimited is so good when the terrain gets rough.
Worth knowing: Jeep also sells the 2-door Wrangler, although the difference in price is very small. 2020 sees the addition of a 3.0-liter turbodiesel V6 engine as an option. The motor packs 442 pound-feet of torque, but it raises the price of the SUV by a total of $6,000.
Honorable mentions: Toyota 4Runner, Toyota Land Cruiser