With mid-size crossovers nipping at the heels of the SUV's utilitarian duties, manufacturers have had to find more ways to argue for size. Towing and off-road ability are the easiest candidates for differentiating SUVs. The other is luxury – many SUVs now offer plush and comfortable interiors to complement their rugged personalities.
All three of our award-winners embody this ethos. Two are fresh off recent redesigns, uniting ruggedness with comfort and technology. The third is a utilitarian standby, an all-around vehicle that can pull both adventure and family duty.
Best For Families: Toyota 4Runner
Why it's a top pick: The Toyota 4Runner's chief virtues are its go-anywhere resilience and all-around competence. Off-road aficionados won't be disappointed here – the 4Runner offers nearly as much capability as our third award winner. It combines the ability with a more family-friendly package, offering an optional third row and exceptional cargo capacity for the class.
Worth knowing: Although the TRD trims are aimed primarily at off-road adventurers, Toyota's Kinetic Dynamic Suspension System (KDSS) improves the ride on-road as well. Massive anti-roll bars control body-lean in the corners but disconnect automatically when the going gets tough. It's a win-win, if you can afford the extra cost.
Honorable Mentions: Chevrolet Tahoe, Chevrolet Suburban
Best For Towing: Ford Expedition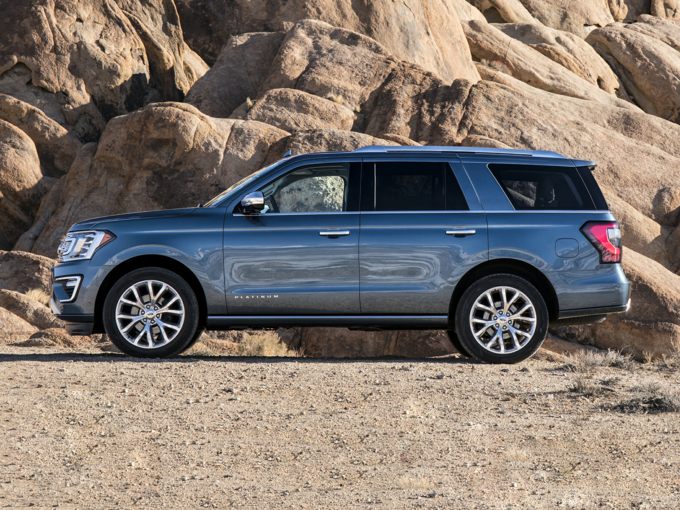 Why it's a top pick: The Ford Expedition wins this category based on its main superlative: 9,300 pounds of towing capacity is about the best you'll find short of a pickup. But the Expedition's real trick is that it does just about everything well – the interior is expansive and contains modern technology, styling is clean, fuel economy is strong for the class, and the ride and handling are far better than the Expedition's size would suggest. This is a hauler that can keep the whole family happy.
Worth knowing: Although the Expedition is available with active safety tech like automatic emergency braking, it can be pricey to access. To get the full safety treatment, the base XLT trim requires more than $6,000 worth of additions. Although pricier, the middle and upper trims avoid this issue.
Honorable Mentions: Chevrolet Tahoe, GMC Yukon
Best For Off-Roaders: Jeep Wrangler Unlimited
Why it's a top pick: If your SUV needs are mud, rock, or sand related, the Jeep Wrangler Unlimited is almost certainly for you. A member of the Jeep cognoscenti will gladly explain the intricacies of approach and departure angles, but the long and short of it is that the Wrangler is the most capable SUV available when the pavement runs out. With four doors and a recent update, the Wrangler Unlimited is the most livable that adventure has ever been.
Worth knowing: For factory-ready off-road performance, the Wrangler Unlimited Rubicon is as good as it gets. Front and rear locking differentials, 33-inch tires, disconnecting sway bars, and a two-speed four-wheel-drive system make for an SUV that can tackle mountains.
Honorable Mentions: Land Rover Range Rover, Mercedes-Benz G-Class