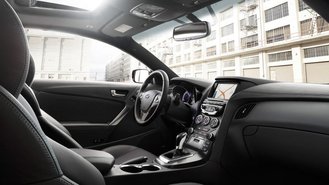 The big news for Hyundai tech is the brand's new voice-controlled Blue Link telematics and convenience system, which functions kind of like GM's OnStar with emergency response as well as points of interest, gas prices, live help with navigation and the like. The Genesis Sedan, Genesis Coupe and Equus see a more-advanced nav system than the unit found on other Hyundai models. Navigation is not an option on 2014 Accent and Veracruz. Hyundai provides value by offering some key tech features standard that are optional from other automakers, like Bluetooth support with streaming audio.
Navigation
Official Name: Hyundai Navigation (most models). New Alpine navigation system debuts on Veracruz, available mid-model-year-2014. Driver Information and Navigation System (premium models).
Price Range: $0-$2,200
Interface: 7-inch touchscreen-based navigation on most models. 8-inch Driver Information and Navigation System available on Genesis Sedan, standard on Equus. Solid state memory-based. Voice recognition available on some models.
Features: 2D maps or 2D/3D maps depending on system, XM NavTraffic and XM Data Services, weather, stocks and sports scores, etc.
Number of Vehicles featuring navigation package: Navigation available on all 2014 Hyundai models except Accent and Veracruz (Veracruz coming mid-model-year). Navigation is standard on 2014 Azera, 2014 Equus, some 2014 Genesis Coupe and Sedan trim levels.
Car Audio
Interface: Upgraded audio systems from Infinity or Dimension, surround sound systems from Lexicon. Base stereo systems on most models use standard dash and steering wheel-mounted controls, most upgraded models use touchscreen and/or joystick
Speakers: Premium audio systems up to 17 speakers
Available inputs: iPod/USB and auxiliary input
Other features: AM/FM/XM radio, BlueTooth wireless audio
Car Video
Screens: Rear-seat entertainment system (Equus) with 8-inch screen
DVD/Blu-Ray Capability: DVD
Back Up Cameras: Available on most models
Car Gaming
Video game consoles supported: Most standard consoles (Veloster)
Computers
New Hyundai Blue Link wireless smartphone connectivity telematics and entertainment system comes with several feature packages (Assurance, Essentials, and Guidance) based on subscription cost.
Key Blue Link features: Pandora Internet Radio, Gracenote voice recognition, remote vehicle start with pre-heating/cooling, points of interest search integrated to nav system.
Safety Technology
Blue Link emergency services
Adaptive cruise control
All 2014 Hyundai vehicles feature 6 or more airbags
BlueTooth Hands-Free
BlueTooth hands-free calling standard or optional on all models, though unavailable on several base models (Accent, Elantra, Sonata). Some models come with BlueTooth streaming audio.