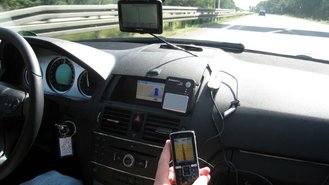 A decade ago, having an in-dash navigation systems was a luxury. Now that they're available on budget cars like the Nissan Versa, though, they've become significantly more mainstream. And while they may be commonplace, they still cost a decent amount of money. Units built into a car's infotainment system from the factory can cost anywhere from $700 to $4,000 – and some automakers still bundle systems in expensive option packages.
That begs the question: Is your smartphone just as good as an in-dash unit? Subscriptions for navigation programs run between $10 and $30 per month, but some form of GPS is included if you're spending money on a smartphone data plan from your carrier. Smartphones usually come with navigation tech in the form of Google Maps, Bing or Apple's soon-to-be-released mapping system. Smartphones typically benefit from the most constant software upgrades and stay current with the latest mapping information. And because a smartphone runs on some sort of cellular service, instead of software downloaded to an in-dash system, most offer things like live traffic and Web search points of interest at no additional service cost.
That said, smartphones have a major downside to their portability. The growing number of states with bans on talking or texting while driving will also shake their fingers at using your smartphone's GPS while driving, which means you're going to need to hand over the navigating to a passenger – or pull over to make changes to your route. Then there's the size of the device, which is going to be smaller than an in-dash unit.
Falling prices of in-dash setups should factor into a decision whether or not to stick with smartphone navigation. Some phone navigation setups won't have a computerized voice telling you when to turn or allow you to input destinations through voice commands. What's more, adding navigation to a car equipped with MyFordTouch, for example, costs $795. And systems like the uConnect navigation in the 2013 Dodge Dart offer an 8.4-inch touchscreen with Garmin technology, on par in size with some tablets. If you're a fan of Google Maps, Audi offers it on navigation systems in the A6 and A8.
In the end, it's really up to you to decide whether you're comfortable spending a little extra money to have your navigation system built into your car's dashboard. If you're alright with a little extra inconvenience, you might want to just stick with using your smartphone to help you get where you're going.
Creative Commons photo by mroach