Today's cars, trucks, and SUVs are safer than they've ever been. Engineers have manipulated physics to develop ultra-advanced safety cells, while safety experts pad vehicle interiors with airbags designed to protect nearly every part of our fragile anatomy. But while automakers have pushed on building safety systems to protect occupants in the event of a crash, they've made equally impressive strides in developing technology that will prevent crashes.
Honda's Sensing system is not only among the most comprehensive on the market, but it's also the most accessible – you can order it on the most basic Civic or the most advanced Ridgeline, which is where we sampled it.
What does it do?
Honda Sensing is an all-encompassing suite of safety technology designed to keep a vehicle on the road and prevent collisions with other vehicles. It blends warning systems, like lane departure warning, with more intrusive systems that will brake and steer the car in a pinch. The full roster is a veritable alphabet soup of acronyms: lane departure warning (LDW) joins lane keeping assist (LKA), road departure mitigation (RDM), adaptive cruise control (ACC), and forward collision warning (FCW) with collision mitigation braking (or AEB, automatic emergency braking).
How does it work?
The technologies baked into Honda Sensing follow a simple progression – first they issue a warning, telling the driver to take action to prevent a crash. If the driver fails to act, then the car's systems will take over, applying the brakes or steering effort to keep the shiny side up and undamaged.
In the former group, we have lane departure warning and forward collision warning. Both do what they say on the tin, warning the driver if the car begins to stray out of its lane (unless the turn signal is on) or if it comes up too quickly on another object. The idea is that the driver can act and prevent a crash. But if for some reason flashing lights and noises don't do the job, Honda Sensing can take a more direct roll.
For example, if the driver ignores the pleas of the computer, the automatic emergency braking system automatically applies the brakes, preventing – or at the very least lessening – an impact. If automatic braking feels like an extension of forward collision warning, consider road departure mitigation and lane keep assist an extension of lane departure warning. Both systems will apply steering effort if they detect a driver straying out of their lane or even off the road.
Finally, we have adaptive cruise control, which maintains speed just like conventional cruise control, but adds a radar function to maintain a safe distance to the car in front.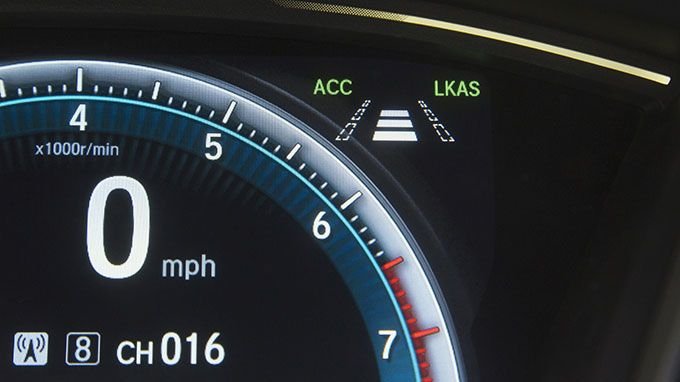 But what's remarkable about Honda's system isn't its availability – it's the seamless way it works and the simple way drivers can turn them on or off. A couple button presses take the driver from tech-laden safety machine that brakes, accelerates, and even steers with minimal input from its driver to a conventional car. There are no menus to sift through or complicated manuals to read – Honda Sensing is intuitive, whether you grew up with an abacus or an iPad.
But it's important to remember that despite these capabilities and shallow learning curve, Honda Sensing is a safety system, and doesn't turn a Civic into a semi-autonomous car. While the electrical nannies keep the car going straight if you take your hands off the wheel, the system is quick to chide its driver with visual warnings if it detects too little steering input. Honda Sensing makes driving easier and safer, but it's not an autonomous system.
Nits to pick? Sometimes the steering feels stiff and video-game like, particularly when taking highway curves. Also, the adaptive cruise control's braking, as is the case with a lot of systems, isn't very progressive in losing speed – you're either accelerating, coasting, or jabbing the brake pedal. That makes it less than desirable in heavy traffic situations.
Why do you want it?
The big excuse for buying a car with Honda Sensing is because it makes your car safer. Every vehicle with Honda Sensing is an Insurance Institute for Highway Safety Top Safety Pick +, promising the ultimate in crash protection on top of an advanced crash prevention system. But more than the obvious argument, there's a practical argument in Sensing's favor, especially if your daily commute is heavy on boring freeway slogs.
Features like adaptive cruise control and lane keeping assist take the strain and stress out of long-distance driving. By letting the car step in and lend a hand, driving is less taxing. So even if you fancy yourself a superior driver, you stand to gain by selecting Honda Sensing.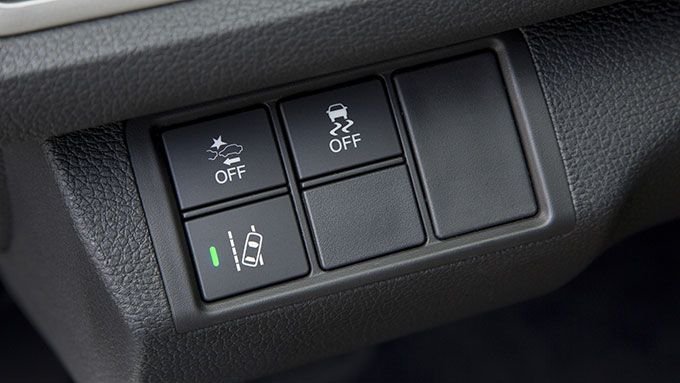 What cars is Honda Sensing available in?
Honda's product onslaught means Sensing is proliferating throughout the lineup as the company redesigns its models. Here's a by-the-model breakdown, current as of this writing, of where you'll find Honda Sensing.
Civic: Standard on Civic Touring body styles, optional on all other Sedan trims. Optional on EX and EX-L Hatchback. Not available on LX, LX-P, EX-T, or EX-L Coupe. Automatic transmission only.
Accord: Standard on all Hybrid models and Touring-grade Sedans and Coupes. Optional extra on EX-L and EX trims, regardless of engine or body style. Also available on LX-S Coupe and Sport Sedan models. Automatic transmission only.
Pilot: Standard on Touring and Elite, optional EX and EX-L. Available on both two- and all-wheel-drive models.
Ridgeline: Standard on RTL-E and Black Edition.
Honda Sensing will also arrive on the redesigned CR-V crossover and Odyssey minivan. Although Honda hasn't broken down the trim levels for these vehicles, we'd expect the company to follow the trend set by the Civic, Accord, and Pilot, offering its safety suite as standard on range-topping trims and as an optional extra on popular volume entries.
How much does it cost?
Where it's not standard, Honda Sensing is reasonably priced at $1,000 (again, as of this writing), regardless of vehicle or trim level.