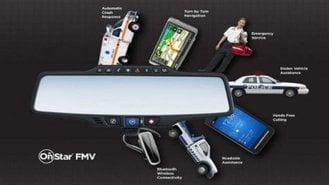 So, as of this writing, we're ten days away from Christmas, and odds are you have yet to finish your shopping. And everyone has a car nut or two on their shopping list this holiday season, right?
What better way to surprise him (or her) with something that's not only thoughtful, but useful. The best part? They are widely available, from Sears to Wal-Mart to Amazon. Here are the Top 10 Car Accessories Under $100.
There aren't a whole lot of good in-car GPS systems under $100, but the Garmin Nuvi 50 fits the bill. The simple unit features great positioning, text-to-speech directions for spoken street names, and everything you need for in-car mounting.
This space-saving 71-piece in-car emergency kit comes packed with all manner of tools and accessories to deal with a breakdown or other road emergency. Includes: jumper cables, air compressor, blankets, expanded first aid kit, utility knife, tire pressure gauge, reflectors, rain poncho and much, much more.
Serious drivers on a budget choose the Piloti Prototipo driving shoe more than any other. Its unique sole has plenty of traction and is shaped perfectly for comfortable extended driving. The perfect gift for the gearhead guy or gal on your list, but make sure to get the right size!
If you have a late-model Chevy or other GM car you already know the many benefits of OnStar, but what about for other cars? This high-tech rearview mirror installs in any car and brings turn-by-turn directions, Bluetooth phone interface, life-saving automatic crash response, and much more.
With a wide variety of designs to suit any car's interior and high-quality construction, MOMO shift knobs offer a custom look, better comfort and easy fitment in most cars. Carbon fiber, leather, satin-finish aluminum and other quality materials for manual and automatic transmissions in tasteful designs to go with any ride.
A portable jump starter allows you to get up and running when no other car is available to assist. Dead battery? This inexpensive Stanley unit will get you going again, and is less likely to damage your battery than jump starting off another vehicle. The built-in air compressor is a nice touch.
The industry standard in floor mat, cargo liner and bed liner accessories, WeatherTech mats provide protection and added rugged style for any car or truck. With custom fitment for each year, make and model, these mats will slip right in and protect your investment.
Perfect for the coffee lover in your family, the Go Travel 696 stainless steel travel mug features a 12-volt plug for the dash to keep beverages piping hot on the go during road trips, or long morning commutes.
Turn any vehicle into a Bluetooth communication powerhouse without having to spend hundreds on expensive factory options. The Motorola Roadster 2 works with nearly all cellphones and smartphones, supports Bluetooth streaming audio and text-message-to-speech, and features a built-in loudspeaker and an FM transmitter.
Most rearview camera systems are quite expensive as aftermarket accessories, but this unit from Pyle is on sale at Amazon under $100 and has both the camera unit and windshield-mounted monitor, along with the hardware you'll need. Once you get used to parallel parking and navigating tight spaces with a backup camera, you'll wonder how you ever got along without one.