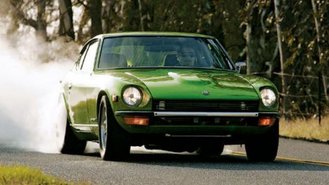 We count down our top 10 Nissan models in the Japanese brand's illustrious history, with a focus on models that were offered for sale here in the 'States. Well, except one. Nissan, and Datsun before it, has been making great performance and family cars for decades, but here's our picks for the best. Did we miss something, or want to share your own favorites? Let us know in the comments!
1970-1973 Datsun 240Z/Nissan Fairlady Z
Nissan has been making Z cars for more than 4 decades now, but this is the one that started it all. The chassis-code S30 Datsun 240Z earned the nickname "The Poor Man's Porsche" due to its low base price combined with outstanding driving thrills and a sweet new profile that was half Japanese/half Jaguar. While the original 151-horsepower 2.4-liter straight-6 engine does not seem like much by today's standards, in this lightweight car it provided plenty of thrills. Nissan even offered a factory-sponsored program at one point to restore original 240Z cars to showroom-new, testament to the original Z's lasting greatness.
In July of 2008, Nissan finally offered U.S. buyers a crack at the latest, and by far the greatest, in its long line of GT-R luxury sport coupes. The new "Godzilla" R35 GT-R shifted the car from sports car to world-beating supercar, and Nissan has continued to make performance tweaks and improvements all the way through the 2013 model year to make what some consider the best car on today's roads even better. The newest model has 545 horsepower and 463 lb-ft. of torque, good for a sub-3-second 0-60 time and one of the best-performing cars at any price.
Because it is so new, the Nissan LEAF is a much more special car than most even realize. In decades, when electric cars with high-capacity batteries and powerful motors are everywhere, folks will look back on the LEAF as the first true series production electric car, and the first to sell in any significant numbers. Though at 73 miles on average the range isn't for everyone, those who live in city centers or have a short commute will soon watch the savings pile up.
Much like the Scion FR-S today, the 240SX represented an everyman's sport coupe with a low cost of entry and plenty of tuning potential. These cars can hold up to whatever the shade-tree mechanic can throw at them, and are extremely popular on the drift and autocross circuits to this day. Finding a chassis-code S13 Nissan 240SX these days that's not driven into the ground can be a chore, but if you find the right car the S13 still makes a great, cheap-to-maintain daily driver more than 20 years after it hit the road.
While Nissan actually started importing its fun and carefree small roadster a few years earlier, the 1963 model came into its own with a more-powerful engine and a new larger platform. This is a roadster along the lines of the classic British MG and Triumph, except with a distinctly Japanese character. It won't get you too far on the track with only 77-85 horsepower, but you'll sure enjoy some sunshine. These cars, when in "barn find" condition, are priceless today.
1999-2002 (R34) Nissan Skyline GT-R
This one was never sold in the U.S., but no Nissan top 10 list would be complete without it. Throughout the 1990s, Nissan refined its big, brash AWD sports car into a true luxury performance beast that anyone would love to drive. Owning one in the U.S. today, probably illegally imported, is like owning the Holy Grail of "Japanese Cars That Should Have Made it to America but Never Did." Many true Nissan believers contest the R34 GT-R's RB26DETT engine is the most tuner-friendly motor ever made, importing the twin-turbo engines (also usually illegally) for use in the 240SX.
If the original Z was the "Poor Man's Porsche", the 510 was the "Poor Man's BMW", engineered far better than it needed to be for its mission as a simple, comfortable compact family runabout. Its front disc brakes, four-wheel independent suspension and rear-wheel drive made it a fun performer when it was released and still a favorite with classic Japanese car lovers.
When the 1990s hit, Nissan found itself locked in a bit of a horsepower war with the likes of the Mitsubishi 3000GT, Acura NSX and Toyota Supra. The brand's challenger was the new low, sleek Z32 Nissan 300ZX, a technology showpiece of the times if there ever was one. This car was available with a twin-turbo 3.0-liter V6 with 300 horsepower and 283 lb-ft. of torque and advanced suspension geometry that made driving it hard a piece of cake. Sadly, unlike the original 240Z it was also prohibitively expensive for many, leading to its early exit from the U.S. market after 1996.
In today's Nissan catalog, give us a smaller, sleeker Altima over the Maxima any day, but this was not the case in 1989 when Nissan wowed the car-buying public with the large, luxurious chassis-code J30 Maxima. This car was particularly great at eating up hundreds of miles on the highway while offering maximum comfort; indeed it was one of the first vehicles to from Japan to ever qualify as a "midsize" with the EPA. Styling was forward-thinking for the 1980s, with so many sedans of the next 5 years ending up looking like knock-offs.
The Altima finally caught up to Camry and Accord with the coming of the fouth-gen L32 model, which went on sale for 2007 in the U.S. In many ways this is a better car than its Japanese counterparts, known for its agile performance and excellent V6 engine option. While Honda used to be the performer among mass-market midsize sedans, the new Altima took away this crown and held onto it, even winning Consumer Reports' Top Pick among family sedans for 2012. Sales numbers have climbed steadily, with the Altima actually outselling the Accord in 2011.