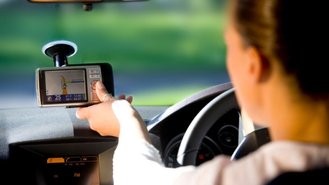 We would love to have a sophisticated navigation system in all of our vehicles but have no desire whatsoever to shell out $3,000+ for a "Technology Package" filled with features you either don't want or won't use. Although navigation systems from the factory are well-integrated, they are pretty expensive. Smartphones are great, but the screens are way too small for our liking. The perfect balance can be struck by purchasing a portable GPS aftermarket system, especially if you own several vehicles since they can easily be moved. These are 5 of the best options on the market for aftermarket navigation, ranging from units with WiFi web browsing and tons of bells and whistles to inexpensive, no-frills, on-point navigation.
Pricing listed is MSRP, but some of these systems have been out for a while, and you might be able to find them at a much lower price at Amazon.com or Best Buy.
One of the flagship models in Garmin's nüvi lineup, this device doesn't come cheap. However, it features a gorgeous and thin iPad- like form factor with a glass 4.3-inch touchscreen and lots of upscale features, like full voice control for commands and destination entry. Value is increased with lifetime subscriptions for both maps and real-time traffic with dynamic rerouting, plus hands-free calling over Bluetooth. Read CNET's Review.
The VIA series is TomTom's more value-oriented line, but that doesn't mean this device isn't a snap to use with some advanced features. Press the voice command button and ask the VIA to take you to the nearest gas station and it will do just that, while the WebKit-based operating system (the same core used by Apple and Google for smartphones) really shines in visual punch and quick operation. Read CNET's Review.
This 5-inch-screen device from Magellan comes with a WiFi radio, and even allows you to browse the web right from your vehicle when a connection is available! Add in 6 million points of interest, lifetime map updates, real time traffic, an innovative TourDirector virtual concierge service and more and you have one sophisticated device that, while a little expensive, is still far cheaper than checking off the nav system option box at the dealer. Read CNET's Review.
Like the Garmin above, the upscale TomTom GO Live 1535M comes with Bluetooth hands-free calling, but takes things one step further by supporting wireless phonebook transfer for iPhones and other devices. You can enter destinations and make calls via the touchscreen or with voice commands, and this TomTom even features apps from Yelp, Expedia, Trip Advisor and Google to help make finding points of interest and planning your trip even easier. Read CNET's Review.
The Garmin nüvi 50 doesn't try to do too much. Boot it up and you're presented with two simple options: "Where to?" and "View Map." With attractive graphics and an easy-to-read 5-inch touchscreen, this unit is a breeze to use. You won't find 3D buildings and landmarks, but you can find the nüvi 50 for under $100 with a little searching, making it our top value pick for GPS systems. Read CNET's Review.