Today marks the start of winter, and new car shoppers can expect some exciting new choices heading into 2017. Technology has been advancing at a rapid pace and the latest generation of models is poised to offer more than ever before.
Expect to see features like automatic emergency braking on popular models and more cars with lightweight materials to improve efficiency. Engine choices will see an increase in turbo offerings as part of a larger trend to balance power and fuel economy.
Here's a look at the most noteworthy new cars set to hit showrooms this winter. We'll even give you an insider's take on deals to be on the lookout for.
Please note that special offers listed below assume a Southern California location unless noted otherwise.
2017 Honda CR-V
The bestselling CR-V gets a complete redesign, taking on many of the characteristics of the popular Honda Civic. Key additions for 2017 include a new turbo engine and standard Honda Sensing on EX and higher models. On sale now, the vehicle will likely see minimal discounting heading into January.
Interestingly, the starting price of the new CR-V is just $200 higher than the outgoing model. Be sure to consider the updated EX model— in addition to featuring a 190 hp turbo, it gets you access to standard automated emergency braking, lane-keeping assistance, adaptive cruise, blind spot monitor and more.
Looking for a deal? Special offers on the outgoing 2016 CR-V have been fairly flat, with a choice between 0.9% APR for 60 months or leases starting at $199/month. This could improve in the coming months, however, if Honda decides to hit the panic button and boost unadvertised dealer cash incentives. See CR-V offers »
2017 BMW 5 Series
For 2017, the 5 Series will gain a slew of new engines and some of the latest tech inspired by the flagship 7 Series sedans. Key additions will include a renamed lineup consisting of the 530, 540, M550 and 530e plug-in.
The car's bones get a significant upgrade thanks to the addition of aluminum, magnesium and more high-strength steel to achieve weight savings. The car will boast the latest driver assistance technology, not to mention a new infotainment system involving gesture control and enhanced voice recognition.
On the other hand, shoppers looking for a deal will want to keep an eye on the outgoing 2016 5 Series still on sale at dealers. Expect to see attractive prices over the next 2-3 months based on typical sell-down tactics from BMW. The 2017 5 Series goes on sale in January 2017. See BMW offers »
2017 Dodge Challenger GT
Although the 2017 Challenger has been on sale for about a month now, a new GT variant will offer shoppers the first all-wheel drive coupe muscle car. It will use the drive system from the Dodge Charger and will likely appeal to shoppers in the northeast and midwest.
The GT will be offered with a single engine choice of the automaker's 3.6-liter V6 producing 305 hp with 268 lb-ft of torque. Sadly, a V8 option isn't in the cards— for now at least. The car will begin production in January 2017 and go on sale shortly thereafter.
Unique design traits with the GT include a $995 interior package that offers performance seats with Nappa leather and Alcantara inserts, not to mention a distinctive steering wheel and Alpine audio system. See Challenger offers »
2017 Porsche Panamera
For 2017, the Panamera gets a full range of updates: a sleeker exterior evoking the brand's 911 sports car, a new 4S variant, and an available twin-turbo V8 tuned to 550 hp. See Panamera offers »
The car will also boast an array of new technology such as enhanced night vision, an updated dual-clutch transmission, the latest digital cockpit and a chassis control mechanism inspired by the 918 Spyder.
Coming from a competitive lease? Porsche is currently offering eligible buyers a credit worth up to $4,500 to help draw-in new customers. The best part is that the 2017 Panamera is eligible despite being a completely new vehicle. See Porsche offers »
Hyundai Ioniq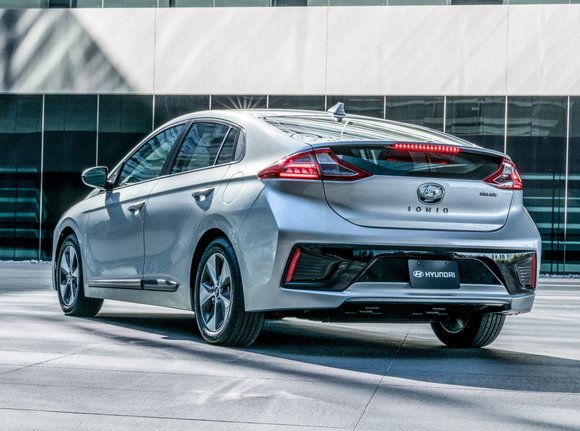 The Ioniq actually refers to a three-pronged lineup consisting of the Ioniq Hybrid, Ioniq Electric and Ioniq Plug-In Hybrid. The first versions to reach showrooms this winter will be the Electric and Hybrid, followed by the Plug-In next summer.
The models will be based on an all-new platform and offer a versatile hatchback layout. Like other Hyundais, the Ioniq family will boast the latest connectivity with Android Auto and Apple CarPlay, not to mention driver assistance tech like automatic emergency braking with pedestrian detection, blind spot detection, adaptive cruise control and more. See Hyundai offers »
Pricing hasn't been announced yet, but it's a good bet that the cars will be positioned competitively with key benchmarks like the Toyota Prius, Nissan LEAF and Ford C-Max Energi. Shoppers not willing to wait may want to check out the Hyundai Sonata Hybrid and Sonata Plug-In Hybrid— both offer impressive efficiency and are available now with some attractive deals.
2017 Alfa Romeo Giulia
Set to go on sale in January, the Giulia will take on established nameplates from Germany that have dominated the luxury sport sedan segment. Most appealing to prospective shoppers will likely be its starting price of $38,990 (incl. destination).
Although the base model will feature a 2.0-liter turbo making 280 hp, the one to look out for will be the Quadrifoglio variant based on a 2.9-liter twin-turbo V6 making 505 hp (starting price of $72,995). Given away by its aggressive front-end and signature four-leaf clover badge, the car is bound to draw comparisons to the BMW M3 and Mercedes-Benz C63 AMG.
Looking for a deal? Odds are we won't see anything worth getting excited over anytime soon. Although parent company Fiat Chrysler loves to offer big cash bonuses for shoppers coming from a competitive lease, such deals have been notably absent from the Alfa Romeo brand. See Alfa Romeo offers »