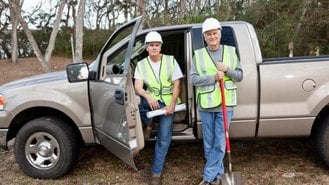 The perfect Work Truck. Does it exist? For 2015, the answer is yes. Today's Work Trucks have it all: robust engine and transmissions, comfortable cabins, sky-high towing and payload capacities and bullet-proof reliability. The best Work Trucks on the market manage to cover all your work-a-day needs without so much as a complaint while offering all the comfort of a Lay-Z-Boy recliner. And due to recent advances in fuel-saving technologies, they are efficient enough to be daily-driven.
Gone are the days of 10-mpg pickups that cost a fortune at every fill up. Top Work Trucks for 2015 come with engine options bringing 22 or greater combined mpg without feeling dull and underpowered.
But no good Work Trucks is worth its salt if you can't afford it to own it. All of the Work Truck below come in inexpensive entry-level builds with all the essential tradesman features. Have a little more to spend, and you'll find advanced options like the RAM 1500's built-in Wi-Fi connectivity and the Ford F-150's efficient yet highly capable turbocharged EcoBoost 3.5-liter V6 engine. Without further ado, here are the Top 5 Work Trucks for 2015.