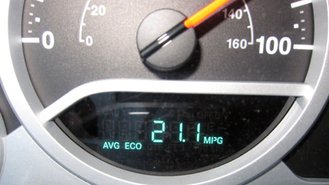 Despite advances in fuel efficiency and technology, bad gas mileage can be caused by a number of possible reasons. If you're looking to get better fuel economy on your car, truck, or SUV, there may be ways to avoid losing money at the pump. Here are some of the main causes of poor gas mileage in new & used vehicles.
Bad Gas Mileage Causes
Incorrect tire pressure is a common cause of bad gas mileage. It's also one of the easiest things to correct. Periodically checking your tires with an inexpensive pressure gauge is a good way to catch this. Just be sure to use your car manufacturer's recommended pressure levels stamped onto the driver's side doorplate and not the "maximum pressure" numbers shown on the tire itself.
Having bad oxygen sensors and air filters can reduce your gas mileage by up to 20%. The oxygen sensors help keep the proper mixture of air and fuel, and having this imbalance can be inefficient. The air filters can get clogged and simply need to be unclogged to fix the problem. Air filters need to be cleaned so that the engine can work at its peak performance.
Your spark plugs are responsible for sparking combustion in your engine. If they misfire or are working poorly, this can affect your gas mileage in a negative way.
Having bad fuel injectors can cause bad mileage. This is because the fuel injectors are responsible for putting fuel into the engine. If there is a leak of some sort, then less fuel will make it to the engine, and then in turn make it run less efficiently.
Having your air conditioner on causes gas to be wasted in powering the system. Depending on your local climate, consider turning off the air conditioner when it makes sense and ride with your windows open. At higher speeds, close the windows though to reduce drag.
A common cause of bad mileage is your own driving habits. If you are an aggressive driver, likely you accelerate to quickly. This causes more fuel to be used, and will use up more gas than you need. The same goes for revving your engine. It may sound cool, but it uses up gas for going nowhere.
Many people waste gas by idling. Idling is when you have your engine on, but you are parked and not moving. Common places where this occurs is when you are trying to warm up your car in the winter, or while you are waiting to pick someone up. Your car really doesn't need more than 30 seconds to warm up the engine. When it comes to waiting for someone, turn your car off. Since you aren't moving, you might as well save gas and the environment.
The type of motor oil that you are using can also affect your gas mileage up to 12%. You want to use motor oils that are high in reducing friction. Either use a synthetic oil or the oil that the car's manual recommends.
Overall, these are the major causes of bad gas mileage, but the list goes on even further than this. If you're looking to reduce or eliminate gasoline use altogether, consider a plug-in. Electric cars and plug-in hybrids (PHEVs) have come a long way over the past several years and may be worth it for certain types of drivers.
In addition, EV and PHEV deals can offer significant savings. Despite having relatively high MSRPs on paper, plug-ins offer as much as a $7,500 federal tax credit and some of the cheapest lease deals. The prospect of being able to drive emission-free could be compelling compared to a traditional internal-combustion car.