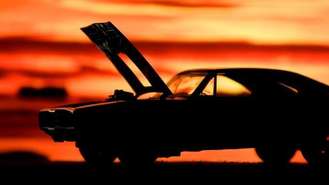 If you're looking to find American muscle cars for sale, you'll have the best luck if you're properly prepared to purchase your vehicle. This involves learning about the process of buying and selling vintage cars, both nationally and locally in your area. A cheap classic car is difficult to come by, but it's not impossible. Better off is the person who knows all of the potential channels in which to search for a muscle car for sale and is willing to make some compromises.
What Is a Muscle Car?
The term "muscle car" is mainly associated with the models of the late 1960s and early '70s, but muscle cars are still being made today. Any 2-door V8 engine can fall into the muscle category, whether it is considered a classic muscle car by the seasoned fans or not.
Muscle Car Choices
There are some muscle cars that are slightly more reliable than their counterparts. Fords are not usually associated with being the most reliable, but the upside of that is parts are easy to come by, are reasonably priced and they can be back on the road in no time. Of course, that could mean that the trunk of your Ford is always full of spares on the off chance that you break down.
There are so many names synonymous with the American muscle car era, that it is very difficult to choose the very best. The Plymouth Barracuda has been around a long while and some people have still got a top condition model. The Chevrolet Impala has a good reputation and the Dodge Challenger, which most people will recognize on sight, has almost iconic status.
The Pontiac Firebird, Ford Mustang, Chevrolet Camaro, Corvette, Chevelle and Dodge Charger all have high standings in the history of the muscle car and all are well renowned. These huge beasts have each earned a place in motoring history, owing to their use in movies and TV. They are associated with screen icons like Steve McQueen, which offers that extra bit of class.
Keep Your Options Open
The wider that you're willing to expand your search, the more luck you'll have finding a great car for a good price. If you decide there's only one particular type of vehicle and model year for you, you may be stuck searching for a long time and then paying a hefty price for the vehicle, particularly if the car is a rare model. Those who are willing to be flexible in their search generally have much better luck.
Look in Different Channels
There are a great many different places you should look to find the best selection of classic muscle cars for sale near you. This includes the Internet and print media, as well as other sources. For instance, look on the Internet for classified ads websites and other online sales auctions. Keep an eye out on dealer websites in your area, and further afield as well, for indications of special stock or sales. Watch out also for local dealers in your area through newspaper ads, and keep an eye on classifieds.
Know the Market
The auto market fluctuates on its own. It's best to watch out for how the market changes for a while before you consider making any offers on a car. Note how the average price of muscle cars in your area might differ from the price of muscle cars somewhere else. Pay attention also to how the cost of a muscle car varies throughout the year. This will help you to know when the prices are at their lowest.
Negotiate
More often than not, American muscle cars are available for sale from individual sellers. This is particularly true of classic muscle cars that may be vintage or out of the production line. In these cases, keep in mind that you're free to negotiate with the seller for the best deal. Bargain over the price, and be sure to think of things you may be able to offer up in trade as part of the cost of the car as well.
If you have any other questions about the process of purchasing a muscle car in your area, speak with a professional, or someone else who has purchased a muscle car near to you.
Reliability
There are a lot of makes and models to choose from. Every single muscle car fanatic has their own ideas of what they deem to be the best American muscle car. Their inspiration will have come from a great many sources.
There is very little statistical information around that can give measure for measure ideas of muscle car reliability. Most manufacturers claim their cars are the most reliable. In reality, it is down to the man or woman driving the car that will prove to be the real test, dependent on how much they spend on repairs every year they own the car.
Comparing Top Selling Models
If you've been looking around at American muscle cars for sale, perhaps you are having trouble deciding what to buy. Looking at some of the popular models out there might give you a better idea of what each one is really about. That can help you narrow the field and properly research the one you want before you make the purchase.
Chevrolet Camaro
The Camaro has been one of Chevy's most popular vehicles since its introduction. It has taken on iconic status over the years. For many, the true Camaros were those manufactured in the 1960s--the first generation. That said, there are others who swear by the less boxy, more European styled 1970s models. The Camaro was Chevrolet's response to Ford's Mustang and its popularity. One thing that's fairly sure in the changing world is that a classic Camaro is likely to continue to appreciate in value, because they will remain sought after for many years to come.
Chevrolet Corvette
You just can't go wrong with a Corvette. Whether you are looking at an original 1950s model, one from the '60s or a newer one, they all have their group of die hards. The Corvette is truly America's answer to European sports cars, and stands alone in its field. They will probably cost you more than most of the other cars on this list, but they are very special.
Chevrolet El Camino
The Chevy El Camino was an interesting vehicle. Essentially the design is a station wagon, but the back portion is open, making it closer to a pickup truck. That's makes it rather unique in terms of muscle cars.
Ford Mustang
The original "pony car," the Ford Mustang has been an icon since its introduction in the 1960s. There have been plenty of imitators over the years, but the Mustang is the original. One of the most popular cars in its day (and still to this day), there should be more of these out there than a lot of the other vehicles on the list--meaning they can be more affordable. If you want the most collectible models, you probably want to stick with the 1960s. Still, you can't go too wrong with any of them.
Pontiac Firebird
The cousin of the Camaro, the Firebird has its share of aficionados. When you include the Trans-Am sub-type, you get even more fanatical enthusiasts. Whatever year or style you prefer, these are good choices as collectors' cars.
Pontiac GTO
A legendary vehicle, these were also quite iconic. If you want something like the Judge--special performance model--you can expect to pay a lot. Even some of the other versions can get a little pricey, at least in part due to scarcity, in comparison to other vehicles on the list.
American muscle cars occupy their own place in automotive history and the dreams and desires of car collectors. You should look at the various models and choose one before making your purchase. That way you can properly research it to get yourself the best car at the best price.