A muscle car is a high performance, high power vehicle. It generally is connected with the two door, mid-size cars produced in the 1960s and 1970s. These cars had V8 engines and were used for street drag racing. This type of car is an important part of the history of American cars, as the muscle car first developed in the United States before going overseas.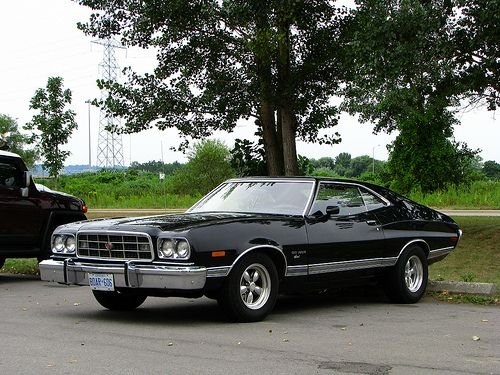 The First Models
The very first muscle cars were small cars that had very big engines under the hood. Originally, they were designed to go very fast in a straight line, and did not have the high performance agility of European vehicles. Cars like the 49' Oldsmobile Rocket 88 and 51' Hudson Hornet with their massive V-8, helped to glamorize the muscle car culture. It wasn't until the 1960s that the culture truly took off. Some of the first include the AMX from AMC, the Chevelle from Chevrolet, the Charger from Dodge, the Torino from Ford, the Montego from Mercury, the Road Runner from Plymouth and the GTO from Pontiac.
Mopar
Mopar, which are cars from Plymouth, Dodge and Chrysler, became the standard for muscle cars in the 1960s. Mopar actually stands for motor parts, and they produced the parts for the Chrysler Group cars. The parts from Mopar are part of the Formula D racing competitions. The company also sponsors several drag racers.
Famous Muscle Cars
The car that lifted the entire industry was the 1964 Pontiac Tempest GTO. This car very much fit the bad boy image, as it managed to skirt around rules of having larger engines in mid-size cars. This car also had the stealth factor going for it, as the emblems were discreet. It had a black finish grille and two air scoops. It was very nondescript for a muscle car, so the police would not notice it at first glance. This car was also very affordable for this time, available for $3,200.
The Ford Mustang is also an important car, as this car had many options, a low price tag and very jaunty look. At first it was not marketed as a muscle car, but once it was available with a V8 engine, it quickly took the muscle car market by storm. The car brought in the new era of the pony car.
Developing Features
As muscle cars became extremely popular, they eventually were known for having the top stats and won all the big races. The performance focused from fast shifting large cars to smaller more powerful models. The entire muscle car market was very popular with younger people. Models became available at any performance level and the muscle car quickly had a high profile. All big manufacturers produced at least one model.
The Decline of the Muscle Car
Muscles cars lost their popularity with the oil embargos of the 1970s. People became interested in thriftier cars that met new emissions standards. This meant there were many more restrictions on what parts could be used, and the older muscle cars did not pass the specifications. New safety specifications were also passed and sturdier cars were required.
The Muscle Car Reborn
Muscle cars began emerging again at the end of the 1980s, as gas became cheap and new technology produced faster and more fuel efficient muscle cars. They also had better handling and could go fast no matter the path, as they also performed well on windy roads and not just straight lines.
The Pros and Cons of Getting a Muscle Car
Strengths of the Muscle Car
Muscle cars are built for commanding power and acceleration. These cars excel at straight line acceleration such as drag racing, as well as casual weekend cruises. Smoky burn-outs and the unmistakable rumble of a highly tuned V8 are the hallmarks of old muscle cars, and this recipe hasn't changed whether you look at classic or modern examples. The engine of the muscle car is generally high in low-end torque and quite easily modified for more power. Parts for most muscle cars are relatively common and easy to acquire, and muscle cars tend to share a variety of engines and components that are interchangeable with a minimum of alteration. Because of their relatively simple technology, muscle cars tend to be very easy to work on as well, which is a great bonus to do-it-yourself enthusiasts.
Weaknesses of the Muscle Car
While the classic formula of the muscle car makes for impressive straight performance, it is not uncommon for many muscle cars to be less than stellar in corners, without extensive modification. Because of their large and relatively inefficient engines, muscle car miles per gallon can be staggeringly low, especially in highly tuned examples. Because of the levels of mass and friction common in most push rod V8 valve trains, redlines tend to be much lower than many modern over head camshaft designs, and high lift cams only increase the already high tendency for valve float. Because most classic muscle cars came equipped with carburetors, they can be quite touchy and temperamental, especially for those new to tuning and mechanical work. While muscle cars can produce huge amounts of torque and power, this can also make it very easy to break vital components, though this can be said for many highly tuned vehicles.
A Great Place to Start
A variety of owner's clubs and magazines exist solely for the muscle car, so it can be very easy to find parts, information and like-minded enthusiasts when you own a muscle car. These extensive resources can be a great asset should you own an older model in need of restoration, or if you are new to cars and looking for a good place to learn. Unlike many modern cars, well restored examples can also appreciate in value.
Getting Muscle Car Parts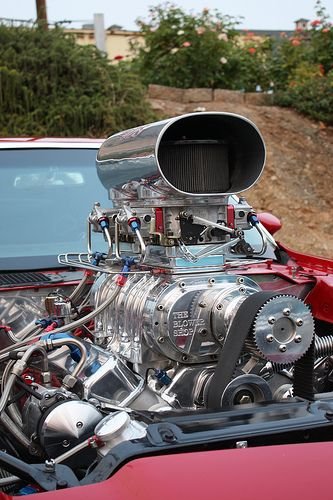 Restoring a muscle car is not a cheap endeavor. A complete stock restoration involves hard to find, original parts that cost more than the average. Ask any professional restorer or hot rod mechanic and the answer will be the same: the price of the restoration job will depend on the type of car and quality of restoration preferred.
Cheap Muscle Car Parts
The Internet is a haven for cheap muscle car parts that come in OEM or aftermarket specifications, designed to either function in stock form or improve the overall performance of the muscle car. This includes carburetors, cams and other vital engine and suspension parts to help increase the value and performance of your desired ride.
Low Price Restoration
A local garage with an expertise on muscle car restoration should be consulted to get the actual cost of the kind of restoration job required. External factors such as paint quality and color are one of the most expensive modifications a muscle car will undergo, probably next to the engine and suspension. Take into account that a faithful restoration job will cost more than the usual, but will add a further dose of visual appeal and value to your muscle car.
4 Resource for Muscle Car Parts
Scrapyards. Scrapyards or junkyards can be a very fertile source of parts for used muscle cars. They generally have a wide range of parts of all kinds available, with everything listed on computer. Call them up and they'll tell you if they have the part. The downside, at least with local yards, is that you have to go out and remove the part yourself, and there's no guarantee as to its quality. You have to take it out in order to discover this, and even then, the wear might be difficult to detect. It's a gamble, but if you're lucky, it can pay off very well, as the prices tend to be very low. There might be a 30-day guarantee on some parts, especially the most expensive ones
Magazines. Magazines aimed at fans of muscle cars have parts for sale for all kinds of old muscle cars. As these are highly specialist operations, the parts should be very reliable. Many parts dealers are small businesses, often home based, but run by enthusiasts for whom quality is of the greatest importance. The parts will generally be of a high reliability. Most sellers advertise in all the magazines to broaden their sales possibilities, so if you only buy one magazine, you should be able to find all the relevant ads inside.
Trade Shows. If you attend trade shows or conventions relating to muscle cars, there will be people selling car parts relating to used muscle cars. Although the prices might not be as cheap as elsewhere, they can be a very reliable source.
Internet. The Internet is the very best place to find reliable parts for old muscle cars. There are plenty of dealers who specialize in this and maintain websites. In some cases these will be original parts, and in other instances, they will be reproduction or modern parts aimed at the muscle car market. What's of prime importance is that they work and that the price is right. You can query for parts with these stores either by mail, a form on the website or phone. This offers ample choices to ensure you obtain exactly the right part.
Avoiding Lemons
A used muscle car could be a great investment, but if you get stuck with a lemon, it could become a real money trap. There are things to keep in mind when you buy old muscle cars that can help you to get a gem rather than a lemon.
Know the Car You Want
When you are looking to buy a classic car of any type, you need to know the car. That way, you will understand what came from the factory on the vehicle. For a car to qualify as "classic" it needs to be maintained or restored to stock condition, so this is important. If you don't know that a car didn't come with a sunroof option, then you won't know that it's aftermarket. Knowing the value of the car will help you to gauge whether you are getting a good deal.
Know the Condition of the Car
A proper evaluation of the condition of the car is critical. Muscle cars in particular are often pushed to their limits. These cars are built for performance, and owners like to get that performance out of them. That can mean brutal miles put on them. Those hard driving miles can lead to serious problems. This makes knowing the condition even more important.
Avoid Classic Car Kits
Some companies manufacture kits to create replicas of classic cars. These are not, however, classic cars--and aren't worth the same amount of money. You need to know how to spot "kit cars." You don't want to buy a replica and pay the price of a classic for it.
Have it Inspected
Get an inspection. It's important when you buy any used car, but given the value of a classic car, it's especially critical. Find a mechanic who specializes in classic cars and your specific type, if possible. If the seller doesn't want you to get an inspection, or tries to get you to use their inspector, look elsewhere for your car. That's a red flag.
Getting a used muscle car doesn't have to be a scary proposition. With the proper steps you can sort through the lemons and find the gems that are out there. Car collecting is a great hobby, but one disastrous buy can sour you on it. Know what you are buying beforehand, so you don't get off to a rough start.
Creative Commons pictures by MSVG, stevoarnold, MaplessInSeattle, aresauburn, adie reed