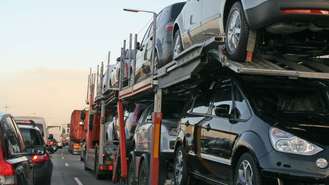 Car shipping rates vary greatly and depend on many factors. Auto transport companies are independent companies with their own pricing systems, and price variables include the weight of the car, the distance traveled, how quickly you need the car shipped and the time of year you are shipping, to name a few. If you are going to ship a car across the country, you need to shop around and make sure you get the best price car shipping quote.
Some Average Costs
As stated previously, car shipping costs vary and depend on many factors. But on average, it will cost you $750 to ship a car from New York to Florida, $1200 to ship a car from Boston to California and $695 to ship a car from Chicago to Houston. If the car you are shipping is inoperable, it will cost you approximately $120 extra. Some companies may charge extra for larger cars, such as SUV's and trucks.
How Gas Prices Effect Shipping
When gas prices rise, so does the cost of shipping. The transporters use diesel fuel. Watch diesel prices. When there is a drop, order the vehicle and get it shipped.
Destination
Companies have a certain amount of transporters which travel across the country. If additional routes need to be added for a delivery, the shipping price will go up. If the transporter is already assigned into the same area, it can lower the price. Also, the farther away from main highways they have to go, the more fuel is needed, and more you'll pay for shipping. If the transporter needs to get through a residential area, there are extra charges for special permits needed as well.
Car Shipping Calculators
You will find car shipping calculators on the Internet. These calculators ask you for information about your transportation needs, then calculate an approximate price based on that information. If you are unclear about any of the information, it is wise to call and speak to a customer service representative.
Gather the Necessary Information about the Car
In order to get a free car shipping estimate from an auto transport company, gather some important info about the car. If the car is in your possession already and you plan to ship it to someone else, this is relatively easy; it's a bit more difficult if you don't have access to the car yet. You'll need to have the make, model and year of the car, as well as the mileage from the odometer. If it's been previously used, get a vehicle inspection report. This helps the auto transport company to assess the value of the vehicle, which contributes to the total cost of the transportation.
Determine the Auto Transport Companies in Your Area
Using the Internet and your local phone directory listings, make a list of the companies that provide car shipping services in your area. These companies don't typically offer their services in promotion and other advertising methods. You'll need to do some research in order to find companies that work in your area. Fortunately, all urban areas are likely to have several companies of this type, and there are a wide variety of auto transport services that provide service to rural or remote areas as well.
Contact a Broker
If you're unable to find a good selection of auto transport companies in your area, you may need to consult with an auto transport broker. These people serve as agents to liaise between customers like you and auto transport companies. They charge a small finder's fee in order to help set you up with auto transport companies, but they have a wealth of information that can help you to find the best deal. They can also help to negotiate free quotes for you.
Contact the Companies
Many companies will provide you with a free car shipping estimate if you contact them directly and provide them with the information listed above about the car. Compare the prices of different companies to get a sense for how much you'll have to pay to ship the vehicle in question.
Car Shipping Service Quotes: 2 Companies for Cheap Rates
The following companies specialize in car shipping and offer experience when it comes to the car shipping industry.
A to Z Auto Shipping (888) 404-4421. A to Z Auto Shipping offers door to door service of any kind of auto transport. The company boasts an impressive line of regular clients that includes Mattel and the Philadelphia 76ers. They offer a free online quote in their website for quick, easy access to their wide range of services.
American Auto Transporters, Inc. (800) 800-2580. This company has been in the auto transport business since 1980, and is recognized as a market leader in the industry. American Auto Transporters also offers international shipping services. You can also request a free quote from their site.
When using a car shipping service, make certain that the company is insured, fully licensed and bonded. This means that the company is a reliable partner in the car shipping industry.
Related Questions and Answers
Are International Car Movers the Same Price Per Distance as Domestic Shipping?
International car movers require much more information be provided about the vehicle than is normal in domestic transportation. The basic cost of transporting a vehicle the same distance internationally is about double the cost of shipping from coast to coast. Additionally, you will also be paying import duty and vehicle inspection fees above the cost of transport. If you are going to be using international car movers, remember to remove all articles from the vehicle and make sure it is 100% clean. For example, there are rules on transporting plant materials into certain countries and any seeds lodged in the tire tracks should be removed before shipping your vehicle. New Zealand, in particular, is very strict about this. Being an island country, they do not want foreign plant matter entering. Many transport companies will be only too happy to give you an online quote for transporting your vehicle and to act as your international car mover.
What is Cheaper for Auto Transport Across USA, Train or Truck?
You have two options for auto transport across the USA; rail or truck transit. The cost involved can depend on the time of year. At the height of the summer, the trucking option tends to rise by about $300 for a coast to coast shipment. Therefore, during the summer, the rail option would definitely be more cost effective. If you look at the rail rates, you can go for the cheaper option of the open carriage rather than having your vehicle boxed. This option saves you approximately $100, but you run the risk of dust and debris hitting your vehicle. If you can time your move to autumn or early spring, then trucking transport becomes the cheaper shipping method. Either way, you will incur an approximate cost of $600 to $1000 to move your vehicle by auto transport across the USA.