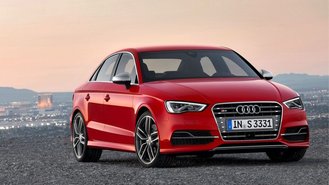 Luxury car manufacturers like to hook buyers early on in life, get them addicted, and create a customer for life. This is where the sub-$30,000 luxury car comes into play. Most fresh-out-of-college young executives can't quite swing that Mercedes-Benz C-Class payment yet, but they sure do want the prestige attached to a premium brand name.
While you may not find brands like Mercedes-Benz and BMW meddling in this price range, there is one famed German brand that offers a car just under $30,000 -- and plenty of second-tier luxury brands that have rigs to fit a younger buyer's budget. To help you get a grip on what's out there for you, we've come up with the four best luxury cars that fall under the $30,000 mark. Keep in mind that some of these cars don't fit in their base format, and will need some extra options to truly fit the bill as a luxury car.
See more top luxury car picks in our 2015 buying guides »
In a class often dominated by its upscale German rivals, the Audi A3 sneaks into the number one slot, thanks to its plentiful features, outstanding design and a price tag that just barely comes in under $30,000. At the base price of $29,900, the 2015 A3 Premium comes standard with a 1.8-liter turbocharged four-cylinder that produces a respectable 170 horses and 200 pound-feet of torque. Sure, its power may not be the greatest, but its comfortable ride, 33-mpg highway rating, and standard features that include leather seating, silver inlays, 17-inch wheels, xenon headlights, dual-zone climate control and 10-speaker audio system all make it one of the best buys in the luxury car world. In 2014, the A3 would be fighting strong competition from the CLA-Class, but for 2015, the CLA-Class has jumped to $31,500, putting it out of the picture.
With a base price of $27,050 and legendary Honda quality, the ILX is a sleeper in the sub-$30,000 luxury car world. We recommend bumping up to the 2.4-liter model with the Premium Package, which chimes in at $29,350. This nets you a 2.4-liter i-VTEC four-cylinder that develops 201 horsepower and a six-speed manual gearbox. Standard features on this entry-level Acura include 17-inch alloys, fog lights, perforated leather seats with red contrast stitching, active sound control, stainless steel sport pedals, a seven-speaker audio system, and a five-inch color display. Note: There is a refreshed 2016 ILX right around the corner that comes standard with the 2.4-liter engine and an eight-speed dual-clutch transmission, but there is no mention of pricing yet.
See the best luxury sedans for 2015 »
When one dives into the sub-$30,000 luxury car realm, a little creativity has to come into play, and that involves looking at tier-two luxury brands like Buick. The Verano has a base price of just $23,380, making it an insane bargain. However, to make this list, you'll need to pack on the options. Jumping into the Leather Group trim level bumps the price to $27,975 and comes with premium features like 18-inch wheels, leather seating, a Bose premium sound system and all the safety goodies you need. Even after adding in a moonroof, the Verano still costs a mere $28,625. Unfortunately, you are stuck with the 180-horsepower 2.4-liter engine -- the range-topping Turbo model with the 250-horsepower 2-liter engine is just a tad over our $30,000 budget.
The Chrysler 200 is another tiny luxury car that'll make your penny squeal. Starting out at just $21,800, it is the cheapest model on our list, but loading it up with all the features needed for the luxury buyer, you'll need to bump up to the $26,325 Chrysler 200C. At this level, the 200C comes standard with bi-function halogen headlights, ambient interior lighting, heated mirrors, a six-speaker Uconnect 5.0 infotainment system, leather seating with power driver and passenger seats, and 17-inch aluminum wheels. Under the hood is a standard 2.4-liter engine that delivers 184 horses and mates to a fuel-saving nine-speed auto transmission. For those needing more grunt, there's a 3.6-liter V6 that bumps output to 295 horses and increases the price to $28,320. You can even add in the Premium Lighting Group package, which includes HID headlights and LED fog lights, and still slide in under $30,000. If you need all-wheel drive, the 200C has you covered, but you'll need to delete all of your options, as the 200C AWD bases at $29,520.