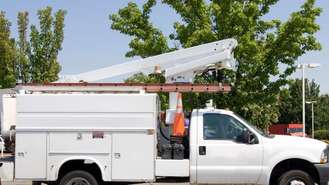 A bucket truck is used in various industries, such as power-line workers where the workers need to be moved up and down to accommodate for heavy moving or adverse working situations. Bucket trucks can be seen on the road virtually anywhere and almost every day of the week. They are typically used for moving workers up and down by way of a crane system in order for them to work on things located high on poles or other high objects.
Bucket trucks come in a variety of sizes and are equipped with a variety of utilities. The design includes a storage bin and jacks in order to provide for plenty of utility and stability while performing the job. Although bucket trucks are intended to make jobs much easier, they are still a large piece of equipment and should be used properly.
Buying a Bucket Truck
A bucket truck can be a good purchase when you are looking to do heavy moving or when doing utility jobs that requires mobility. Although new bucket trucks can be very costly, they make excellent used tuck values, and large companies update their fleets every few years. Remember to use a service like CarsDirect to search for heavy duty trucks, including bucket trucks, available for sale in your area. The dealerships that list their inventory via CarsDirect may also offer a variety of commercial vehicles that are not listed for sale on the Internet.
What to Look For
Remember that bucket trucks are operated hydraulically, so make sure the system is in good working order before you finalize a transaction. You may also want to buy a bucket truck if you need to reach the tops of small buildings. Although a bucket truck does not offer the capability to go as high as a crane, it can lift lighter items to reasonable heights. To ensure safe operation, make sure that the truck and the bucket are not overloaded. Before deciding that a bucket truck is right for your situation, ensure the truck can be safely operated under all conditions you may use it for. For example, if you regularly work near power lines or other conductors, a bucket truck may not be the best choice. Completing research on a website like BucketTrucks.com can help you find the right equipment to do the job right.
Safety
Bucket trucks are regulated under OSHA standard guidelines that must be used for safety for those operating the truck. This is a large truck and if it is not operated correctly, serious injury could occur. This is why bucket trucks are typically regulated much closer than any other kind of normal truck or SUV.
When it comes to heavy moving and working on something above the ground, bucket trucks are one of the industry's favorite pieces of equipment to use. With their large range of sizes and features, bucket trucks allow workers to accomplish their jobs more effectively and safely, as long as they are trained properly.
Bucket Truck Types
There are many different types of bucket trucks, each designed to aid in the completion of a different set of projects.
Versalift
A versalift has a single lifting platform that extends out from the back. This platform can extend several feet up in the air and is useful for a number of different tasks, including the lifting of materials and workers up to a platform extended above the ground, or to a rooftop space.
Cherry Picker
A cherry picker is a type of bucket truck with a single person enclosure that can be extended up, by means of a motorized arm system. The largest cherry pickers can lift the person up several stories to begin working on a building high up in the air. These trucks are commonly used by window cleaners and other repairmen who work on the outsides of buildings. They can also be helpful with large scale construction projects.
Aerial Lifts
An aerial lift is similar to a cherry picker. The type of arm that the enclosure is extended upon is different in this case. It is generally a single hydraulic platform that rises up in one direction, rather than one that can extend out in various planes.
Boom Trucks
Boom trucks are useful for providing leverage when it is needed in a construction or landscaping situation. These trucks have a large arm that is designed to be extended to the side to counterbalance certain other objects or materials that may be in use.
Digger Derrick
A digger derrick is responsible for setting down in a single area and driving a bit into the ground in order to dig precisely. The digger derrick is useful for tasks in which a large area needs to be excavated but you don't wish to employ several people over many hours to dig the area out by hand.