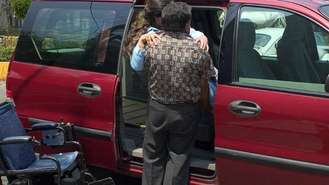 To buy vans, you should first determine which type of van will work best for your needs. Whether you need a handicap disabled van, a minivan for your family or a large group, or a cargo van that can be used to hold different items, there are specialized types of vehicles that will suit your needs. However, without the proper knowledge of how to go about finding these vehicles, you'll have a difficult time with your shopping and may end up with a bad deal. Read on for a guide on how to find the best models of handicap, cargo and minivan models when deciding whether to purchase a van or truck.
Handicap Access Vans
One of the best rated models of vans for handicap access is the Dodge Ram. This van has decreased in popularity somewhat over the last few years, but it remains one of the very best choices for handicap access vans because of its spacious interior and excellent accessibility. The van has a large sliding door on the side that allows for plenty of room for wheelchair lifts or ramps. It is also relatively low to the ground compared to some other vans, which makes it more accessible for those with other disabilities. The interior is spacious and the ceiling is high, allowing for room for a wheelchair to rest comfortably as well.
Cargo Vans
Cargo vans are generally designed to be sturdy and utilitarian. They are not generally made for their outward appearance or for any sort of other appeal at all. In order to find the best cargo van for you, you'll need to think of what you plan to transport. If you're thinking of occasionally transporting some goods, but will otherwise have passengers in your van, you may wish to purchase a regular size van or minivan. Then to remove the seats on the occasions in which you set up your van to carry cargo. Otherwise, look for a long, twelve-passenger van that can be cleared out and opened by permanently removing the seats. This will allow for the best storage capacity of all. Econoline vans are some of the best for this purpose.
Minivans
Minivans are a great vehicle for those who plan to use their van for a variety of purposes. These smaller cars are more suitable for long driving periods and get better gas mileage, on the whole, than larger vans. They are also family friendly and have lots of room for passengers and cargo. Finally, they can be made into handicap access vehicles as well, and the seats can be lowered or removed to allow for extra storage room. Some of the best minivan models include the original minivan, the Dodge Caravan. This vehicle started the minivan trend and has continued to remain on top. There are a good number of different minivans though, so it's worth your effort to thoroughly research your options before purchasing anything.
Additional Tips on Buying a Van
In order to buy a van, the customer must consider a number of important factors before making the final purchase. A number of features serve different customers in different ways. From extended seating to larger trunk or storage space, the consumer will have to decide which features serve the best purpose, and which will get the most attention and use.
Purchase with a Purpose
When choosing a van, potential owners will have a greater sense of satisfaction if the vehicle serves the intended purpose successfully. For example, a carpenter or utility worker will most likely choose a van for storage space rather than room for extended seating. On the other hand, parents generally choose a van that comes with entertainment features, extended seating and generous storage space.
Research Fuel Efficiency
Several vans often get labeled as the ideal traveling vehicle, fit for families or small groups of people. Some larger vans come equipped with diesel engines, capable of storing large amounts of fuel that will burn slower than gasoline. This will let groups or families travel long distances with limited fuel ups. Most vans will come with a small sized V6 engine. Powerful enough to reach desired speeds quickly while keeping the gas tank full as well.
Stick with the Same Brand
Individuals with family members who work for automotive companies often see price reductions in vehicle purchases. This factor leads many customers to stick with a certain car brand for years at a time, purchasing all types of vehicles, including vans, under one brand name. This generally helps customers save large sums of money.
Wheelchair Access and Disability Driving Vehicles
Whether you are looking to buy vans for your personal or business use, you would like to get the best price you can find that will handle the needs for disabilities. You are going to find that these vehicles feature a wheelchair access so that you will be able to easily get the person in and out of the vehicle. Of course safety is also an issue that you want to take into consideration as well if you decide to buy a minivan.
Modification
You first need to decide if you want to have an existing vehicle modified for what you need or if you want to purchase your vehicle outright from a manufacturer. Either option can provide you with a reasonably priced vehicle.
Mini-Vans for Wheelchair Access
When looking for wheelchair access, one of the best vehicles you can look into is the mini-van. This vehicle is very inexpensive and offers excellent versatility. As well as conversion that is easy and convenient for the passengers and the driver. Wheelchair Lift If you are in need of a wheelchair lift, you are going to find there are many different sizes available to you. Depending upon the size of the chair and the vehicle you are driving, you will also need to look into the power of the chair you are considering. Space You will want to decide if you only need enough space for the wheelchair to fit inside the vehicle or if you are going to need room for other passengers as well. If the vehicle is for personal family use, the decision is going to be a lot easier. It is a great idea to look into both used and new vehicles. You may be able to find a vehicle that already has everything that you need and maybe even a little more for a great price. If you are not able to find one that has everything, take into consideration if you want to keep looking or spend the money to have it modified.
Related Questions and Answers
Which Wheelchair Lift Company Has the Best User Reviews?
What wheelchair lift company is the best? The best one will depend on your particular needs and the van you are converting. Conversion companies will often work with only a few different lift companies, so your choice can be limited. A couple of the better reviewed conversion and lift companies are Braunability and The Mobility Resource. These companies are well rated by both industry experts and customers. In addition to lifts, they can help with the entire conversions of vans or other vehicles. As always, it is a good idea to call around to a number of different companies when shopping for a lift or vehicle.
Do Insurance Plans for Mobility Vehicles Have a Higher Rate?
Insurance for mobility vehicles may be a bit more expensive, but not budget busting. Mobility vans tend to be expensive, so the premiums will be a bit higher than a normal van. It is important to make sure the insurance company knows that you are insuring a mobility vehicle and its replacement cost when you are calling around for quotes. All of the major insurance companies will offer insurance coverage for mobility vehicle owners. Calling around for as many quotes as possible will help you find the best possible price. Keeping your deductible high is a great way to keep your premiums low.
Which Van Has the Largest Wheelchair Access Door Width?
There is no real way to determine which van has the widest wheelchair access door width. Mobility vans are all customized to meet the requirements of the driver, so each one will be different. The wheelchair lift can be installed by the side doors of a van, or the rear lift hatch. Each van or SUV will have its doors widened to accommodate the needs of the owner. It is recommended that there are at least six inches of additional space on each side of the wheelchair's wheels. Just about any van can be converted, which allows you to choose the best one for your lifestyle. Chrysler Town and Country and Toyota Sienna are popular choices.
Can I Get Government Funding for Buying a Handicapped Van?
It is possible to get government funding for handicapped vans. If your are currently on Social Security, there is a program called PASS. This stands for Plan to Achieve Self Success. It rewards those who have created a plan to achieve a better standard of living for themselves. If a handicapped van is necessary to attend school or get a job, the government may help fund your van. If you qualify for the program the government will send you a check each month to help with your van payment. One qualification is that you must continue to go to school or the job, otherwise the government assistance will cease.
Are There Any Laws Regarding Auto Hand Controls on a Steering Wheel?
There are no federal laws in regards to auto hand controls. There are state regulations, so it is a good idea to check with the local law enforcement agency in your area to make sure hand controls are not restricted. When dealing with mobility vehicles, the restrictions will othen be waived. The main issue is steering wheel knobs and the lack of control when trying to turn quickly in an emergency situation. They often prevent the quick response that is required if an unexpected situation presents itself. It is best to have a driver rehabilitation specialist assess your situation and advise on what modifications would be best for your situation.