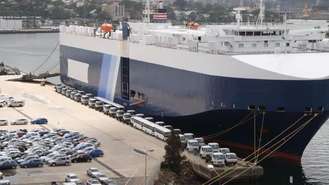 If you're planning on buying a vehicle out of state, you will need to have an understanding of car shipping prices so that you can find a good deal on having the vehicle delivered to you. Unless you're planning on actually visiting the out of state seller, and driving the vehicle back yourself, you will need to use a car transport service. Here's a quick step-by-step guide to help you buy an outof state car and have it delivered to your home.
Find and purchase your vehicle. First, you'll need to find a vehicle to purchase out of state. You can use online car shopping services like CarsDirect or other Internet sites to shop for a new or used car. Once you have found a vehicle you like, you would need to arrange for financing or submit a payment directly to the seller.
Find a car shipping service. After you arrange to purchase a particular car truck, you'll need to find a car transport service to have the car shipped to you. You can find many companies that offer shipping services by visiting the Car Shipping Network. There you'll be able to select between numerous companies that will offer to ship your vehicle.
Select the shipper. Once you have viewed all the quotes and offers on the Car Shipping Network website, simply choose the offer that best meets your needs and contact the shipper directly.
Arranging shipping. After you've chosen a shipper, give them information about the location of the vehicle, the sellers name and address, and any other special information that may be required to pick up the vehicle. The shipper will probably require that you put up some sort of deposit as well as fax, scan or e-mail an authorization to pick up the vehicle. Send in your deposit payment and any required authorization forms to the shipper.
Wait for delivery of the vehicle. Once the shipper has received your payment and authorization information, the shipper will contact the seller and arrange for pickup for the vehicle. The shipper will schedule a date and time to pick up the vehicle from the seller and send it on its journey back to you.
Arrange for pickup of the vehicle. The shipping company should contact you and inform you that the vehicle has been picked up. Once they do, they will give you a scheduled arrival date for the vehicle and help you arrange for the time and place of transfer of the vehicle.
Pick up the vehicle. When the vehicle arrives, you will meet the driver or representative of the shipping company. You will probably be required to do a visual inspection of the vehicle and make sure that there is no damage present. Once you're satisfied that the vehicle has not been damaged, you will sign some paperwork and receive the keys for your new vehicle.
How New Car Shipping Prices Are Calculated
If you intend to buy a car or truck from a dealership that is hundreds or thousands of miles away from you, you will need to consider how car shipping prices are calculated before finalizing the deal. There are several factors to be considered when trying to determine how much the shipping of the car will cost. What follows is a quick guide that will help you with the information required to calculate shipping prices.
Distance of the Delivery
The most important factor that will be considered in calculating the shipping price of a new car or truck will be the distance the vehicle must be delivered. Generally speaking, the further away the vehicle is, the more it will cost to have it delivered to you. Therefore, always try to shop for vehicles in an area as close to your home as possible.
Type and Size of the Vehicle
One element in determining how much the shipping cost for the vehicle will be is the type and actual size of the vehicle. Larger vehicles weigh more and will increase the amount of fuel consumed by trucks used to deliver them. Therefore the heavier and larger a vehicle is, the more expensive it will be to ship.
How the Vehicle Will Be Shipped
Another facet that can add additional cost to shipping a car or truck is how the car will be handled and stored during transport. Most of the time, cars are delivered on open air car trailers that are able to safely transport between 6 and 10 vehicles depending on their size and type.
You can have a vehicle shipped inside of a container to provide additional protection. You should know that shipping a car or truck inside a container will generally add another $500-$1000 to the delivery charge.
Consider Other Variables
Other variables that need to be considered in calculating shipping costs are where the vehicle will be picked up and the amount of liability that the transport service will bear. Furthermore, some vehicle moving companies actually charge a little as if their mover or driver is the one to drive the vehicle onto the transport trailer. There are many things that you should consider before having a car shipped.
You should always try to buy a new car truck locally. Most of the time, you will find that dealers in your area can come close to matching almost any price if they want. Unless you can get prices close to the one being offered to you from the faraway dealership, shipping the car may not really be worth it.
Considering the Cost of Car Shipping Services
While you can often save a lot of money purchasing a used car or truck that is not in your area, prices for new cars and trucks tend to be a lot more competitive. Before you start arranging the shipping of a new car truck across the country, you should make sure that new car dealerships in your area cannot match the price that you have been offered by the far off car dealership. More often than not, you will find that new car dealerships in your area can come very close to the price if they want to. Even if the vehicle is far away, the low pricing at CarsDirect will help largely offset any shipping expenses you may incur.
You should know that depending on the type and size of the vehicle and the distance the vehicle must be transported, that shipping a car new car or truck will cost between $600 and $3000. So, unless the amount of money you're saving is at least this much, then shipping the vehicle from a faraway dealership is probably not really worth it.
You should also consider that many things can happen when bringing a car cross-country. For example, the car may be damaged in accident or sustain body damage due to inclement weather. Also, it usually takes a couple of weeks to have the car delivered—so if you can, buy the car locally.
Other Transport Rate Considerations
In some cases, companies that charge relatively low transport fees may require you to drive up to two or three hours to a rather distant terminal or shipping yard to retrieve your vehicle. This may require that you have someone drive you to the site, or you may have to rent a car to simply go and retrieve the vehicle. Therefore, always be diligent in your research of a car transportation services offer to you. There is usually a reason why they are much cheaper than the other companies.
Related Questions and Answers
Where Can You Find Online Car Shipping Quotes?
If you're planning a move cross country, you're probably going to need some online car shipping quotes. When you ship your car, you will have the option of a completely open car hauler, soft-sided closed car hauler, and a sealed hard-sided container. At Move My Car.com, you can obtain seven quotes within a few hours sent directly to your email inbox. At the AutoTransport411 website, you will be able to obtain up to ten quotes in as little as 30 seconds. The Haulingdepot.com website is another one of the many sites from which you can obtain a free online car shipping quote.