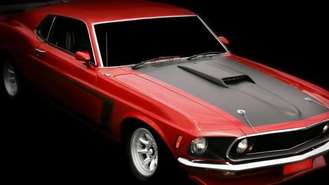 Finding cheap muscle cars for sale is more a case of knowing where to look. As a kid, if you were a fan of the Dukes of Hazzard or Starsky and Hutch, it might not have been the shows you were obsessed with, but rather the cars. If that is so, then you may have turned out to be an adult who likes nothing more than messing with muscle cars.
What Are Muscle Cars?
These are usually older cars, from the late 1960s to the early 1970s. They're rear wheel drive and front heavy, with large engine V8s that have some real 'umph'. While there are still a lot of these older cars around, they are becoming harder to find unless you know where to look.
How to Find a Cheap Muscle Car for Sale
Dependent on where you are in the US, you can search on eBay Motors by state. Have a good idea of the type of muscle car you want, which will allow you to narrow your search criteria. Have an idea of whether you want a project muscle car that you can put your own finishing touches to, or if you want a finished car that you can drive home and place on your driveway as your star piece.
Internet Auctions
Clearly the best single best method of any type of search today is the Internet. With the array of sites that allow you to find just about any answer to any question, it is usually most people's first port of call. Apart from eBay Motors you can also search online car auctions for classic old muscle cars or street cars, but again, keep in mind that distance could be an issue if you have to travel too far to get the car of your dreams. Look for project cars and older vehicles from the 1970s, but there are some others.
Local Listings
Even with the World Wide Web at your disposal, you would be well advised to check locally first. Have a look in the 'nickel ads' paper which you can pick up at your nearest Safeway, Roth's, Albertson's, Schnucks, or any local supermarket. People who have one of these cars may be selling it and you could bag yourself a bargain. Craigslist is a good place to look, and also Freecycle Yahoo! Groups.
If you want to buy or sell your muscle car privately, you may already know some places. As a final word of caution, always remember to view the car before you purchase it and make sure you do not give your personal details to any third party.
Live Auctions
As an alternative, you can visit your local car auction showroom. You may get lucky with the police auctions, because they impound vehicles which have fines on them or for other reasons. They resell the vehicles at auctions. It's a good place to find a bargain, but check the auction list first to make sure that a car you may want is actually on the list.
How to Buy Cheap Old Muscle Cars for the Best Price
If you're in the market for cheap old muscle cars, you'll need to know where to find the best deals and how to get the best price. There are many variables that will affect the price of any old muscle car, and you should know what to look for to find the lowest prices.
For example, old cars that have been meticulously taken care of stored in a garage will always cost more than muscle cars. Muscle cars that have been used as basic transportation for many years, and show more signs of wear and tear, will naturally cost less. Likewise, you will almost always pay less for high mileage vehicles than those with low original miles on the odometer. So, if you are looking to save as much as possible on an old Mustang, Nova or any other muscle car, here is a handy guide that will show you how.
Get Pre-Approved
Unless you have cash on hand, you should visit your bank and get pre-approved for a loan for the purchase of an old muscle car. Be aware, however, that some banks still make loans on old muscle cars, and you may have to apply for a personal loan. Having your financing arranged beforehand may help you negotiate a lower selling price, as the seller won't have to wait for a loan application and approval.
Compare Prices
Just as you would with any other vehicle purchase, you should take the time to locate as many vehicles that interest you as possible. Then take the time to thoroughly research the vehicles and compare prices offered by the sellers. If you are unsure about how much a particular old muscle car is worth, you may want to go online and search for vehicles that are very similar in terms of age, model and condition. This will help you ascertain if a price offered by seller is fair or not.
Choose the Best Deal
Choose the vehicle you feel provides the best deal. Try to avoid choosing the cheapest vehicle possible, as this vehicle may cost you a lot more in the long run because of needed repairs and restoration costs.
Negotiate
Before you finalize the deal, and buy the vehicle, ask the seller for a discount. The seller may or may not give you a break on the price of the car. However, if you never ask—you certainly won't receive a discount.
Seal the Deal
Arrange payment for the vehicle and take delivery. If you have followed the advice above, you will have a muscle car. With a little work, time and some patience, it will become a financially rewarding and pleasurable investment in the future.