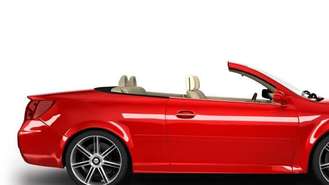 Before purchasing convertible cars, it's important to read reviews to find out which rank high on customer satisfaction and price. Convertibles generally fall into a category of vehicles termed upscale mid-size cars. These vehicles are luxury sedans that include several high-end features at an affordable price. The following cars are some of the top ranked vehicles according to U.S. News Rankings & Reviews.
BMW 3 Series
This is the second highest selling convertible in the United States. It is available as convertibles, sedans and coupes, with rear wheel drive or all wheel drive, depending on the model selected. The cars have several enhanced safety features and include BMW's Active Steering that allows for more balanced handling. Some of the models also feature twin turbochargers. The convertible top takes about 20 seconds to open or close, making it an easy switch. Paddle shifters are also an option to go with their Steptronic transmission, for a racing experience.
Infiniti G37
This vehicle is another customer favorite that's available as a sport sedan, coupe or convertible. The sedan makes an ideal family car, while the convertible ranks high in exterior appeal. The vehicle is available at an MSRP of $32,059 to $46,950, which makes it affordable in comparison to other vehicle makes in its class. Apart from this, the Infiniti G37 can be customized to include safety features that were formerly included only in high-priced vehicles.
Hyundai Genesis
This car has the same ranking as the Infiniti G37, the Cadillac CTS and the Lexus ES. It includes high end features, rear wheel drive and a powerful engine. The Hyundai Genesis Coupe is also ranked at power with the Infiniti G37. The Genesis Coupe offers great quality at a price lesser than the Infiniti G37. However it doesn't match other sports cars in performance.
Mercedes-Benz C-Class
This vehicle ranks lower than the Infiniti G37 and the BMW 3 series. It's available as a luxury sedan and a sports model that offers a refined driving experience at an affordable price. The average price paid by customers, ranges between $32,813 and $38,674.
Audi A4 and A5
The A4 is comparable to the BMW 3 series and is one of the larger sedans in its class. The Audi A5 Cabriolet ranks high amidst luxury sports cars. The car is available at an MSRP of $36,000 to $44,100. They come with a Tiptronic transmission, which is like an automatic manual, so you can get the feel of a manual driving experience, while not using a clutch. The top can be moved in under 30 seconds with the touch of a button.
The Best Selling Convertible Cars in the US
There are some top sellers that are way ahead of the other convertibles. Here are some of the most popular models out there.
Ford Mustang
The Ford Mustang convertible has always been a top seller. Not only does it carry the name "Mustang," but it also has a low price. You can get a brand new Mustang convertible for under $30,000. The Mustang has both a V6 and V8 engine option, which makes it an attractive power option. With 24 miles per gallon fuel economy, it will continue to be a top seller.
Porsche 911 Carrera
Porsche has an extremely high end line, and yet they do sell a lot of convertibles. It is more of a niche product, but if you are looking for power, the Porsche 911 Carrera is the way to go. Of course, they will cost an incredible amount of money, but with that comes incredible speed and performance.
Mini Cooper
The Mini Cooper and Cooper S convertible have the fastest closing time for convertibles, which is 15 seconds. The car does lack in power, with only around 150 horsepower. The Mini is an excellent balance of cost, power and styling.
Chrysler Sebring
Now discontinued, the Chrysler Sebring, was the main competitor of the Ford Mustang. Still a popular used vehicle, it comes as both a soft and a hard top convertible. The base model has a four cylinder, but there is also a V6 upgrade. One unique feature is heated and cooling cup holders. It offers 26 miles per gallon fuel economy.
Pontiac G6
Also discounted, along with the rest of Pontiac, the top selling convertible was the Pontiac G6. The G6 has a luxurious look, but a low price tag. It comes as a soft top, but also looks sleek as a hard top. It only has a 3.5 liter 222 horsepower engine, with 26 miles per gallon fuel economy.
Understanding Convertibles' Fuel Economy
Before you buy a convertible car, you should be aware of the effect a convertible top can have on fuel economy or gas mileage for a particular vehicle. In almost all cases, driving with the top down on a convertible will cause more drag and cause your car to be less aerodynamic than a vehicle with a conventional hardtop. This can result in a substantial decrease in fuel economy and add to the overall cost of operating the vehicle.
Why Convertibles Get Poorer Gas Mileage
Simply put, convertible cars get poorer gas mileage than standard hard top vehicles because of increased wind resistance and a less efficient aerodynamic design. When a vehicle is traveling at speeds greater than 30 to 35 mph, it starts to encounter significant wind resistance. When a vehicle encounters wind resistance, the shape and design of the vehicle play an important factor in its ability to accelerate and reach higher speeds without causing too much work for the car's engine.
Air and wind are not able to easily flow over the top of a convertible driven with the top down. The open area inside the car's cabin can actually cause a vacuum effect, which causes additional wind resistance and lowers the car's traveling speed. Even when a convertible is driven with the top up, the added weight and material used in a convertible top decreases fuel efficiency because the vehicle is usually heavier than its hardtop counterpart.
How to Minimize Fuel Economy Deficiencies
If you are really conscious about the fuel economy of your convertible, resist the urge to drive with the top down as much as possible. By choosing to only drive with the top down on the sunniest or most pleasant days, you can help reduce the overall cost of operating your vehicle.
Also, making sure to keep your tires properly inflated is particularly important with a convertible. Your tires should always be at the correct air pressure level, as it can help you save as much as 5 percent at the pump. Other ways to improve fuel economy with your convertible are the same as they are with any other vehicle. For instance, making sure you keep the air filters in your vehicle clean and changing your oil regularly will also help improve fuel economy in your convertible car.
Finally, take your vehicle in for maintenance at scheduled intervals. Ensure your convertible is running at its best, getting the best gas mileage possible.
Best Convertibles for Gas Mileage
In almost all cases, the hard top version of a vehicle will get better gas mileage than the convertible version. However, there are a few convertibles that are known to get considerably better gas mileage than others. For example, convertibles made by Volkswagen and the popular Mini Cooper are known to provide above average fuel economy even when compared to comparable hardtop vehicles.