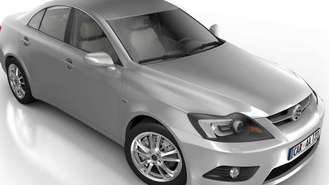 Whether you're shopping for a new or used car, you may not have the information you need to choose a coupe vs sedan versions of a particular make. Cars with both options include the Honda Accord, the BMW 3-series and the Infiniti G. Keep in mind that there is more to consider than just two or four doors. Here are some important factors to think about to help with your decision of sedan vs coupe.
Coupe Is the Stylish Choice
Style is mostly subjective, but it's hard to argue against the fact that coupes have a sleeker and cleaner design. The 2010 Honda Accord sedan, for example, looks like a practical family hauler, while the coupe version has a more dramatic and sportier design. There are a few exceptions, however, including the 2010 Volkswagen GTI, which looks identical as a hatchback sedan or as a coupe.
Rear Cargo and Passengers
The coupe's style and beauty will sometimes come with a sacrifice, usually in terms of rear cargo room and seating capacity. The 2010 BMW 3-series or Infiniti G37 sedan will seat five passengers comfortably, but opting for the coupe version of these models will only allow seating for four. Again, there are exceptions, like the Accord and GTI coupe, which both seat five.
Find the New Car that's Right for You >>
One of the biggest challenges of a coupe is access to the rear seats. While some coupes are easier than others, passengers will have to endure a certain amount of climbing, twisting and bumped heads to get back there. Kids and acrobats may love it, but the elderly or physically disabled may find it impossible. Therefore, it's important to consider how often you will have rear passengers.
Price Differences between Coupes and Sedans Vary
When it comes to the sedan price, they are truly all over the map. There are sedan models that can cost brand new at under $10,000. There are also many luxury sedans that are priced well over $50,000 or even $75,000. There are many things that go into pricing a sedan. It is tough to compare a sedan to a coupe, SUV, or a truck. They also have a large range. Below, will look at some of the prices in each class of cars, and try to determine why the prices range the way they do.
Sedan Prices
Sedans are becoming very popular because of their ease of entry by having four doors. Coupes may look sportier, but sedans are much more user friendly. There is no need to push up the front seats and then squeeze in between the seat belt and the chair to get into the back seats. Sedan MSRP values again vary on the car. Auto invoice prices are typically about 12% below the actual MSRP, or sticker price. However, there are ways to get deals due to manufacturer incentives to the car buyer, as well as the dealer. You should be able to get any car, regardless of class, near the invoice price, if you negotiate well. The Honda Accord price is a good example as to why sedan pricing is typically a little lower than coupes. The Accord sedan is about $1,000 cheaper than the coupe. However, this is not always the case. In the case of the Honda Civic price, the Sedan model is actually $200 more than the coupe, and the hybrid sedan is actually $8,000 dollars more.
Coupe Prices
If there had to be a general statement, more often than not, coupes are more expensive, but of course not all the time. Take the Infiniti G37 for example. There is a big price difference between the two, for they are practically the same car. The coupe model has a suggested price of $36,000, while the sedan model has a suggested price of $3,000 dollars less at $33,000.
Insurance Cost Differences between Sedan and Coupe Vehicles
You should also do research on insurance costs. Coupe owners carry the stigma of being younger, faster and riskier drivers, so insurance companies will usually charge a premium for that.
Can You Have Both? The 4-Door Coupe
A recent trend from carmakers is an attempt to change the coupe and sedan definition by offering what's called a 4-door coupe. In 2006, Mercedes-Benz pioneered this trend by releasing the CLS, which they claim has the practicality of a 4-door car with a sleek, coupe-like design. While this is still debatable, Mercedes-Benz has had much sales success with the CLS. Other carmakers have come out with their own versions, including Volkswagen's CC and Porsche's Panamera.
Generally Little Difference in Terms of Power
There's little if anything to choose between a sedan or a coupe on terms of power. A coupe might handle differently to a sedan, but that's not always going to be the case, as the lines between the two have become blurred. It's not uncommon now to hear people talk of a 2-door sedan or a 4-door coupe.