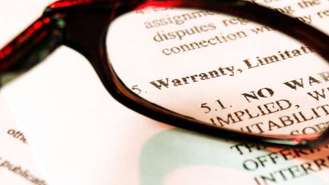 Whether you decide to buy a new or used car, the first thing that you need to find out about is an extended car warranty. Unlike other consumer items, cars are not covered with a money back guarantee. That is why you need to get a good car warranty that will give you your needed protection. There are two types of warranties offered for new cars: powertrain and bumper to bumper, which is popularly called comprehensive warranty.
The 2 Types of Extended Car Warranties
Before getting a certified warranty for your used car, you should first know the difference between the two types of car warranties:
A powertrain warranty repairs the engine, transmission, drive axles and drive shaft.
The bumper to bumper warranty, although it does carry that name, doesn't really cover everything in between the bumpers. In most cases, almost all parts of your car are repaired and replaced.
Read the fine print to ensure you have the best bumper to bumper coverage.
The Coverage of Extended Car Warranties
In finding extended car warranties for your car, you must check which components of your vehicles are covered and which are not covered. Most car warranties use a price scale for different policies. The more expensive your car warranty, the more coverage you can take advantage of.
Some car warranties do not cover gaskets and seals. If your car head gasket fails, it means a costly repair to you. Before buying any car warranty, you must read the fine print to know what to expect in case of emergencies.
Understanding the fine print of your car warranty is sometimes tricky since not all warranties offer the same coverage for the same prices. Most bumper to bumper warranties usually protect your car for at least 12 months or 12,000 miles but some manufacturers provide a three-year, 36,000-mile warranty. After finding your needed car warranty, check your warranty booklet to make everything clear to you.
Comparing Extended Car Warranties
Shopping for extended car warranties is a serious matter. There are five factors you should consider when comparing different car warranties.
Coverage. This is the first thing you should check. Consider components such as power electrical, chassis, fuel, powertrain, luxury components, emissions and maintenance items. Also consider whether consequential damage is covered.
Deductibles. The deductible is the amount to consider in comparing prices. The general rule is that the lower the deductible, the higher the price of the policy.
The place of repair. Some extended car warranties require that you take your car to a specific repair shop which might give your problems if you are traveling.
Rental car options. You should know if your policy has rental car coverage. Also you need to know how many days you can use your rental car coverage. Some manufacturers offer a low dollar amount that will not cover the entire cost of a rental car while others offer rental coverage consistent with the time of the car repair.
Towing. Does your policy cover towing? If it does, is there a dollar cap or mile cap? Understanding the fine print of your car warranty gives you peace of mind. Take your time to compare extended car warranties to ensure you get the best car warranty for your needs.
Should You Purchase the Extended Warranties for Your New Car?
Some basic considerations affect whether extended warranties on a car are a good idea for a specific driver or household. Here are some quick tips for thinking about whether to take extended warranty offers on your next car or truck.
Learn about cars. How much you know about a vehicle can be a big factor in whether you decide to put more money into ensuring that you will be able to get it fixed. Learn as much as possible about your purchase and see if you still need additional help.
Do the math. When thinking about the utility of a mechanical breakdown warranty or repair coverage for a specific time period, try to estimate how many repairs you may need, based on past experience. If your theoretical number for all parts fixed comes in lower than the warranty price, it's probably not a great deal.
Consider your vehicle's systems. The more sophisticated your vehicle is, the more you will profit from an extended warranty. Drivers without warranty coverage can end up spending lots of money on numerous problems in new and used vehicles just to pass safety and emissions inspections for the road. That's because new computerized cars may take a lot of diagnosis and troubleshooting in any given year because of either real or "phantom" problems that trip computer codes and turn the engine light on. That's why extended warranties can be cost savers for newer models.
What You're Paying for with

an Extended Car Warranty

When it comes to an extended warranty for cars, many consumers are not fully aware of what's actually included in a car warranty service contract. To the contrary, many consumers don't find out what the actual terms of their auto insurance warranty contract or policy are until it's too late. They discover a repair is not covered, or that they must come up with money out of pocket for a deductible or other hidden service charge.
So, before you spend money on auto coverage for an extended warranty, you should understand fully what a warranty contract usually includes, and how it may affect a potential claim down the road.
What the Warranty Covers
Just as with a standard auto insurance policy, coverage plans for extended warranties vary widely. Generally speaking, expensive warranty contracts offer more protection than those that are less costly. However, before you sign an extended warranty contract or policy, you should carefully review what the warranty actually covers.
Just because the person at the car dealership or warranty service company tells you a particular warranty plan covers everything does not mean you should believe them and pay for the extended warranty coverage. The obligation of the warranty company or insurance company to pay claims on the warranty begins and ends with the terms included in the contract itself. Some warranty contracts will cover almost all parts and repairs, while others will only pay for a few parts or major repairs included in the terms of the contract.
Hidden Costs of Broader Coverage
When purchasing an extended warranty, you should be aware the cost of the contract may include costs for coverage or options you may not necessarily need or want. For example, warranty contracts that offer a zero deductible may in fact cost you more in the long run than if you were to choose a contract with a modest deductible amount.
You should always compare the price of a warranty contract with several different deductible options. You may find that offering to pay a small deductible may save you many times the amount in terms of how much the warranty will cost.
Also, some very costly warranty contracts also include coverage for roadside assistance or towing. If you already have this type of coverage with your car insurance policy (or perhaps an AAA membership), the added expense for this coverage with your warranty policy is simply a waste of money. Save the money and use it toward the cost of the deductible when your car needs repair.
Accident Coverage Not Included
One thing you should always be aware of is no extended car warranty contract or mechanical insurance policy will ever pay for repairs that are needed due to an automobile accident. These types of repairs and coverage are left for standard car insurance policy claims.
In fact, if a vehicle appears to have been in an accident, most car warranty companies will reject claims made for service under the warranty contract even if they are not directly attributable to the accident. So if your vehicle has external damage, always make sure to document the damage beforehand to avoid disputes with the car warranty company.
What an Extended Car Warranty Entails
An extended car warranty is an insurance policy which works similar to your health insurance policy. If your car gets sick (breaks down), you take it to the doctor (mechanic) for treatment (repair). An extended car warranty is not actually a warranty. It is a service contract between you and the warranty company. Although like an actual warranty these service contracts cover most of the same things a warranty does and in the same manner. However a warranty is included in the sales price of the vehicle and an extended car warranty or service contract is not.
An extended car warranty can be purchased at any time during your ownership of the vehicle, although it is recommended to purchase the contract as soon as possible for the best rates. You can get a used car warranty for older cars also.
Which Company Is Backing Your Extended Car Warranty?
You need to find out who is backing your extended car warranty. Most warranties are either backed by the vehicle manufacturer or by an independent company. Knowing who the underwriter for your policy is will help you to understand if your warranty is worth the paper it is written on. Manufacturer's extended car warranties are often good warranties but can be much more expensive than an independent warranty. If you choose an independent warranty company, make sure to check the rating for them using either AM Best or Standard and Poor. Choose a company with at least an "A" rating so you will know your repairs will be backed.
Check the Deductible
Make sure you understand any deductible you pay is per visit or per repair. A per visit deductible is a flat rate you pay any time you need to go to the mechanic, while a per repair deductible is a flat rate you pay on every repair. For example, if you take the car in for an alternator, alternator belt and battery you would pay a per repair charge three times for the one visit. You should also be aware that you can, with most policies, opt for a $0 deductible. The policy may cost a little more, but the savings can add up fast.
Automobile Extended Warranty Transfer
Some extended warranties end when you sell the car. If you can transfer the warranty, it is much more attractive to potential buyers.
Repair Shops
A good car extended warranty will allow you to take your vehicle to any ASE certified mechanic. Although some warranties will require you go to the dealership for repairs. Make sure exactly who is covered to work on your car. If your car breaks down 200 miles away from the dealer, it can be very difficult to get it back if you are only allowed to use one repair shop.
What Is Covered
Make sure you know what is covered on your policy. You may want to pay a little more for a service contract that covers more than a normal wear and tear as well as breakdown. This will cut down on the number of disallowed claims. Overheating coverage option is also something that should be considered. Most extended car warranties do not cover overheating, so if a hole in your radiator caused your car to overheat and, in turn, your engine blew, you would be out of pocket for the radiator as well as the engine.
Payment
Check carefully whether your warranty company pays the mechanic or if they reimburse you. Some extended car warranties offer reimbursement, which can be okay if you have the cash on hand to pay the bill. You would need to wait for the warranty company to pay you back or let you know if they will cover the charge. It is better to use an extended car warranty company that pays the mechanic.
When Buying an Extended Car Warranty Is the Right or Wrong Choice

People tend to give much importance to extended car warranties, thinking that they really need them to protect their used car. In some aspects, car warranties are really helpful, especially if you have the important coverages in your policy. However, there are times that you need to pay for less coverage. There are a number of car warranty scams that fooled a lot of people who were trying to look for the best used car warranty.
Car warranties are designed to protect your car in case of emergency. Depending on the coverage you have in your policy, the insurer will shoulder the expenses if the insured parts of your car fail. Different manufacturers offer different extended car warranties for different prices. The more coverage you have in your policy, the more expensive your policy.
When to Buy an Extended Car Warranty
Whether you purchase a new or used car, the first thing you should ask yourself is whether you need a car warranty or not. A certified car warranty is something that can protect your car from damages. There are different causes your policy should cover such as consequential damage, wear and tear, normal deterioration, betterment, deterioration and others. A good warranty provider explains everything about your policy. This way, you know what to expect if you try to make a claim.
When Not to Buy an Extended Car Warranty
Buying an extended car warranty becomes wrong when a dealer persuades you to buy a policy before leaving the car manufacturer. Most of the time, you pay more than you get in claims. There are times car dealers tend to extend extended car warranty without informing the consumer. They give consumers misleading information so you will be surprised that you are paying a large amount of money for a coverage you don't actually need.
There are manufacturers that persuade consumers to buy a car warranty just to meet their own financial targets. It is always good to contact car warranty companies if you are searching for the best warranty for your car since car warranty companies offer you the best deal.
How to Avoid Car Warranty Scams
A good car warranty usually covers your car for three years or 36,000 miles. However, it is always good to check on your policy to ensure that you have the important coverage. Once your car warranty has expired, dealers will offer you their aftermarket auto warranty. This can be helpful, but you have to take necessary precautions to avoid being fooled. The fact is that you can actually save hundreds of dollars since you do not have to buy a car warranty the moment you purchase your car. It is true that having a car warranty can really help you a lot and the sooner you buy, the less you pay for it. Yet you do not have to pay for the expensive car warranty the dealer is offering you. Shopping around and comparing different car warranties available for your situation helps you get the best car warranty without spending much. Just make sure to know the things you should look for when buying a car warranty. Always remember that you generally have 30 days before buying a car to get your preferred extended car warranty.
Extended Car Warranty Ratings
If you're thinking of adding additional repair protection for your vehicle, you might want to consider extended car warranty ratings of companies and policies when choosing the best provider. Although no one warranty company or plan is suitable for all car owners, there are companies that generally offer better protection and service than others. So, this article will attempt to help you find information on the best companies and warranty plans.
Consider Well Known Companies
Although there are some excellent smaller warranty companies, you might want to start your search with some of the larger, more well-known companies. For example, companies like Warranty Direct, CarChex and Nation Warranty are some of the largest warranty companies that are known to offer good or excellent warranty plans and service in most cases.
However, this does not mean you should ignore smaller or lesser-known warranty companies as they may offer better pricing and service. If you are considering a smaller warranty company, you may want to do some additional research to make sure they are indeed legitimate and pay claims as advertised.
Find Ratings and Reviews Sites
There are many websites on the Internet that will allow consumers to post comments or complaints about different types of businesses and companies. Warranty companies are usually carefully scrutinized by the consumers that use them, and you can often find useful information regarding consumer experiences with warranty companies at sites like Biz Rate, Epinions and Reseller Ratings.

If you cannot find the information you're looking for at the above sites, use your favorite search engine and enter terms such as warranty company reviews or warranty company ratings. When shopping for an extended car warranty, you should not only compare a new car warranty, you should also compare the reputation and level of customer service of the companies as well.
Compare Coverage and Pricing
When considering various car warranty plans and companies, make sure to review the plans offered as carefully as possible. When comparing warranty plans, you may find it rather difficult to compare on price alone. So, always ensure that the plans you're comparing all offer similar levels of coverage in terms of what types of parts and repairs are covered as well as the deductibles that are required.
You should also be aware of warranty companies that charge per repair type the deductibles. Some companies will only charge one deductible per repair incident, and other companies may charge you a separate deductible for each type of repair—even if the different types of repairs are made at the same time.
Contact the Better Business Bureau
You should always contact the Better Business Bureau in your area and inquire about the warranty company you're considering. In most cases, the Better Business Bureau will have a record on companies that have complaints or unresolved problems with consumers. Avoid companies that have multiple unresolved complaints or problems as this is generally a good indication of poor levels of service or non-payment of claims.
Ask Other Car Owners
Before you make a final decision, search the Internet for a few car forums where members or subscribers are discussing car warranties and car warranty providers. Again, you can use your favorite search engine to find these types of forums and even post questions yourself. Simply ask other forum members if they have done business with a warranty company provider you're considering.
Many times, forum members are more than happy to share their experiences with you and will often be quite vocal in their responses regarding different warranty companies. However, be aware that not all responses are genuine and you should use your best judgment in evaluating any responses that you receive.
How to Extend a Car Warranty
There are many reasons you may want to extend a car warranty. Maybe your current warranty is about to expire, but you want to keep the car for a long time and know it will need repairs. Labor and repairs on a car—especially an aging car—can be very expensive over time, and a warranty gives you the opportunity to avoid being hit with huge repair costs at one time. Whatever your reason for wanting to extend your auto warranty, it is important to know how to do so before you get started.
Do Your Homework
The world of car warranties is a confusing one. There is a seemingly endless number of different warranties out there, and they vary greatly in the terms and the kinds of services that are covered. Call your dealer and see what kind of warranty extensions they have to offer. If you are not happy with what they are offering, it may be time to shop around. Before you begin to shop around, make a list of all the things you need in a car warranty and how much you are willing to pay. This will help you expedite your search. Then start to shop around at different extended warranty dealers. Be sure to check on the reputation of the warranty dealer. Read consumer reviews to see if other customers were happy with their warranties and the customer service they received.
Ask Questions
Once you decide on the kind of warranty you want, and you have narrowed your choices down, start calling extended warranty dealers. Don't be afraid to ask questions about the warranties available. There is a lot of fine print on vehicle warranties and it can be confusing. You want to know exactly what you are getting for your money. Take notes while you are speaking with the customer service representatives so you will remember what was said.
Purchase Your Warranty
As long as your car falls within the specified mileage range, you are free to purchase an extended auto warranty at any time. Used car warranty plans are also available. Before you sign anything, make sure you read the policy carefully. If there is anything on the warranty you don't understand, ask questions. Once you sign on the dotted line, you are responsible for the cost of the warranty. Be sure to ask about any charges you do not understand.
It is not difficult to extend your car warranty if you are well prepared and understand the process. If you follow these simple steps and take the advice offered in this article, you can find the extended car warranty that is right for you. It is always beneficial to be well prepared when shopping for anything, especially something as important as your car warranty.
Good

Rates to Expect

When Buying a Used Car Extended Warranty

When looking for the best rates for an extended warranty on a used car, carefully consider the driving habits of the previous owner and your own driving habits. Determine the length of time you plan on owning the car. This information will help in making your decision about specific warranties and the amount of coverage you might purchase. Some car repairs can be expensive and surpass the limits provided by a warranty. If your used car came with a warranty, be sure about the parts and service covered by the plan, to avoid paying twice for the same coverage.
Scams
There are many used car warranty scams. It is advisable to be particularly careful in scrutinizing all extended used car warranties so that you do not end up spending more than you need to. Read the warranty contract carefully.
Reputable Companies
The best used car coverage plans come from reputable companies. Contact the vehicle manufacturer about an extended plan. Generally, the manufacturer will provide good service at a good price. Should they decline an extended plan you will need to do some research to find a reputable company in the area. Search the yellow pages for your area. Contact a number of extended warranty companies. Ask for copies of their contracts. Read the entire contract carefully, including any small print. Check with the Better Business Bureau to verify their business reputation.
Coverage
Once you have chosen a company, be certain about the coverage you will be purchasing. Check to see whether you are covered for wear and tear on your vehicle. Be sure as well about more expensive car parts such as air conditioners. If possible, purchase a warranty coverage plan that will be transferable in the event you sell your car.
Costs
Some automobile dealerships sell extended used car warranties a inflated prices, sometimes four and five hundred percent higher than the actual costs. Consider buying the warranty directly from a warranty company The standard deductible for most claims is two hundred dollars. Extended warranty prices can range from about one thousand dollars for a two year plan to about sixteen hundred dollars for a five year plan.
The Odds That You'll Redeem an Extended New Car Warranty
Before you purchase an extended new car warranty, you should carefully consider whether or not you will need the coverage. All car manufacturers these days offer what is considered a bumper-to-bumper warranty on new cars for at least three years or 36,000 miles. Some manufacturers provide warranties that cover many parts of a vehicle for even much longer periods of time. So, before you spend the money on an extended warranty for a new vehicle, you should determine the chances or probability that you will actually use it.
Consider Length of Ownership
One of the easiest ways to predict the probability of your actually using an extended new car warranty is to consider how long you will actually keep the vehicle. If you are the type of car buyer who drives a vehicle for five or more years, a new car warranty could provide additional protection beyond the manufacturer's bumper-to-bumper coverage.
Cars are becoming increasingly reliable, so consumers are reporting fewer problems within the first few years of ownership. If your vehicle experiences a breakdown within the period covered by the car manufacturer's warranty, then you will usually not be required to pay any out-of-pocket expenses for repair or service.
Conversely, if you're the type of consumer that likes to trade in a vehicle every two or three years or so, you probably don't need to spend the extra money associated with an extended new car warranty. Unless you're the type of person that drives a lot and are relatively sure you will go beyond the number of miles covered under the manufacturer's new car coverage. If you are on the road a lot and drive more than 20,000 or 30,000 miles per year, the chances you may need additional warranty coverage are greatly increased.
Reported Dependability of the Vehicle
If you take the time to do a considerable amount of research on a vehicle before buying it, you can usually get a good idea of how reliable a certain make and model vehicle is. By visiting ratings and reviews websites on the Internet, you will get a good idea of common problems with certain vehicles and how often they occur. If you notice that the vehicle you're interested in tends to have certain problems after a certain amount of time or miles driven, you can use this information to predict possible breakdowns or problems with your vehicle while you own it.
If you notice the vehicle requires costly repairs during the time you may be in possession of the vehicle, you can plan accordingly and purchase any warranty coverage you may need. While the accuracy or reliability of this method is never guaranteed, it cannot help you plan a strategy for extended warranty coverage.
Is the Warranty Really Usable?
If you are considering a new car extended warranty, you'll want to ensure the warranty is usable and not a waste of money. Some extended warranties greatly limit the types of parts and repairs covered under the provisions of the contract or require high deductible amounts or types that increase your out-of-pocket expenses by a large amount. So, if a warranty contract does not provide adequate coverage for your vehicle, the chances you'll be able to use it and save money on repairs are greatly reduced.
A powertrain warranty repairs the engine, transmission, drive axles and drive shaft.
The bumper to bumper warranty, although it does carry that name, doesn't really cover everything in between the bumpers. In most cases, almost all parts of your car are repaired and replaced.
Read the fine print to ensure you have the best bumper to bumper coverage.