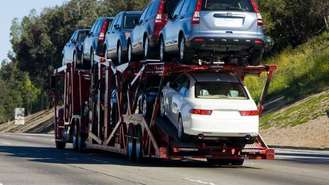 International car transporters are not as uncommon as you may think. If you're moving abroad, you need to find a way to ship your car. Because international car companies have to move around their own cars, there are quite a few options. There are methods you can use to narrow down your options to which service will be the best for you.
Find a Car Transport Company that Suits Your Needs
There are a number of different car transport services that companies may offer. It depends on what you need, and whether you are willing to pay more for a better or more convenient service. On the side of lower price, companies will offer to only load, ship and unload your car. This means that you have to drive to their pickup point and then meet them on the other side at their drop-off point. This could be many miles from where you're moving. On the side of most convenience, some car transporters will pick your car up, transport it to their shipping hub, ship it and then deliver it to your new address. This service will obviously cost more, but it may ultimately save you money if you don't have an inexpensive way of getting to and from the shipping locations.
Investigate the Quality of Your Options
The company you ultimately settle on will be shipping your car over great distances, so it will serve you well to make sure they do so with care. There are a number of things you can do to ensure that they will. Search the internet for feedback on the company. There will most always be a negative comment from somebody somewhere. If there are an overwhelming number of negative comments, this should be a red flag. Try to look elsewhere. Also, contact the company and obtain a copy of their contract. This will spell out all of their responsibilities. If everything appears to check out, and the company seems well respected, you have found a quality company that will deliver the service you need. International car shipping can seem to be difficult to navigate, but it doesn't have to be. Keeping all of these points in mind will save you some trouble and ensure you have a positive car transporting experience.
How Much Does It Cost to Ship a Car?
The cost to ship a car can vary depending on where you need to send it and the size of the vehicle. Smaller, compact cars are generally cheaper to ship than large trucks and sport utility vehicles. While it is impossible to give an exact price for shipping your vehicle here, we can break down the average costs to give you a general idea of what to expect. All prices are estimates and you should contact a local company to get specific, and exact, car shipping rates.
Auto transport costs for a 4-door compact car, from one coast to the other (New York to California) starts anywhere from $600 to $1,000, depending on the provider you use. Small vans, SUV's and pick-ups can range from $900 to $1200. Shipping in the peak summer months will usually increase the cost of shipping by anywhere from $200 to $500. Shipping to Hawaii is typically about double the cost, or around $1000 if you can get the car to California yourself. The same holds true for shipping to Alaska, though from Seattle the cost is about $1000 as well. Shipping via a closed container can increase the cost by 25 to 50 percent, depending on the provider. Classic or antique cars are typically shipped in specialized containers and can cost an additional $1000 to $3000 dollars.
Some transporters provide discounts if you are shipping multiple vehicles and more than likely all cars that will be shipped will have to be dropped off and picked up at a terminal location. You should get several quotes from local shippers, as prices can vary depending on several factors such as weather, time of the year and even how busy the company is at the time.
Comparing Prices
Whether or not you make use of the services of an auto transport broker, you will find the best deal on your car shipping service by shopping around and getting price quotes from a variety of different companies. Make a list of all of the potential auto transport services that work in your area by researching online and in the local phone directory listings. After putting together all of the necessary information and materials that these companies require to estimate the cost of shipping your vehicle, contact them one by one and request a price quote.
Auto Transport Insurance
When you're planning on shipping your vehicle from one location to another, there are a number of different calamities that can befall your car en route. Along with minor damage that occurs when the car is in transit (like scrapes and paint chipping), many cars that have been shipped have lost mirrors, spoilers and other components. In rare cases, cars have been stolen or otherwise lost. For these reasons, it's important for your peace of mind and also for the security of your investment that you have a good auto transport insurance plan in place before you send your car off in transit. The majority of auto transport companies offer insurance coverage of this type; this is a good way of deciding between different services.
Companies that Offer Car Transport by Train

When considering methods of car transport, the train is an option that will usually deliver your vehicle in much less time than sending it by truck. However, there aren't very many companies that will ship your car by train. This is because most railroads don't have provisions for private, one-time shipment of passenger cars. Some of the companies that offer this service are listed below.
Amtrak
As the nation's largest train company, Amtrak car transport is one option to consider. However, the service is very limited. The service is only available for transport between the cities of Lorton, Virginia, near Washington, DC and Sanford, Florida, near Orlando. You must travel with your vehicle.
C.H. Robinson Worldwide
C.H. Robinson is a full-service national vehicle transport company that offers what is known as Intermodal auto transport. This means that they offer more than one type of transport. With C.H. Robinson, you're able to choose between truck only and truck and train transport. C.H. Robinson also offers international shipping of vehicles for those that require moving their vehicle(s) across international borders.
Autolog
Autolog offers vehicle transport by rail, and has been doing so for many years. They are the first company in the country certified and granted authority to transport privately owned vehicles by rail by the Interstate Commerce Commission, starting service in 1976. Service was first established from the Northeast to Florida and has since expanded to cover the whole rail-served country. Autolog offers fully enclosed carrier options to protect your car from the hazards of transport, and door to door and terminal to terminal services. Autolog also offers service by ship to Hawaii, Puerto Rico and Alaska.
Auto Transport by Rail
As the name implies, Auto Transport by Rail specializes in shipping your car by train. Shipment begins when an auto transporter truck picks up your car at your designated pick up location. Your car is then transported to a rail head where it is loaded onto a train car for shipment to the closest train terminal to your destination. Transport is terminated when the truck arrives with your car at your point of pick up. Services include door to door service, free quotes and enclosed rail cars to give you peace of mind regarding the condition your vehicle will be in when it arrives. They also offer multi-car discounts. Auto Transport is fully insured, licensed and bonded.
Move a Vehicle
Move a Vehicle is a portal that offers the customer the choice of truck or rail service for vehicle transport. When you place your request on their site, you will be put in touch with a transport company that offers the services you've requested.